Lions Maul Conservationist to Death As He Takes Them For Morning Walk
Safari lodge owner Arthur "West" Mathewson was on his regular morning walk with his lions on Wednesday when he was set upon by the two 400 pound female cats and mauled to death.
The incident took place at South Africa's Lion Tree Game Lodge, around 300 miles north of Johannesburg, where Mathewson worked as a conservationist. Mathewson's wife witnessed the lion attack on her husband, who was pronounced dead at the scene.
"It is believed that the two lionesses attacked the deceased during one of their usual walks. The incident allegedly took place while his wife was helplessly watching," said Limpopo police spokesperson Brigadier Motlafela Mojapelo, reported Times LIVE.
"The police and emergency services were activated. On arrival, the man was found with multiple injuries. He was declared dead on the scene."
Mathweson was opposed to hunting and breeding and had raised the two white lions that attacked him. He rescued them when they were cubs from canned hunting and they had lived at the lodge until the attack. The lionesses were tranquillized after the attack and have since been moved to another game lodge in the vicinity.
"I think it was just a tragic accident that happened," his daughter-in-law Tehri Mathewson told News24. "The lions are safe and will forever be loved and cared for as he would have wanted."
An inquest is being conducted by Hoedspruit police. "We will only know why he died when we have the results of the autopsy," said Tehri Mathewson, reported The Telegraph.
"We have to realise, West was not as young as he thought he was. We are still not sure what actually happened but there was very rough play."
Mathweson reportedly walked his lions between three to four hours each day.
Provincial Commissioner Lieutenant General Nneke Jim Ledwaba warned residents in the area to be cautious around dangerous wild animals, "to avoid these types of tragic incidents from happening".
Newsweek has contacted Lion Tree Lodge for comment.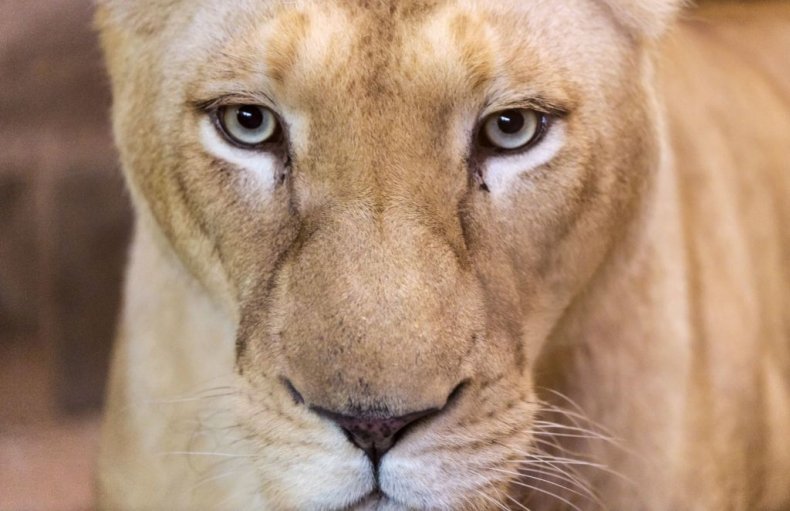 The safari company on the border of Kruger National Park's western boundary states that guests can sleep in its luxury treetop tents and "come and experience total tranquillity and true African hospitality at Lion Tree Top Lodge and meet our white lions."
According to local news organization Lowvelder, this wasn't the first time the animals had attacked a human. In 2017, they had apparently escaped their enclosure and set upon two employees on a neighbouring property, one of whom named Qebekhulu Justice died seven days later.
Justice's co-workers had thrown stones at the lions in an attempt to scare the animals off Justice. The cats eventually fled, but Justice suffered severe wounds to his chest, stomach and legs. Authorities at the time said Justice died of "other diseases" and his death could not be directly related to the lion attack.
After the attack, Mathewson was reported to have said that his lion must have wanted "to play with the guy" that was involved.