Lions Nap in Middle of the Road While Wild Dogs Play on Golf Course During South Africa's COVID-19 Lockdown
In Kruger National Park, South Africa, lions have been snapped sleeping on roads and wild dogs have been filmed playing on golf courses while the country is in lockdown.
Richard Sowry, a park ranger, spotted a group of sleeping lions in the middle of the road during a patrol on Wednesday. The park explained the lions are normally found in Kempiana Contractual Park, which is closed to tourists, but appear to be making the most of the quiet streets, taking a nap near one of the park's entrance gates, near a camp that can accommodate dozens of visitors.
"The animals are accustomed to traffic so the generally stay off the roads," Ike Phaahla, a spokesperson from Kruger National Park, told Newsweek.
"It however, is not good that there are no tourists. Less tourists means a reduction in human related impact of water use, waste generation, vehicle traffic etc, but this reduction in tourists also means no income generation. A good economic model is a vitally important component of a good conservation model."
The pride pictured includes at least two rare white lions. According to Kruger National Park, the unusual coloring is the result of a genetic condition caused by a recessive gene.
There are an estimated 500 white lions in captivity, but in the wild they have been hunted almost to extinction by poachers and trophy hunters.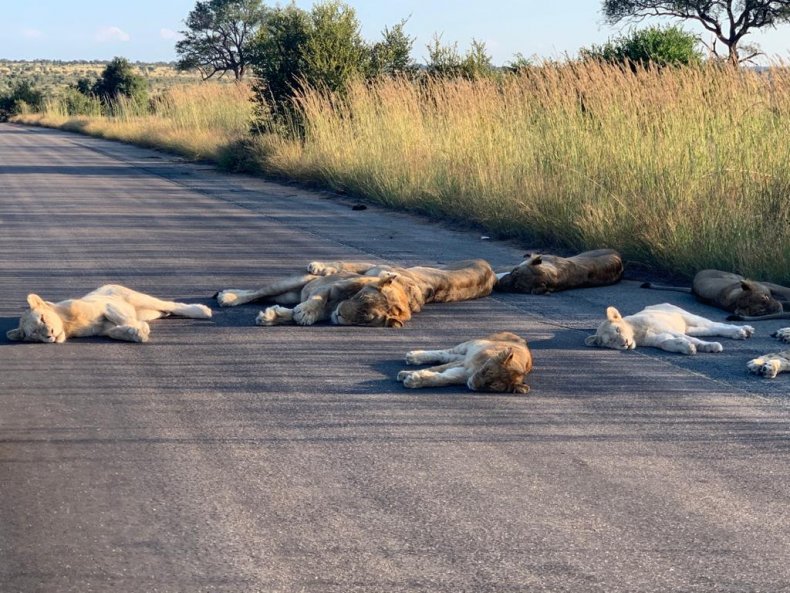 The park covers 7,722 square miles and is one of Africa's largest game reserves.
It has been closed to tourists since March 25, 2020 after President Cyril Ramaphosa declared a national lockdown to limit the spread of COVID-19. In the absence of tourists, the park's wildlife has been taking advantage of the facilities.
"While many around the world have documented the return of wildlife to normally human occupied spaces during this lockdown, my experience while conducting my day to day duties on the golf course has been similar," Jean Rossouw, the Skukuza Golf Course superintendent, explained on Twitter.
Rossouw said the lawns and waterways on the golf course have provided a "perfect playgroup" for a host of animals.
"While working and doing my day to day duties, I have been fortunate to come across some truly breathtaking animal sightings," he continued. "I have witnessed lions, herds of zebras (usually too shy to come to the course to drink), rare antelopes and even the odd wild dog pack visiting the course."
On the road outside the Paul Kruger Gate, two elephants were filmed brawling.
In other parts of the world, residents have filmed wild boars in Barcelona, Spain, and deer in East London, U.K.
Sika deer normally found in Japan's Nara Park have been seen wandering city streets. Last month, locals were surprised when a herd of Kashmiri goats descended on the Welsh town of Llandudno.
Brian Silliman, the Rachel Carson Distinguished Professor of Marine Conservation Biology, told Newsweek animals are changing their behavior in response to the lockdown and the absence of humans—and they are doing so remarkably quickly. "These are behavioural responses on the order of weeks," he said. "They are responding quickly to the absence of human disturbance."