Liquor Barn Fires Two Employees After Black Woman Denied Access to Bathroom in Louisville
Liquor Barn has fired two people from one of its locations in Louisville, Kentucky, after a black woman was denied access to a bathroom in the store.
It came after a video posted on Facebook on Tuesday by a construction worker, filmed outside the Liquor Barn-Party Mart on Brownsboro Road, went viral.
"I don't usually do this, but I got to," Kenny Meier, who is white, says at the start of the clip, which has since amassed almost 70,000 views.
He explained that two members of his construction crew had been granted access to the bathroom at the store.
But when another colleague—a black woman he identified only as Gina—tried to use the bathroom, she was denied access. "They told her it's closed because of the coronavirus," he said.
"I've seen it with my own eyes," he added. "And it's disgusting." Meier has been contacted for comment.
On Wednesday, Liquor Barn issued a statement apologizing for the incident and said the employee responsible for turning the woman away and the store's general manager had been terminated from their positions.
In the statement, the company said it was "embarrassed" and "deeply regrets" the incident, adding that "discrimination in any manner is never tolerated from our staff."
It added that someone from the company had met with the woman in the video and apologized.
"She did not deserve to be treated that way," the statement continued. "We recognize the behavior was unacceptable and we will do better."
Liquor Barn added that it would conduct an assessment of the company's diversity and inclusion processes and implement sensitivity training for the whole company.
"As the civic unrest in our community and across the world clearly demonstrate, significant progress is needed to address racism inequity and prejudice."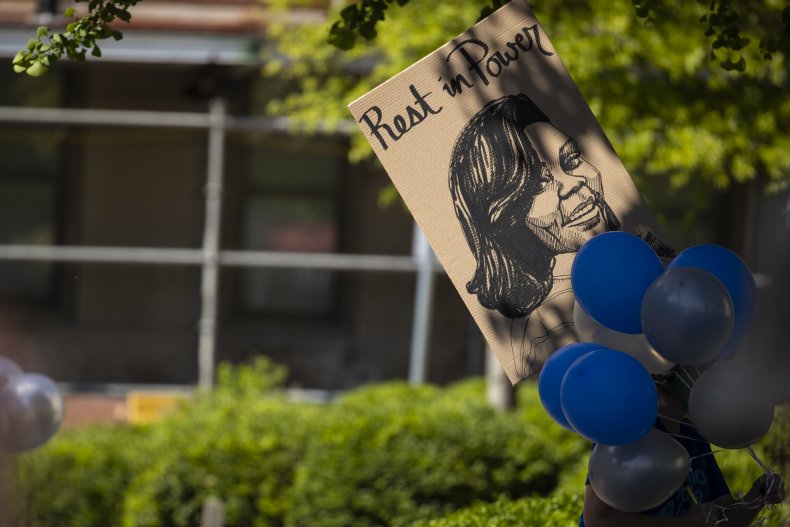 The U.S. has seen weeks of protests against police brutality and racism since the killing of George Floyd, a black man, last month.
The unrest has also drawn nationwide attention to the case of Breonna Taylor, an unarmed black woman who was killed when police serving a no-knock warrant burst into her apartment on the night of March 13 and shot her at least eight times.
No officer has been charged in her case, but the Louisville police detective who requested the warrant has been reassigned, pending the outcome of an FBI investigation.