Lisa Gentile Accuses Chris Noth of Sexual Assault As Allegations Pile Up
Another woman has stepped forward to accuse Chris Noth of sexually assaulting her, as she also alleged that the actor threatened to "ruin" her career.
Country singer Lisa Gentile made the allegations during a news conference alongside her lawyer, Gloria Allred, stating that she was attacked by the actor in 2002.
Gentile, who said that she first became acquainted with Noth in 1998, said that the Law & Order star offered her a ride home after hanging out at a New York City restaurant with a group of their friends.
"When we arrived at my apartment, he asked me if he could come up," Gentile said in a statement. "I told him I had nothing to offer him to drink and he said that's okay, and that he just wanted to see where I lived."
According to Gentile's statement, Noth made his way upstairs in the home she shared with roommates and, after using the restroom, starting kissing her.
"Then he leaned against the kitchen countertop and forcibly pulled me against him," she continued. "He was slobbering all over me. I quickly became uncomfortable. Then he became more aggressive and put both hands on my breasts and began squeezing them very hard over my shirt.
"He quickly went under my shirt and began squeezing them even harder over my bra with his fingers grabbing the exposed skin not covered by my bra."
Gentile alleged that Noth "tried to push my bra up with both of his hands" as the musician said she resisted and attempted to stop him.
"He then forced my hands to pull up his shirt exposing his belly and then even harder pushed my hands down towards his penis," she stated. "I finally managed to push him away and get out of his grasp and yelled, 'No, I don't want this.'
"He became extremely angry and started screaming calling me a 'tease' and a 'bitch,'" before he "stormed out" of her apartment.
The following morning, Gentile said in her detailed statement, she got a call from Noth.
"He warned me that if I ever told a soul about what happened the night before that he would ruin my career, that I would never sing again and that he would blacklist me in the business. He hung up on me and I immediately called my mother and father crying," she alleged.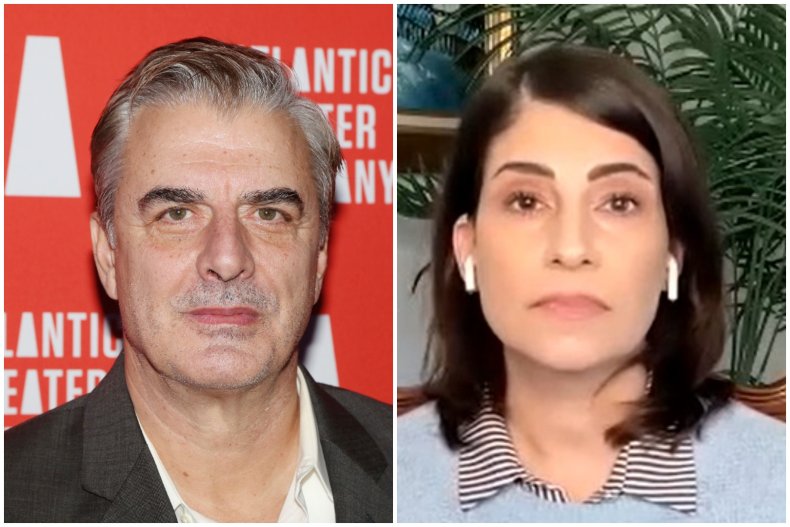 Gentile said that she was initially reluctant to come forward "because of Mr. Noth's power and his threats to ruin my career," adding that she was now speaking out in support of the other women who have made allegations against the star.
"I feel that we should have our day in court to seek to hold Mr. Noth accountable for what he did—and also speaking out to ensure the rights of my nieces, my goddaughter and future victims of sexual harassment and assault," she concluded.
On the same day as Gentile's press conference, Heather Kristin, who worked as a stand-in for Sex and the City star Kristin Davis, revisited her February essay for The Independent to reveal that the "alpha male actor" that she wrote about was Noth.
"I remember his toxic behavior all too vividly," Kristin wrote in an update to the column. "The first time the 'alpha male' actor slid his hand down my back and over my butt, I flinched. I was in my mid-20s and had worked as an extra on movie sets for over a decade; I had never been manhandled. 'That's your spot, sweetie,' Noth said, inching even closer."
"My gut said to quit that first day," Kristin said, as she revealed that she worked to stay out of Noth's way on the set. "Instead, I stayed too long, like staying in a bad relationship for far too many years, hoping I'd persevere and land my big break."
Kristin also alleged that when a stand-in for Cynthia Nixon's character Miranda Hobbes caught his eye, he said: "'I want that one tied up, gagged and brought to my trailer.'"
"When he got near me, I balled up my fists, squared my shoulders and said, 'This is my and her space.' He backed up, dramatically putting his hands up in the air and said, 'Whoa, there, little lady!' He didn't even know my name.
"I clenched my jaw and didn't respond. The crew laughed. But I had had enough; I finally stood up for myself and for the other stand-in."
Newsweek has contacted a representative of Noth for comment.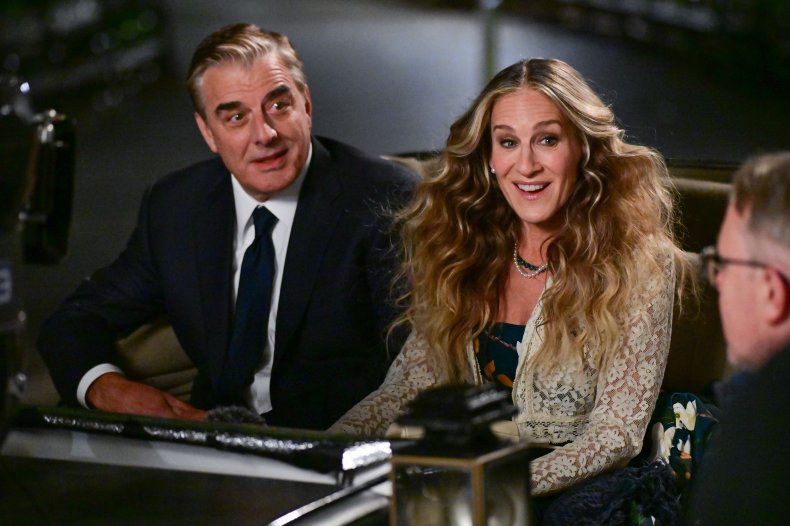 Gentile's allegations come a week after The Hollywood Reporter published interviews with two women who accused Noth of sexually assaulting them. One of the women alleged that she was attacked by the star in 2004, while the other accused Noth of similar behavior in 2015.
Responding to the allegations, Noth said in a statement: "The accusations against me made by individuals I met years, even decades, ago are categorically false. These stories could've been from 30 years ago or 30 days ago—no always means no—that is a line I did not cross.
"The encounters were consensual. It's difficult not to question the timing of these stories coming out. I don't know for certain why they are surfacing now, but I do know this: I did not assault these women."
Another woman spoke to The Daily Beast for an article that was published last Friday, accusing the actor of sexually assaulting her in 2010 when she was aged 18.
In response to that article, a spokesperson for Noth told People: "The story is a complete fabrication, and the alleged accounts detailed throughout read like a piece of bad fiction. As Chris stated yesterday, he has and would never cross that line."
Actress Zoe Lister-Jones accused the actor of "sexually inappropriate" behavior in a lengthy statement recently shared on her Instagram account.
Following the influx of allegations, Sarah Jessica Parker, Nixon and Davis—who co-starred with Noth in Sex and the City and its reboot And Just Like That...—said in a statement that they were standing with the accusers.
"We are deeply saddened to hear the allegations against Chris Noth," the actresses said in the joint statement. "We support the women who have come forward and shared their painful experiences. We know it must be a very difficult thing to do and we commend them for it."
In light of the allegations, Noth was fired from his role in The Equalizer. He has also been dropped by his talent agency, A3 Artists Agency, while Ryan Reynolds and exercise equipment company Peloton have removed an ad featuring the actor.