Lisa Murkowski Slammed by Ann Coulter, Tomi Lahren, Other Conservatives After Brett Kavanaugh 'No' Vote
Alaska Republican Senator Lisa Murkowski was the only senator in her party to oppose Supreme Court nominee Brett Kavanaugh in a vote on Friday that pushed him closer to confirmation, which could come as soon as Saturday.
Kavanaugh was accused of sexual assault in an emotional testimony from professor Christine Blasey Ford, who alleged the judge assaulted her when the two were in high school in the 1980s.
"[I] took the very, very difficult vote that I did," Murkowski told reporters, via The Hill. "I believe that Brett Kavanaugh is a good man. I believe he is a good man, it just may be that in my view he's not the right man for the court at this time."
Conservatives were quick to attack Murkowski after her vote. Fox host Tomi Lahren tweeted a photo that identified Murkowski—among other potential swing-vote senators—as a Republican, joking there was a typo and that it should be changed to Democrat.
Outspoken right-wing commentator Ann Coulter tweeted: "Murkowski calls Kavanaugh an empty suit spoiled brat, given everything he has by his Dad (the governor) appointing him to a senate seat — OH WAIT! THAT'S MURKOWSKI."
Fox host Laura Ingraham even suggested she might run against Murkowski.
"I like Alaska...a lot. Maybe it's time to run for Senate after all," she tweeted. "[Murkowski] has abandoned all principles of due process and fairness. Disgraceful."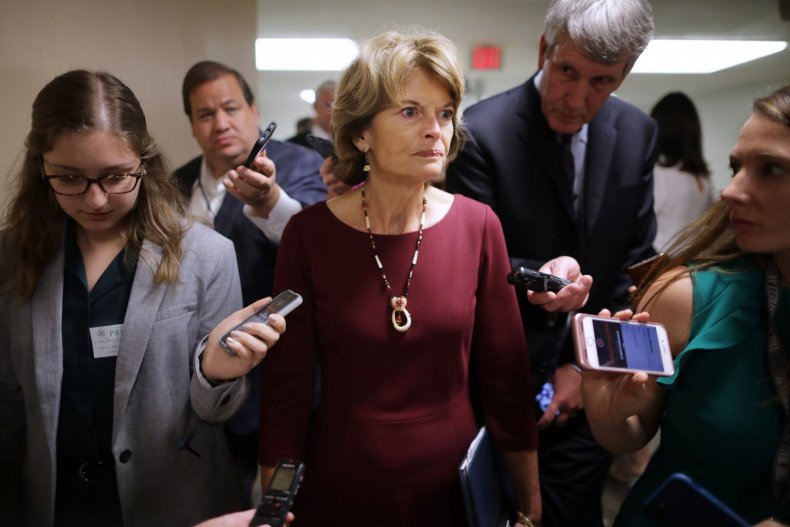 Candace Owens, of the group Turning Points USA, managed to get a dig in at liberal protesters during her attack of Murkowski.
She posted: "[You] won't see conservatives screaming, crying or protesting you in the streets, but you should know that today you failed. You affirmed the stereotype of weak, emotional women. You chose feelings over rational thoughts and in turn, condemned an innocent man."
While conservative commentators might be upset with Murkowski, if she ultimately votes against Kavanaugh it might not matter. Oddsmakers seem to believe the chances the judge is confirmed are quite high.