Lisa Murkowksi Explains Vote Against Stimulus Bill as Donald Trump Threat Looms
Senator Lisa Murkowski has explained her vote against the latest COVID-19 relief bill as former President Donald Trump threatens to campaign against the Alaska Republican in her home state in the 2022 midterm elections.
Releasing a statement on Sunday, Sen. Murkowski said President Joe Biden's $1.9 trillion stimulus bill was "wholly partisan" and dubbed some measures in the plan "unnecessary" and unrelated to the ongoing pandemic.
She also said she was concerned that the relief bill—known as the American Rescue Plan—would provide further help to those who had already "benefited" from the pandemic.
A key plank of the $1.9 trillion is very popular among Alaskans—the plan for a new round of $1,400 stimulus checks. A February poll found that 68 percent of voters in the state backed the measure Murkowski voted against on Saturday.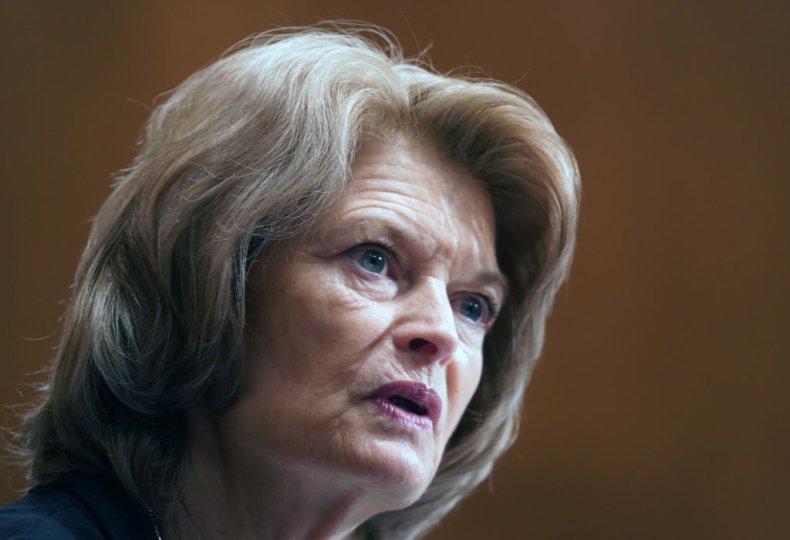 In her lengthy statement, Murkowski said: "Individual payments along with a further extension of Unemployment Insurance will be important to many Alaskans, particularly in our hard hit tourism sector. These are all significant, targeted items that belong in a COVID relief package. They are priorities that Alaska needs and that I support.
"But what I could not vote for is the largest spending package the Congress has ever advanced, on top of the $4 trillion we have already directed toward COVID relief."
The Alaska Republican later added that she was still prepared to work with the Biden administration on distributing funding in the American Rescue Plan, which ultimately passed along party lines in a 50-49 vote.
Former President Trump vowed on Saturday to campaign against Sen. Murkowski in the 2022 midterm elections after she voted in favor of convicting him on the incitement of insurrection charge brought against him in January.
"I will not be endorsing, under any circumstances, the failed candidate from the great State of Alaska, Lisa Murkowski," Trump told Politico. "She represents her state badly and her country even worse."
The ex-commander-in-chief added that he would be in Alaska to campaign against a "disloyal and very bad Senator" as the Republican Party tries to claw back its control of the upper chamber.
Trump's team also released a poll conducted between January 30 and February 1 that showed his favorability rating in the state was nine points higher than Murkowski's 43 percent backing.
Murkowski has held her Senate seat since 2002, and has been one of Trump's toughest critics on the GOP benches. Although she was one of seven Republicans to vote for his conviction in February, the Alaska Republican is the only one fighting to keep her seat next year.