Lisa Murkowski is First Republican Senator to Demand Trump Leave Office
Alaska GOP Senator Lisa Murkowski on Friday became the first Republican senator to call for President Donald Trump to resign.
Murkowski has wrestled with her support of Trump in the past. During February's impeachment proceedings against Trump, Murkowski publicly announced that she had a difficult time deciding if she should vote for Trump's acquittal. Calls for Trump to leave office have increased since the Wednesday riot at the U.S. Capitol, an event many believe Trump incited.
"I want him to resign," Murkowski told the Anchorage Daily News on Friday. "I want him out. He has caused enough damage."
"[Trump] doesn't want to stay there," Murkowski added. "He only wants to stay there for the title. He only wants to stay there for his ego. He needs to get out. He needs to do the good thing, but I don't think he's capable of doing a good thing."
Murkowski said Trump's continued attempts to overturn the results of the election, even after being informed by Vice President Mike Pence that he could not decertify the results of the Electoral College, helped created the environment that spurred the riot.
"Even after the vice president told President Trump that, he still told his supporters to fight," Murkowski said. "How are they supposed to take that? It's an order from the president. And so that's what they did. They came up and they fought and people were harmed, and injured and died."
Trump's actions have led Murkowski to consider leaving the GOP. "If the Republican Party has become nothing more than the party of Trump," Murkowski said, "I sincerely question whether this is the party for me."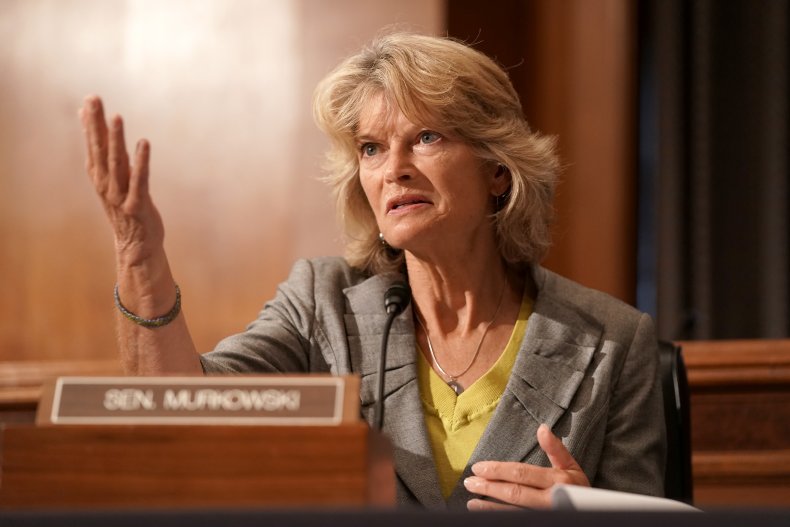 Murkowski did not indicate which party she would affiliate herself with if she did leave the Republican party. Newsweek reached out to Democrat Senate Minority Leader Chuck Schumer's office for comment.
President-elect Joe Biden is expected to be sworn in as the 46th U.S. president on January 20, leaving Trump less than two weeks in office. Some lawmakers have called for Trump to be removed from office before his term officially expires, citing his encouragement of individuals to swarm the Capitol on Wednesday. The ensuing riot left 5 people dead.
On Friday, New York Governor Andrew Cuomo called for Trump to resign or, failing that, for Congress to begin impeachment proceedings. In a Friday press briefing, Cuomo called the riot an "explosion of hate, the result of a leader who for four years appealed to the worst in people—appealed to fear, racism and discrimination."
Articles of impeachment against Trump are expected to be introduced in the House on Monday. Drafted by California Representative Ted Lieu, Maryland Representative Jamie Raskin and Representative David Cicilline of Rhode Island, the proposed measure states that Trump "engaged in high Crimes and Misdemeanors by wilfully inciting violence against the Government of the United States."
On Friday Biden told reporters that Trump was unfit to be president, describing Trump as "one of the most incompetent presidents in the history of the United States of America." Nonetheless, Biden declined to endorse attempts to remove Trump from office.
"If we were six months out, we should be doing everything to get him out of office," Biden said. "But I am focused now on us taking control as president and vice president on the 20th and to get our agenda moving as quickly as we can."