Alaska Senator Lisa Murkowski became the latest Republican senator over the weekend to be censured by her party after voting to convict former President Donald Trump during his impeachment trial last month.
Of the seven Republican senators who voted in favor of conviction, Murkowski is the only one who will be up for re-election next year—and it now appears her party will seek to back a primary challenger.
Local media outlets cited one sentence included in the party's censure resolution, which the Anchorage Daily News reported the party passed on March 13. The resolution identified multiple instances in which it said Murkowski's decisions were "contrary" to the state Republican Party's platform, ranging from her conviction vote to her decision to support President Joe Biden's nomination of New Mexico Rep. Deb Haaland to lead the Department of the Interior.
An image of a pre-signed resolution shared by Must Read Alaska said that under the Alaska GOP rules, "the Party hereby will recruit a Republican primary challenger to oppose and prohibit Senator Murkowski from being a candidate in any Republican primary to the extent legally permissible."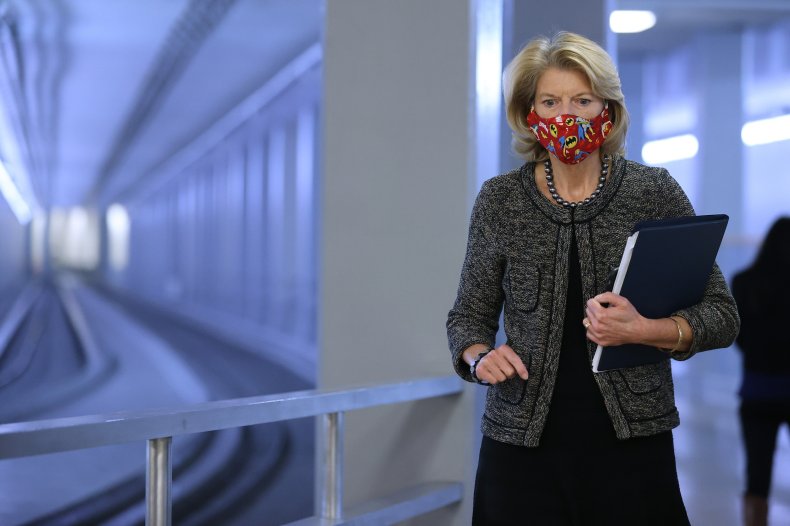 Kris Warren, a party chairman in Alaska's 23rd District, told the Anchorage Daily News that the party will seek a candidate who is "more in line" with its platform.
"We're looking for somebody else to be our U.S. Senator in 2022, and somebody who will be more in line with the Republican philosophy," Warren told the paper.
Murkowski previously told reporters she was aware that her vote to convict Trump may meet pushback among other members of her party in Alaska. Even so, it's a reaction she said she "can't be afraid of."
"My obligation is to support the Constitution that I have pledged to uphold, and I will do that, even if it means that I have to oppose the direction of my state party," Murkowski told reporters in Washington, D.C. last month, according to the Associated Press.
Murkowski was first appointed to represent Alaska in late 2002 and was most recently re-elected in 2016 with approximately 44.5 percent of the votes cast in her state. Along with senators Susan Collins of Maine and Mitt Romney of Utah, Murkowski became known throughout Trump's time in office as one of the few Republican senators more likely than her colleagues to oppose the former president publicly, which largely played out in votes cast in Congress' upper chamber.
Despite Murkowski's vote last month, Trump was ultimately acquitted after the Senate failed to gather enough votes for conviction. The trial marked Trump's second in the Senate during his single term in office.
The House of Representatives first impeached Trump in late 2019, and he was acquitted on those first impeachment charges in February 2020. Following the riot at the U.S. Capitol on January 6, the House again impeached Trump on an "incitement of insurrection" charge. The Senate trial was controversial among Republicans, due in part to the fact that Trump was no longer in office when the trial began, but the former president was ultimately acquitted a second time.
Murkowski did not vote to convict Trump in his 2020 impeachment trial but said after casting her conviction vote last month that the former president "endorsed the actions of the mob" that broke into the U.S. Capitol Building on January 6 as both chambers of Congress gathered to certify the results of the 2020 election.
The violent riot sent members of Congress into lockdown and resulted in the deaths of four civilians and one Capitol Police officer.
"On January 13, when the U.S. House of Representatives impeached former President Donald J. Trump for a second time, I committed to upholding my oath as a U.S. Senator—to listen to each side impartially, review all the facts, and then decide how I would vote," Murkowski said in a statement announcing her conviction vote last month.
"I have done that and after listening to the trial this past week, I have reached the conclusion that President Trump's actions were an impeachable offense and his course of conduct amounts to incitement of insurrection as set out in the Article of Impeachment."
According to the Alaska Division of Elections, the state's next primary election will be held on August 16, 2022. However, a new voting system that Alaska voters approved last fall could help Murkowski make it onto the midterm election ballot even if she is not her party's top candidate.
Following the state's primary elections, the top four candidates will advance to the statewide ballot, and a winner will be selected using a ranked-choice system, according to Alaska Public Media.
Murkowski told Alaska Public Media earlier this year that she believes the new system may help her in the event that she seeks re-election.
Newsweek reached out to Murkowski's office and the Alaska Republican Party for comment but did not receive responses in time for publication.