Lisa Murkowski Pushes Zero Tolerance for Threats to Alaskan Airspace
Alaska Senator Lisa Murkowski told NBC News that she is "concerned" after attending a classified briefing about the unknown object that was shot down off the northern coast of her state Friday.
U.S. officials earlier in the day said that an object traveling around 40,000 feet high had been detected over Alaskan airspace on Thursday. According to Air Force Brigadier General Pat Ryder, Pentagon press secretary, the unknown object about the "size of a small car" was destroyed by the U.S. military around 1:45 p.m. Friday.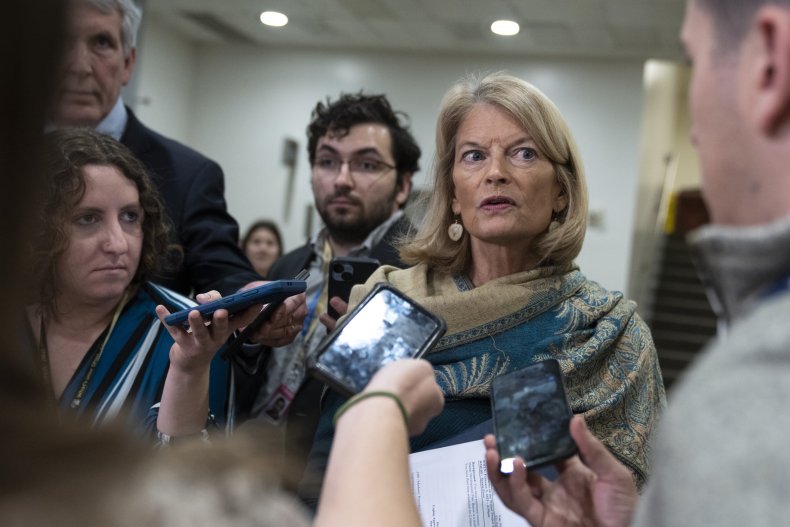 The unidentified object was detected less than a week after a Chinese spy balloon was shot down off the coast of South Carolina on Saturday.
During her interview Friday evening, Murkowski told NBC News' Lester Holt that she had just returned from a closed-door meeting, where the Republican senator had a chance to speak with Lieutenant General David Nahom, commander of the Alaska Command.
"I am concerned," Murkowski said after the briefing.
"We saw just this week this high-altitude balloon being shot down off the waters of South Carolina," she added. "But today to know that we have yet another unidentified object successfully shot down in Alaska, making sure that the message is clear that any sovereign territory or airspace in this country, if there's a threat, if there's an incursion, there's going to be consequences."
Murkowski was one several Republicans critical of the administration of President Joe Biden for choosing to hold off on shooting down the Chinese surveillance balloon until several days after it was spotted. During a Senate hearing Thursday, Murkowski told defense officials that the balloon should have been destroyed "the minute" it crossed into Alaskan airways.
The senator repeated her sentiment during her interview with NBC News, although she acknowledged that officials were dealing with "different entities" between the surveillance balloon and the object shot down Friday.
"But again, what you have is a threat to our sovereignty," she added. "So yeah, we need to move first and quite honestly, the first line of defense, again, is Alaska. If it comes into Alaska airspace, if it comes over Alaska waters, we need to act, we need to send the message and we need to be clear and unequivocal that we don't tolerate this."
According to John Kirby, strategic communications coordinator for the National Security Council, the military-to-military channels between China and the U.S. "do not appear to be open" after news of the unidentified object.
There is no evidence that connects the object shot down over Alaska to the Chinese government.
Newsweek has reached out to the White House for comment.