Lisa Page Regrets Peter Strzok Text Messages, Rebukes Trump For Mocking Her With 'Vile, Simulated Sex Act' Performance
Former FBI Lisa Page appeared on The Rachel Maddow Show discussing her reaction to being publicly called out by President Donald Trump as a liar. Page has also sued both the Federal Bureau of Investigation and the Department of Justice over the government's publication of her text messages with ex-FBI agent Peter Strzok.
"It's time to talk about the release of my text messages, the two years of lies shouted across the media about me, and what it's like when the President of the United States tries to ruin your life," Page tweeted.
Trump has also publicly mocked Page in rally speeches, acting out both sides of the text messages which were composed when Page and Strzok were in a romantic relationship. During one of those speeches, Trump said that Page had taken a restraining order out on Strzok, a claim Page denounced on Twitter being false.
"This is a lie," Page tweeted. "Nothing like this ever happened. I wish we had a president who knew how to act like one. SAD!"
Page told Maddow she had no plans to reenter public life until President Trump made fun of her.
"Given what you've been through over the last three years," Maddow asked, "why speak now on your own terms?"
"Honestly, I just wasn't planning to and I didn't want to," Page said. "I've led an entirely anonymous life and hoped to return to one. When the president finally did that vile sort of simulated sex act in a rally in Minneapolis, I just finally had to accept it's not getting better and being quiet isn't making this go away. It wasn't working for me anymore."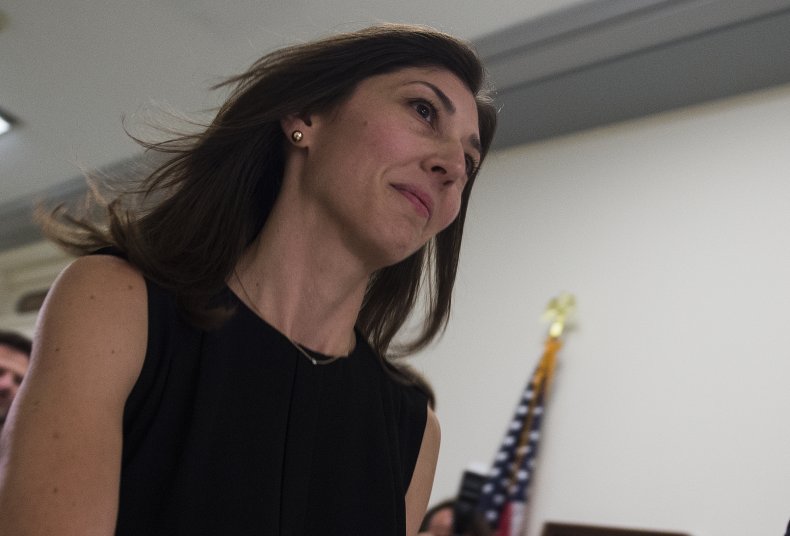 When asked about texts that intimated a fear that Trump would be elected, which Strzok addressed by saying, "We aren't going to let that happen," Page said that Strzok was talking about "the collective we, like-minded, thoughtful, sensible people who were not going to vote this person into office."
"Obviously, in retrospect, do I wish he hadn't sent it? Yes," Page said. "It's been mutilated to death and it's been used to bludgeon an institution I love. And it's meant that I've disappointed countless people."
"But this is a snapshot in time," Page added, "carrying on a conversation that happened earlier in the day that reflected a broad sense of 'He's not going to be president.' We, the democratic people who love this country, are not going to let that happen."
Page also said the way other people who have testified against Trump, such as former ambassador to Ukraine Marie Yovanovitch and impeachment witness Lieutenant Colonel Andrew Vindman, were treated in a way that was "deeply unfair."
"We are all public servants," Page said. "This is simply not the way. Even with wrongdoing, even if you think that my text messages were a mistake, this is not how public servants should be treated. Moreover, those institutions should be coming to their defense."
"We can't control what the president says but sure as the day is long, Attorney General Barr could say something about whether this was appropriate or not," Page added. "Secretary [of State Mike] Pompeo could say something about whether these people deserve the lambasting they've gotten."
Page came to prominence when anti-Trump text messages between Strzok and her were revealed during the Russia investigation by Special Counsel Robert Mueller. In those texts, the two described Trump as an "idiot" and a "loathsome human," according to CNBC.
Strzok worked for Mueller during the Russia probe, but was moved to another position when the messages were discovered. Page resigned her position in May 2018 while Strzok was fired in August 2018. Page also testified behind closed doors to the House Judiciary Committee during the Russia probe.