Will Lisa Vanderpump Attend 'RHOBH' Reunion? Bravo Star Admits She Hasn't Watched Any Episodes of Season 9 So Far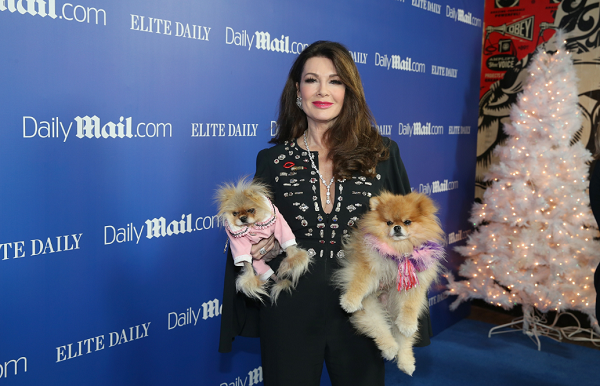 Fans have been tuning in weekly to the PuppyGate scandal ensuing between Lisa Vanderpump, Dorit Kemsley and Teddi Mellencamp on Season 9 of Real Housewives of Beverly Hills. Vanderpump, on the other hand, hasn't watched any of it.
The restaurateur and reality star told Entertainment Tonight that she has refrained from watching the season so far, although she didn't reveal exactly why. "I didn't watch," the 58-year-old confessed in an interview released Monday.
"I actually spoke to the producers about it, because we have to write blogs, and they said, '... in one way, maybe you should revisit that now.' Because I've come through, you know?" Vanderpump continued.
While Vanderpump hasn't viewed any episodes for herself, she's pretty familiar with the drama filling out her storyline.
As fans know, currently on Season 9, Vanderpump is embroiled in the PuppyGate controversy surrounding Lucy Lucy Apple Juice, a dog Kemsley adopted from rescue charity organization Vanderpump Dogs. Vanderpump's castmates think she may be orchestrating gossip about the dog in attempts to smear Kemsley's image. Mellencamp got involved when she was told a story about Kemsley sending the dog to a kill shelter—which turned out to be false—that many on cast believe Vanderpump conspired.
On the latest episode of RHOBH, Mellencamp and Kemsley resolved their issues after Mellencamp explained comments she made about Kemsley were initially said under the false pretense of Kemsley sending the dog off to be killed. While they have seemingly kissed and made up, the women haven't been so forgiving of Vanderpump, who's denied any involvement in spreading gossip about Kemsley and the dog.
"Why would you want to make Dorit look bad," Vanderpump said during her Entertainment Tonight interview. "It just goes on and on and on. And it's a shame, really. Because the focus was on the dog. The dog's fine now, and I think it all got very convoluted. I haven't seen it, but I don't like what I'm hearing."
In addition to not watching any of the show so far, Vanderpump's appearance at the Season 9 reunion is still up in the air. It was previously rumored that she wouldn't be attending the annual reunion with her castmates, however, Vanderpump said her arrival was still to be determined.
"[The reunion's] not for two or three months, so I have no idea how I'll feel then," she said. "But they said I wouldn't show up on the red carpet [at the premiere party] didn't they? I think it was Lisa Rinna who was tweeting, 'You mother**kers better f**king show up.' I mean, who talks like that? But I was there, yes."
There's another huge feud brewing on Season 9 between Vanderpump and her former best friend Kyle Richards. While it hasn't spilled out yet on the show, their heated exchange—which resulted in Vanderpump throwing Richards out of her house—was teased in the Season 9 trailer.
The women still aren't speaking because of it. Richards spoke on the ending of her longtime friendship with Vanderpump during a recent appearance on LIVE! with Kelly and Ryan back in February, explaining that the ex-friends' status was still "not good."