List of Demands in Seattle 'Autonomous Zone' Includes Black Doctors for Black Patients, End to Prisons
In Seattle, the Free Capitol Hill movement's list of 30 demands touches on every facet of society, including overhauling the criminal justice system and reforming health care for black patients.
Protesters have taken over several blocks in the city, creating an area known as the Capitol Hill Autonomous Zone, or CHAZ. Now in its third day, the movement drew the ire of President Donald Trump, who urged local and state officials to regain control of the city. But Seattle City Council member Tammy Morales told Newsweek she agrees with some of the movement's demands.
"The demands to abolish the Seattle Police Department are not new ideas," Morales said. "It is clear that the ways in which it has operated for years is not how we need to proceed moving forward."
Council members are looking at police spending, and Morales said she will prioritize cutting the department's budget in half for 2020. Other priorities include demilitarizing a police force that, she said, "abused their power in the name of 'public safety'" and using a "racial equality lens in all of our future budgeting priorities."
On Tuesday, the Free Capitol Hill movement published a list of 30 demands in a post on Medium that was originally delivered orally the night before. Demands were broken down into four categories—the criminal justice system, economics, health and human services and education—with the biggest emphasis on changes to the first.
The movement calls for abolishing imprisonment and replacing it with restorative/transformative accountability programs. It is also demanding the release of prisoners serving time for marijuana-related offenses and resisting arrest if there are no other related charges, as well as expungement of their records.
Newsweek reached out to Mayor Jenny Durkan and the Seattle Police Department for comment but did not hear back before publication.
According to the movement's demands, people of color who are still serving sentences for violent crimes must be given a retrial, and all prisoners must be given the full and unrestricted right to vote.
The list of demands also include the repurposing of a new youth prison in Seattle. The project faced years-long opposition from sources that included former Seattle City Council President Bruce Harrell and King County Council member Rod Dembowski. Although it "may have been a reasonable idea" when it was initially conceived, the two legislators said, when it came time to construct the facility, it was time to "hit the reset button" and rethink juvenile justice.
The facility, which opened in February, has single-occupancy cells with floor-to-ceiling blackboards with chalk, as well as privacy that wasn't available in the old Youth Services Center. Chief King County Juvenile Court Judge Judith Ramseyer said it reflects the "care and dedication of the workers it contains." Regardless of people's opinions on youth incarceration, she said, a new facility was necessary, as the old one was inadequate.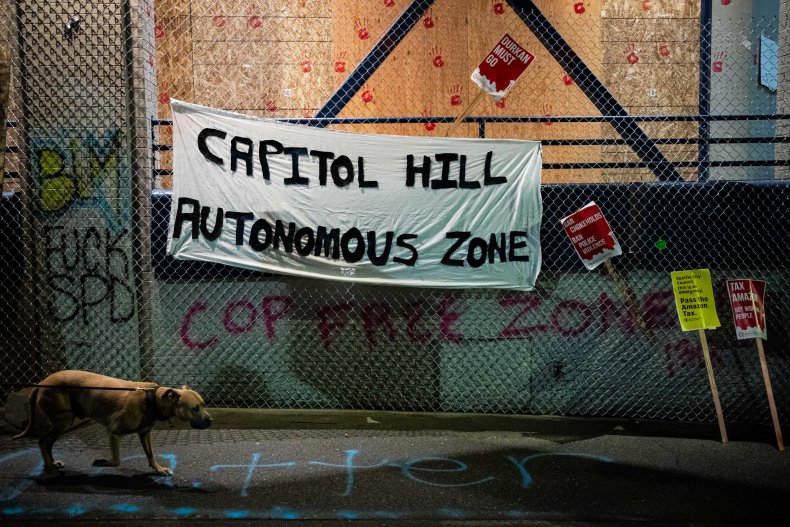 Along with major changes to the criminal justice system, the Free Capitol Hill movement's list of demands call for Seattle hospital and health care facilities to employ black doctors and nurses to help care for black patients. In addition to the creation of a more diversified workforce, studies show increased positive health outcomes for black patients who are treated by black doctors.
A 2018 study led by Dr. Marcella Alsan, an associate professor of medicine at Stanford, found that black men sought more preventive services if they were seen by black doctors during a free health care screening than if they were treated by a non-black doctor. According to Owen Garrick, an African American physician, one reason for the "astounding" findings could be that black doctors are explaining medical services in a way that black patients more clearly understand.
Men were 29 percent more likely to talk with black doctors about other health problems and seek more invasive screenings. Diabetes and cholesterol screenings were 47 percent and 72 percent higher, respectively, among those patients assigned to black doctors versus those assigned to non-black doctors.
Researchers calculated that the black doctors could reduce cardiovascular mortality by 16 deaths per 100,000 people per year. That equates to 19 percent of the black-white gap in cardiovascular-related deaths.
Other Free Capitol Hill demands include reforms to education that increase the focus on black and Native American history, free college, and reallocating funds from the Seattle Police Department to socialized health and medicine, free public housing, public education and naturalization services.
Morales said she and her colleagues are "reimagining what community care looks like" by investing in communities that have been historically affected by institutional racism. Plans for those investments include housing and food security and access to jobs, skill training, health care and "a decolonized education that centers [on] the histories and identities of students of color."
The Seattle Police's East Precinct building is within the occupied area, and officers abandoned it amid threats that it would be set on fire. Assistant Seattle Police Chief Deanna Nollette said during a briefing the department is looking for the movement's leaders in order to "establish a dialogue" and reopen the precinct building so detectives can continue working cases.
Nollette told news station KOMO the department has received reports of citizens and businesses being asked to pay a fee to operate within CHAZ. That would amount to a crime of extortion, but Raz Simone, a reported leader of the movement, denied extortion was occurring and told KOMO "we've invited people to come in."
News reports paint different pictures of what's going on in the area. While many stories are about the peaceful atmosphere in CHAZ, others talk of people armed with AR-15 rifles intimidating others. On Thursday, President Donald Trump told Governor Jay Inslee and Durkan if they didn't take back the city "now," he would.
The president added, "This is not a game. These ugly anarchists must be stopped immediately."
Morales characterized the movements in Seattle over the past few weeks as a group of people who are rising up because they're "tired of the ways in which the institution of policing has gone unchecked in its perpetuation of brutality and racial injustice."