'The A List' Season 2: Everything to Know About the Series Netflix Saved
Season 2 of The A List arrives on Netflix Thursday after the streaming service saved the show from cancellation.
The show follows a group of British teens attending a summer camp on a mysterious island but the holiday of a lifetime soon turns into a twisted nightmare.
It's been three years since season 1 first aired on television and most of the cast are returning for the second season. There are some slight changes to prepare for with season 2, so here's everything you need to know ahead of the release on Netflix.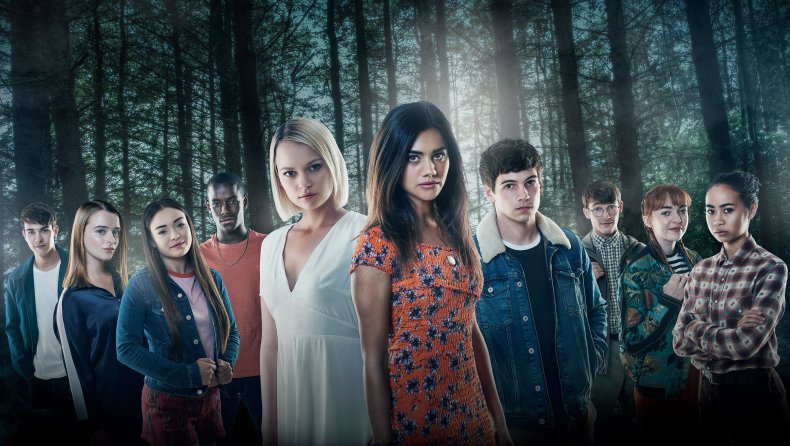 What happened in The A List season 1?
Season 1 of The A List originally aired in the U.K. on BBC iPlayer in October 2018 before being picked up by Netflix the following July.
In The A List, a group of teenagers arrive on Peregrine Island ready for a summer of fun. Typically there's plenty of infighting, psychological tension and teen romance between the adolescents.
This is no ordinary island though, and soon enough strange events and abilities of some of the camp mates start to emerge. One of the characters, Amber, proves a constant antagonist and she has the ability to control the mind of anyone she touches. She's constantly at odds with Mia, who eventually leads many of the other camp members to rise against Amber.
We won't spoil everything that happens in the 13 episodes of The A List season 1 but just know that it ends with a literal cliffhanger of a plot twist.
What changes are being made for The A List season 2?
The majority of the cast are returning for the second season with one glaring difference.
Jacob Dudman, who played Dev in the first season, has been recast with Barnaby Tobias now portraying Mia's love interest. Dudman can now be seen acting in two other Netflix properties—as Thomas Price in The Stranger and Sam Harvey in Fate: The Winx Saga.
Ellie Duckles (The Bay) is back playing Amber and Lisa Ambalavanar (Doctors) returns as Mia.
The second season was written and directed by the co-creators Dan Berlinka and Nina Metivier. It will be slightly shorter than the first with a total run of eight episodes.
When is The A List available on Netflix?
Season 2 of The A List will be available to watch in full from Friday June 25.
Season 1 is also available now if you want to catch up ahead of the new episodes. There is currently no confirmation as to whether The A List will get a third season.