Listen: Adele Releases 'When We Were Young' From Upcoming Album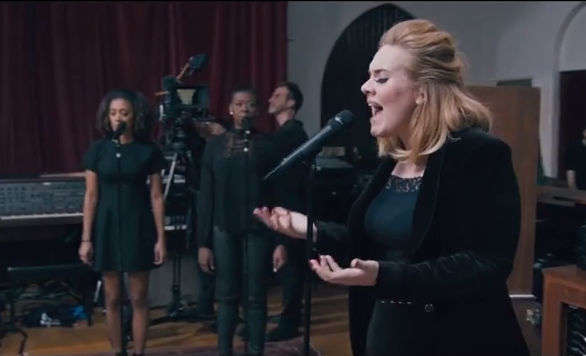 Last month, Adele turned heads and smashed records with "Hello," the first single from the highly anticipated 25, her first album in nearly five years.
Just three days before she gives all eleven tracks, the British singer and songwriter released a second song Tuesday, a live version of "When We Were Young" performed at London's Church Studios.
The video begins with Adele and her fellow musicians and crew getting ready—chatter, a touch up on makeup, drumsticks sounding out of view, some laughter. Once all is in place, they play. "You look like a movie, you sound like a song," Adele sings. "My god, this reminds me of when we were young."
The video garnered nearly a million views on YouTube by midafternoon eastern time and Adele's tweet linking to it had been retweeted and liked roughly 30,000 times. At the end of the video, after finishing the song, Adele smiles and takes a beat. "I've never done that in my life," she says, strikes a pose and adds, "It's a whole new me."
Adele's previous album, 2011's 21, has sold more than 30 million copies worldwide, and in July, Billboard reported that it had become the U.K.'s best-selling album of the decade. The artist confirmed the release of the follow-up album late last month with a statement that was retweeted and favorited more than 300,000 times.
Soon after, the singer, whose full name is Adele Laurie Blue Adkins, announced via Instagram that the whole album would be available November 20 and released "Hello" on October 23.
The "Hello" video quickly broke the record for most-watched in one day on the site Vevo, with 27.7 million views (as of midafternoon Tuesday, it had reached nearly 400 million ). "Hello" was also the first song ever to get 1 million digital sales in a week, ultimately reaching 1,112,000 and obliterating the previous record held by Flo Rida (whose "Right Round" was downloaded 636,000 times in one week). In the short period since it was released, it has also inspired several memes and covers, including one by the American pop singer Demi Lovato.