Listen: Corey Feldman Told Police About Alleged Child Molester Jon Grissom in 1993, Lost Tape Reveals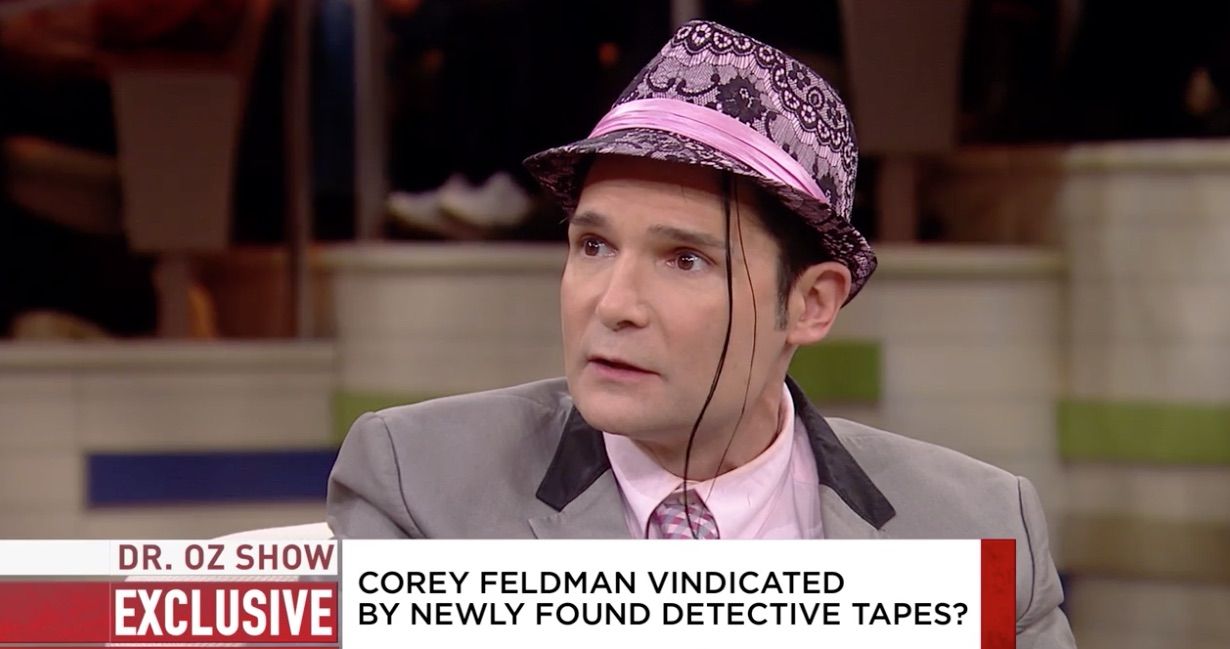 Corey Feldman reported one of his alleged child abusers to the police in 1993, newly discovered police tapes reveal.
Feldman, 46, played part of the supposedly lost tape on Monday's The Dr. Oz Show. He said he told investigators he was molested by Jon Grissom, his former assistant, in the 1980s.
The former child actor was interviewed by Santa Barbara, California, police in 1993 when they were investigating claims of child abuse against Michael Jackson, a friend of Feldman's.
Feldman first publicly named Grissom as one of his molesters on the November 2 episode of The Dr. Oz Show. In interviews with host Mehmet Oz and also NBC's Today show, Feldman has repeatedly said he told police in 1993 about his abusers.
In early November, the Santa Barbara County Sheriff's Office said they had no recollection of Feldman naming the men who molested him. Last week, the police department confirmed it had found a recording of Feldman's 1993 interview in which he claims he reported the men.
On December 6, Feldman tweeted that he also found a copy of the interview, which he said the Santa Barbara police provided to him.
On Monday's Dr. Oz Show, Feldman and Oz played a clip of Feldman's police interview where he named Grissom.
"What you're about to hear caught my attention. During the interview detectives came back to Corey's claim that he was molested and they asked him point blank about his alleged abuser Jon Grissom," said Oz, introducing the clip.
In the exchange between Feldman and a Santa Barbara detective, Feldman is asked: "Did anything happen with him?" Feldman responds: "What do you mean? No. I never pressed charges."
The conversation continues:
Detective: "Never. Did you ever report it?"
Feldman: "No. but, uh, I mean, I should have, but I was so, I was so, like those feelings you say, I was so scared and I didn't know, he was like my best friend, you know. And I didn't know how to, I mean, I couldn't even look at him in the eye the next day you know; I would always have to pretend it didn't happen. I mean, that was my big thing is, I would pretend it didn't happen."
Detective: "Where is this guy now?"
Feldman: "I have no idea. Um actually I hear now he's back in California, because he was in Utah for a while."
Detective: "If we run across him, we'll let you know."
After playing the audio, Oz said the recording shows Feldman told the detective about Grissom but "the investigators didn't ask [Feldman] if he wanted to formally report to the LAPD where the abuse occurred."
Feldman said the Santa Barbara police didn't follow up with assistance on reporting Grissom after the call, either.
The Los Angeles Police Department said in early November it was unable to investigate Feldman's historic claims because the statute of limitations on his alleged abuse had passed.
During his November 2 interview with Oz, Feldman said that Grissom "on his MySpace page and his Facebook page, has pictures of me and Corey Haim. He still taunts it and flaunts it."
Oz also said that his show's legal counsel discovered that Grissom was found guilty of child molestation in 2003 and served time in prison.