Listen To Orson Welles Denounce Police Brutality Against Black WWII Veteran
When police beat and blinded a Black man, the National Association for the Advancement of Colored People turned to Citizen Kane director and famous radio broadcaster Orson Welles to tell his story.
In World War II Isaac Woodard served as a longshoreman, unloading ships in the Pacific theater while under fire. After his honorable discharge from the military on February 12, 1946, Woodard set out to meet his wife, catching a Greyhound bus from Georgia to South Carolina, where the 26-year-old Black man grew up under segregation and Jim Crow. But just a few hours after his discharge, while still wearing his uniform, police forced Woodard from the bus in the town of Batesburg (now Batesburg-Leesville), South Carolina.
Several officers, including the town's police chief Lynwood Shull, took Woodard to an alleyway, where they beat him with nightsticks. Then they arrested him for disorderly conduct, jailed him, then beat him throughout the night, jabbing him in the eyes so many times with their billy clubs that the globes were irreparably damaged.
The next morning, Woodard was brought before a local judge and fined fifty dollars. He wouldn't receive medical assistance for a further two days. Suffering from temporary amnesia after the attack, Woodard wasn't found by his family for three weeks. The assault left him permanently blind.
While the NAACP brought the story to liberal newspapers and the Black press, the organization's Executive Secretary Walter White and cartoonist Ollie Harrington—recently tasked with building out the NAACP's public relations—wanted to make Woodard's assault by police national news. In July, 1946, White sent a letter to famous radio broadcaster and movie director Orson Welles, which included an affidavit written by Woodard.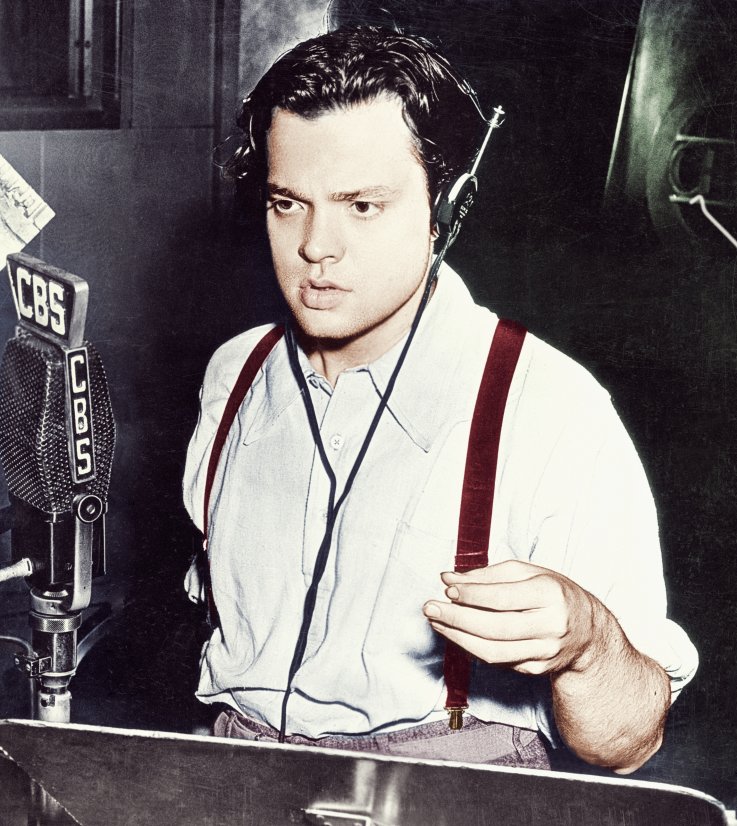 Orson Welles, broadcasting on CBS around 1938.
Bettmann / Getty Images
Welles had produced multiple radio programs throughout the 1940s, from variety shows to news programs meant to bolster Allied war efforts. In September 1945, ABC began broadcasting "Orson Welles Commentaries," a series of 15-minute political and social commentaries that covered everything from atomic bomb testing to Louis Armstrong. Welles found in Woodard the most powerful story the program would ever tell.
On his July 28, 1946 episode, Welles opened by reading Woodard's account of his assault in full. With the boost from a national platform and one of the most famous voices in recorded history, Woodard's assault became a national flashpoint.
"About one hour out of Atlanta, the bus driver stopped at a small drug store. As he stopped I asked if he had time to wait for me until I had the chance to go to the restroom. He cursed and said no. When he cursed me, I cursed him back. When the bus got to Aiken, he got off and went and got the police," Welles said, reading from Woodard's description of how the police attack began. "They didn't give me a chance to explain. The policeman struck me with a billy, and told me to shut up."
(Woodard's initial misidentification of Aiken, a town about 30 miles away from Batesburg, was used by many to attempt to discredit the story, including a segregationist congressman who urged FBI director J. Edgar Hoover to investigate the "highly inflammatory" broadcast.)
Woodard further recounts how the local police pressured him to sign over a check for more than $690—his military pay—and tried to get him to drink whisky so that medical authorities could declare him drunk.
Welles aired four further episodes about Woodard. Here is the first:
The video, shared by The New Republic writer Osita Nwanevu among others, includes audio of the broadcast and an on-screen transcript of Welles' comments. Further episodes are available through Archive.org, or from the Orson Welles on the Air project of the Indiana University Libraries and the Indiana University Media Digitization and Preservation Initiative.
Welles announced on-air his intentions to find out the identities of the men who assaulted Woodard, comparing their conduct to Nazi Germany.
"The boy saw him while he could still see, but of course he had no way of knowing what particular policeman it was who brought the justice of Dachau and Oswiecim to Aiken, South Carolina," Welles said in that first broadcast. "He was just another white man with a stick, who wanted to teach a Negro boy a lesson—to show a Negro boy where he belonged: In the darkness."
Naming the policeman Officer X, Welles addressed him directly. "Wash your hands, Officer X. Wash them well. Scrub and scour, you won't blot out the blood of a blinded war veteran," Welles said. "Go on, suckle your anonymous moment while it lasts. You're going to be uncovered. We will blast out your name! We'll give the world your given name, Officer X. Yes, and your so-called Christian name. It's going to rise out of the filthy deep like the dead thing it is."
And that's just what Welles and the NAACP did.
In Unexampled Courage: The Blinding of Sgt. Isaac Woodard and the Awakening of President Harry S. Truman and Judge J. Waties Waring, author and U.S. District Court judge Richard Gergel recounts how the NAACP tracked down the police responsible for the assault on Woodard including Shull, Batesburg's chief of police.
"All clues led to Mr. L. L. Shull, chief of police in Batesburg, South Carolina," Welles announced in a subsequent episode. "Now we have him. We won't let him go. I promised I'd hunt him down. I have. I gave my word I'd see him unmasked. I've unmasked him. I'm going to haunt Police Chief Shull for all the rest of his natural life. Mr. Shull is not going to forget me. And what's important, I'm not going to let you forget Mr. Shull."
Cries rang out across the country for Shull's prosecution. Musicians, including Cab Calloway, W.C. Handy, Billie Holiday, Woody Guthrie (who wrote a song called "The Blinding of Isaac Woodard") and Nat King Cole, played at a benefit concert to raise, filling Lewisohn Stadium in Harlem. Woodard spoke to the 23,000 people assembled, urging "that justice is done."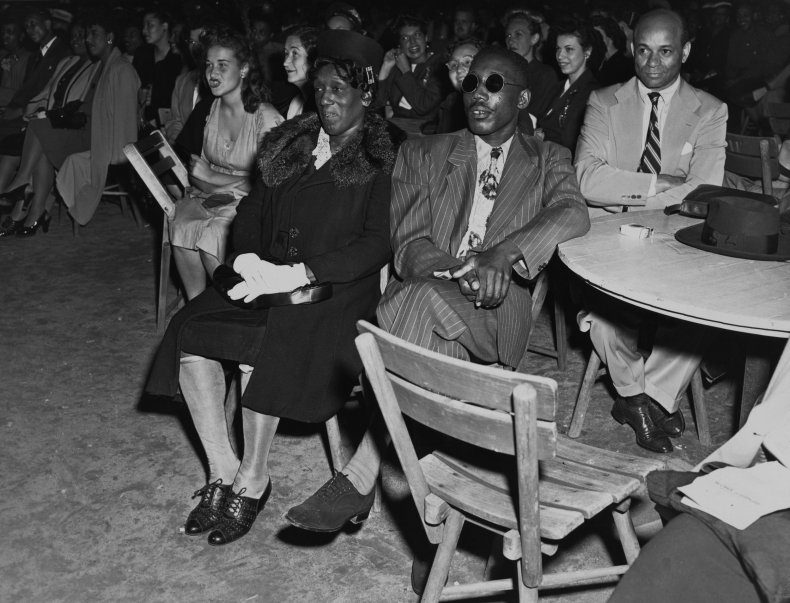 But justice was not done. After a brief investigation, Shull and other officers were tried in Columbia, South Carolina and found not guilty by an all-white jury. During the trial, Shull's defense attorneys argued that Woodard belonged to "an inferior race" and told the jury that convicting Shull would be tantamount to telling "the public officers of South Carolina that you no longer want your home, your wife and your child protected." After the not guilty verdict was delivered, the courtroom cheered.
But the mass mobilization of the NAACP and allied civil rights groups provided enough leverage to influence President Harry Truman, who met with NAACP leadership a month after Shull's acquittal. One direct result was the establishment of the Civil Rights Commission. The assault on Woodard became the basis of a national pivot on policy, with Truman making civil rights a substantial part of his first term in office. In July 1948 Truman issued two Executive Orders, banning racial discrimination in the military and desegregating the federal government.
Woodard died in 1992 in a Veterans Administration hospital in the Bronx. Shull, having escaped all legal consequences for his actions, died five years later in Batesburg, age 95.