Listen & Watch: Billboard Create Hip-Hop Audio Timeline from 1985-2015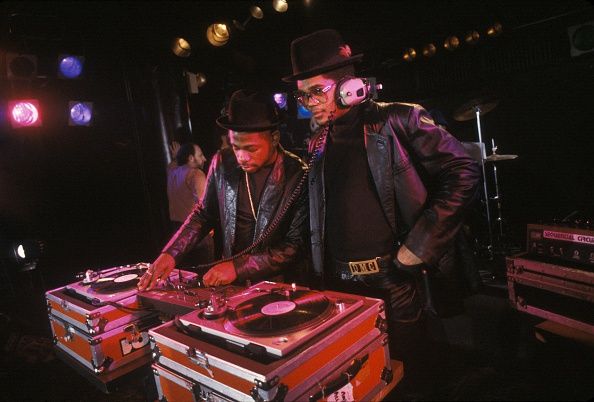 This week, the hip-hop community was consumed by another violent verbal feud, which so often seep to the surface when two of its leading protagonists publicly disagree.
Rapper B.o.B and respected astrophysicists Neil deGrasse Tyson's beef over whether the Earth is flat quickly escalated from Twitter to composing battle rhymes as the two exchanged tracks outlining their respective theories on our planet's geometry.
If the episode brought back bleak memories of Notorious B.I.G's deadly spat with Tupac, Billboard magazine has stepped in to remind us of all the glorious hip-hop rhymes amplified through cassettes, Boomboxes, and Spotify over the past 25 years.
Billboard, using its own chart data In partnership with Polygraph.co, has created an impressive interactive audio timeline of the most popular rap tracks since 1989.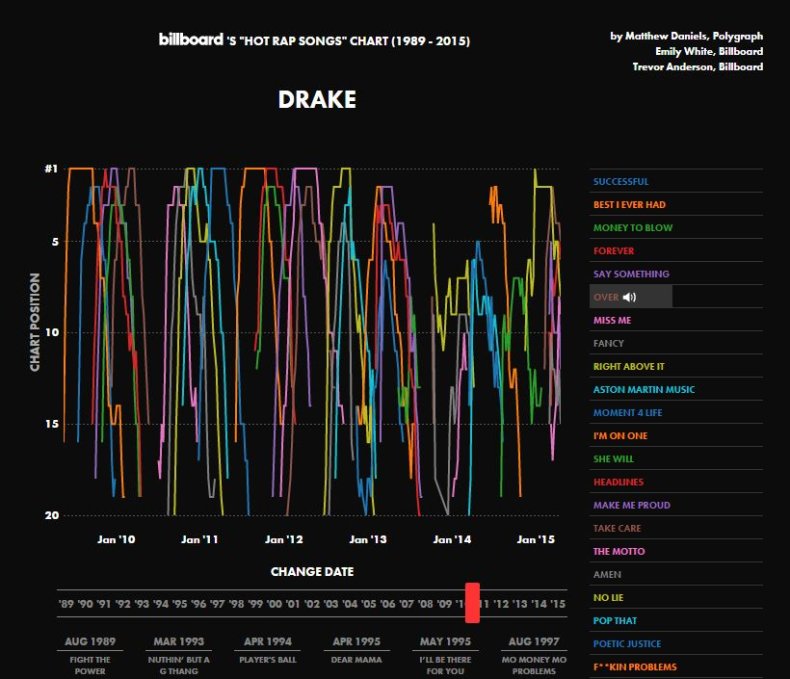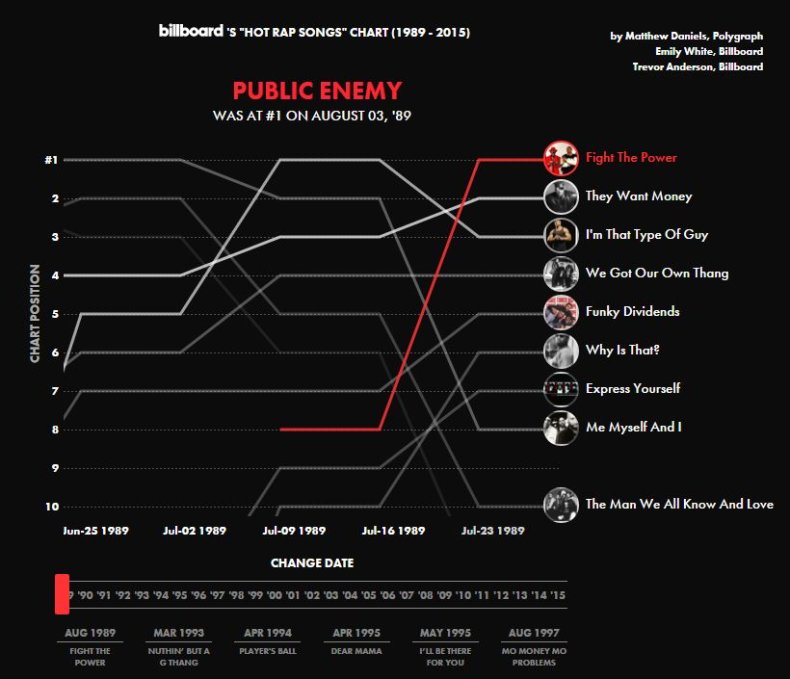 The chart begins in June 1989, when De La Soul's "Me Myself and I" was the peak of the rap sound before we slowly watch the iconic Public Enemy's seminal hit on black supression, "Fight The Power" rise to the top.
Pick any time, in any month, in any year, and witness artists reach the pinnacle of the zeitgeist, only for a fresh newcomer to take their crown.
You can watch Tupac's gentle ode "Dear Mama" battle Biggies "Big Poppa" throughout April and May 1995, or hear how Missy Elliott's "Hot Boyz" kicked off the '00s.
Drake (15) leads the way with most No. 1s, followed by Puff Daddy (10) and Kanye West (9).
The Canadian rapper has double the reason to celebrate as his "Hotline Bling," along with "Hot Boyz" and Australian artist Iggy Azalea's "Fancy," spent 18 weeks leading the hip-hop pack, more than any other songs in history.