Ice Pops Recalled in 15 States for Possible Listeria Contamination
Over 3,000 cases of ice pops distributed to 15 states are being recalled due to possible listeria contamination, the Food and Drug Administration announced.
The Ziegenfelder Co. has recalled cases of its Budget Saver Cherry Pineapple Monster Pops and Budget Saver Sugar-Free Twin Pops, according to an FDA statement issued Monday.
"The voluntary recall was the result of a routine state inspection of the company's Denver production facility which found Listeria monocytogenes in environmental samples collected by the inspector," the FDA wrote. "The Ziegenfelder Company has ceased the production and distribution at the plant as the state of Colorado and the company continue their investigation as to what caused the problem."
The possibly contaminated popsicles were delivered to distributors and retailers in Alabama, Arkansas, Florida, Maine, Missouri, Nebraska, Nevada, New Mexico, New York, Ohio, Oklahoma, Texas, Utah, Washington and Wyoming from April 5 to April 19.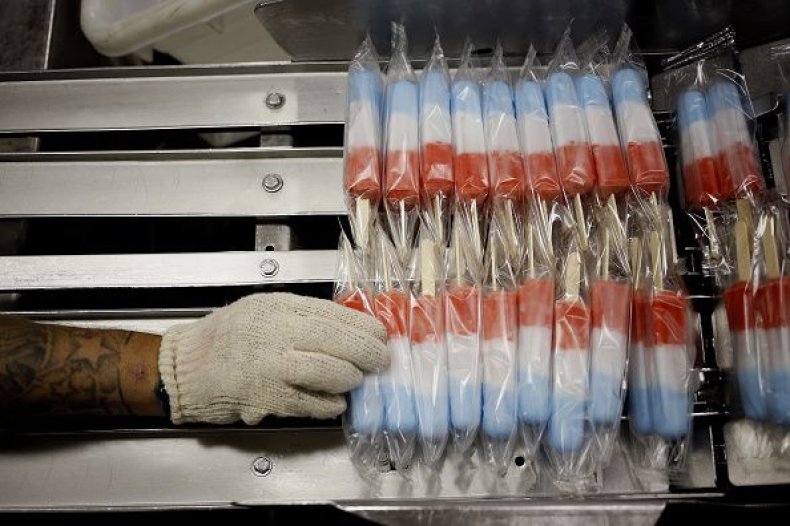 The FDA stated that no illnesses have been reported related to the ice pops, but listeria contamination is very serious. Listeriosis is an infection that is caused by eating food that is tainted with a bacteria called Listeria monocytogenes, according to the Centers for Disease Control and Prevention. The CDC estimates that 1,600 people become sick and about 260 people die from listeriosis each year in the United States.
Symptoms include vomiting and diarrhea, according to the CDC, and the infection can do serious harm to pregnant women, newborns, adults over the age of 65 and anyone with a weakened immune system.
Ice pops are not the only food that has been recalled this month in the United States. The CDC warned consumers not to eat any kind of romaine lettuce after an E. coli outbreak hit 16 states. The agency reported 53 cases of E. coli from contaminated lettuce that was traced back to Yuma, Arizona.