Listeria Outbreak Sickens 23 in 10 States as CDC Eyes Florida for Cause
National public health officials investigating an outbreak of a potentially dangerous bacteria strain said they've linked most of the reported infections to Florida.
The Centers for Disease Control and Prevention (CDC) said Thursday that it was collecting data to pinpoint the source of what it called a multi-state outbreak of listeria monocytogenes infections. While the CDC said investigators are working to answer questions about the outbreak, 20 of the 22 people infected with full information reported either living in or traveling to Florida the month before they got sick. The agency added that cases have been reported in 10 states.
Listeria is a bacteria that can cause serious and potentially fatal illness for pregnant women, people older than 65 and those with weakened immune systems, according to the Mayo Clinic. Infections from the bacteria are commonly caused by eating processed deli meats and unpasteurized milk products, per Mayo.
The CDC said the current listeria outbreak has resulted in one death in Illinois, as well as one fetal loss after a total of five people were sickened during their pregnancies. Twenty-two of the 23 total people infected, which includes one person without full information reported, have been hospitalized, the CDC said.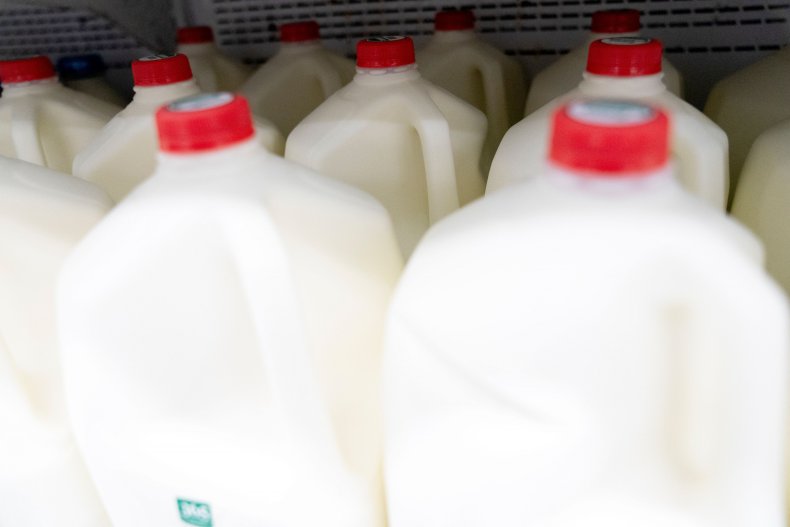 While a large majority of the infections in the current outbreak have been tied to Florida, the CDC noted that "the significance of this is still under investigation."
The Florida Department of Health told Newsweek in an email Saturday that it is "investigating a multi-state Listeriosis outbreak."
"As a result of this investigation, Big Olaf Creamery in Sarasota, FL, is voluntarily contacting retail locations to recommend against selling their ice cream products until further notice," the department said. "Floridians who may have Big Olaf Creamery brand ice cream at home should dispose of any remaining product."
"The true number of sick people in an outbreak is likely higher than the number reported, and the outbreak may not be limited to the states with known illnesses," the CDC said. "In addition, recent illnesses may not yet be reported as it usually takes three to four weeks to determine if a sick person is part of an outbreak."
The illnesses associated with this outbreak began on January 24, 2021, with the most recent recorded June 12, 2022. Those sickened have ranged in age from 1 to 92, with a median age of 72 and just more than half have been male, according to the CDC.
The agency said it's working with the U.S. Food and Drug Administration (FDA) as well as public health and regulatory officials in several states to investigate the outbreak.
At the moment, genetic data shows bacteria samples collected from sickened people are closely related, indicating they likely picked up listeria from the same food, according to the CDC.
A listeria outbreak was linked by the CDC earlier this year to Dole packaged salads, which resulted in two deaths and 13 hospitalizations.
Meanwhile, Alexander & Hornung last year agreed to voluntarily recall 234,391 pounds of fully cooked ham and pepperoni products after a sample came up positive for listeria monocytogenes.
Give and Go Prepared Foods Corp. also issued a recall in 2021 of its baked goods over possible listeria contamination.
"Public health officials are interviewing people about the foods they ate in the month before they got sick," the CDC said. "So far, a common food item has not been identified."
Healthy people are unlikely to become sick from a listeria infection, and those at higher risk should avoid eating foods likely to contain the bacteria, according to the Mayo Clinic, which recommended swift antibiotic treatments for those infected.
Update 7/4/22, 4:35 p.m. ET: This story has been updated with additional comment from the Florida Department of Health.