Meet Baseball's 13-Year-Old Game Changer Mo'Ne Davis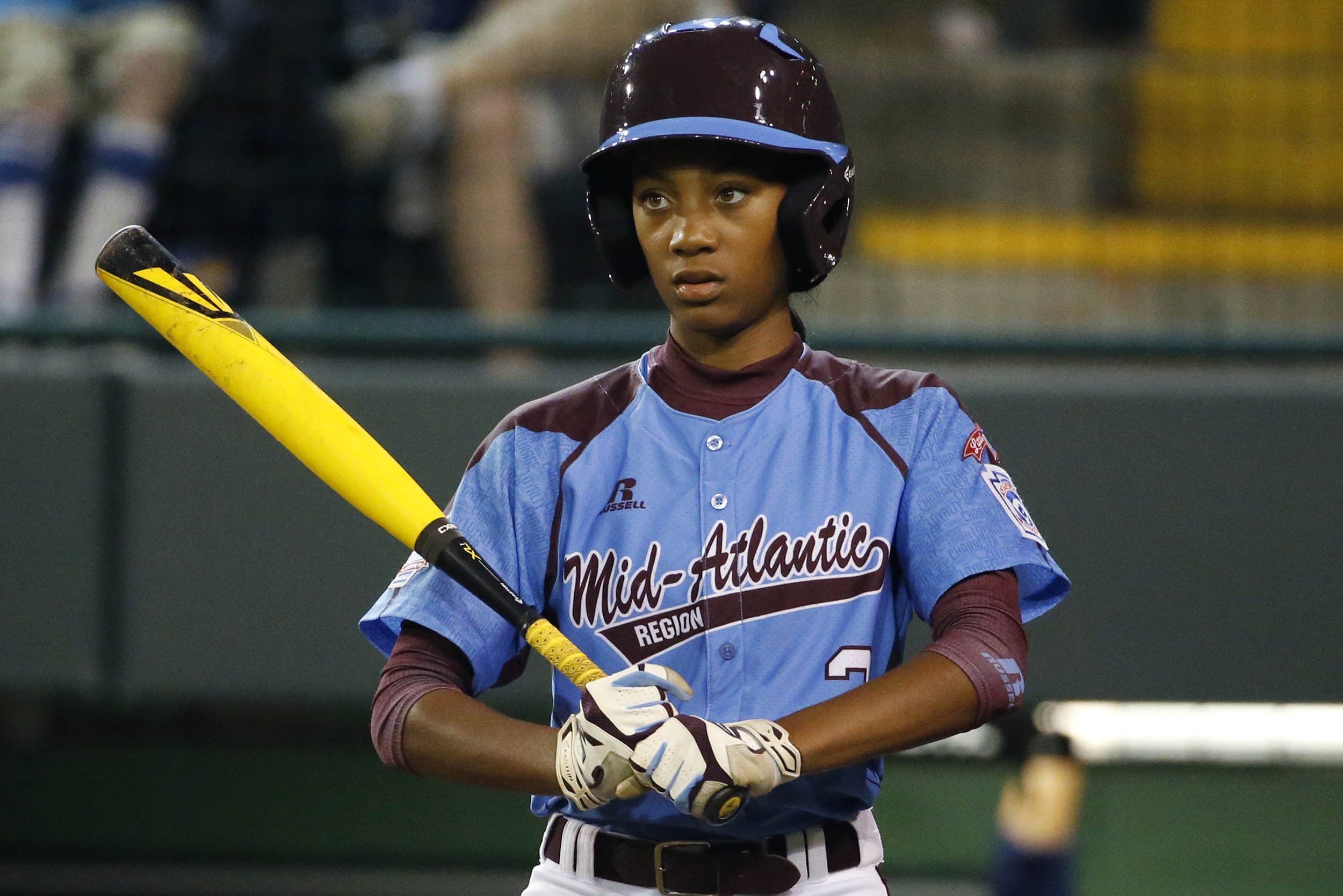 A plume of ebony braids, ligatured with a thick rubber band, cascaded from the back of the baseball cap of 13-year-old Mo'Ne Davis and descended all the way to her waist. This was shortly after 7 p.m. on Wednesday night at Lamade Stadium in South Williamsport, Pennsylvania. Davis stood on the dirt strip beyond the outfield wall, playing catch with her friend and teammate, Zion Spearman.
Just two Little Leaguers warming up before a game. Except that 34,128 people had made the pilgrimage to this lovely ballpark, carved into a verdant hillside, to see her team, the Taney Dragons, play. To see her play. And that in just a few minutes, the game's first pitch, which would be hurled by Davis—following a ceremonial first pitch by newly elected Major League Baseball commissioner Rob Manfred—would be nationally televised for a prime-time audience on ESPN.
Dozens of fans pressed up against the hedges separating the masses from this newly coronated diamond princess, just the third female to grace the cover of Sports Illustrated this year, following U.S. Winter Olympian Mikaela Shiffrin. The first was an athlete of a different kind, Kate Upton. Mostly the fans were boys her age, gawking as they snapped photos of Davis with their smartphones. A few of them clutched placards that had been distributed that read "GO TANEY DRAGONS" on one side. On the other, an inspired artist had illustrated a reimagined version of Robert Indiana's iconic pop art "LOVE" sculpture, substituting the word "MONE."
"Hey, Mo'Ne!" a man yelled, and the young girl, to whom fame was a stranger just a fortnight ago, instinctively turned. "You're handling this like a champ!" In that moment between hearing her name and spotting the fan, Davis morphed into a big leaguer. Her visage went blank, a survival tactic Derek Jeter mastered long ago. She neither smiled to acknowledge him nor did she betray any other form of emotion. She simply pivoted back 45 degrees and returned to her warm-up throws.
Oh, but Davis is riveting in a baseball uniform. That hair. Those emerald eyes. That knee-buckling changeup that complements a 70-m.p.h. fastball, which when thrown from a pitcher's mound just 46 feet removed from home plate, must look like big-league, 90 m.p.h. premium gas.
Shortly after the sun set beyond the rightfield wall, Davis threw her first pitch to Mountain Ridge Little League of Nevada's leadoff hitter, Zach Hare. Five days earlier, Davis had pitched a complete-game shutout, the first female to do so in Little League World Series history, against a squad from South Nashville. She surrendered two hits in six innings, struck out eight.
On Wednesday evening versus Mountain Ridge, representing the West region of the United States, Davis gave up two hits in her first seven pitches. Hare belted a line drive to center. Then Austin Krusczyzuk, who looks as if he should already be playing Double A ball, swatted a three-base gapper to right-center. Davis, who has been handling the tsunami of media attention like a champ—"My coaches remind me," she said last weekend when asked about how she was dealing with the flash-flood of interview requests, "I can always say, 'No'"—remained as poised and impassive as if she were still playing catch with Spearman.
Facing the heart of Mountain Ridge's batting order with Krusczyzuk on third and no one out, the soon-to-be eighth grader from West Philadelphia struck out the side in order.
Mountain Ridge has the same initials as Murderer's Row, and since arriving in Williamsport the Las Vegas-based club had hit like the '27 Yankees. A 12-2 mauling of the Midwest in their opener was stopped per the mercy rule in the fifth inning, followed by a 13-2 blasting of the Great Lakes that was called after four. Entering Wednesday night's game, they'd been the LLWS' Mike Tyson: defeating them was no longer the issue; simply going the distance was.
Against this powerhouse, Davis acquitted herself exceptionally well. Though she surrendered a two-run home run in the second inning, she allowed just three runs and six hits in two-and-one-third innings. Six of the seven batters that she retired with K's.
"There's no question [Mo'Ne] didn't have her A-game tonight," Taney manager Alex Rice told reporters afterward, though against Mountain Ridge, who could?
After departing the mound, Davis took over at first base, and watched her team squander legitimate opportunities to wrest the game from Mountain Ridge. Trailing 3-1, the Philadelphia club loaded the bases with no outs in the fourth inning and had runners on first and third with no outs in the fifth. Both times Krusczyzuk, who had come on in relief from centerfield, shut Taney down.
In the sixth inning, Davis moved out to right field, as Mountain Ridge exploded for five runs in what would eventually be an 8-1 win. As Rice made a pitching change, Mo'Ne stood alone in a sea of green. Her black Rawlings glove hung at her side as she distractedly chewed at the fingernails on her right hand. For just a moment, Mo'Ne Davis resembled the classic image of the listless Little Leaguer the coach tries to hide in right field, the last kid picked for the team.
Mo'Ne Davis is the furthest thing from that humble stereotype that Little League baseball has ever produced. She is the next great step in its, and in our, evolution. She is its missing link.
Taney faces Jackie Robinson West of Chicago Thursday night in an elimination game at Lamade Stadium. The latter team has also drawn media attention because it is composed entirely of African-American players, including Pierce Jones, who bashed three home runs and a triple in an earlier game. Davis is not eligible to pitch in this contest. If Taney advances, she will likely pitch, once again versus Mountain Ridge.