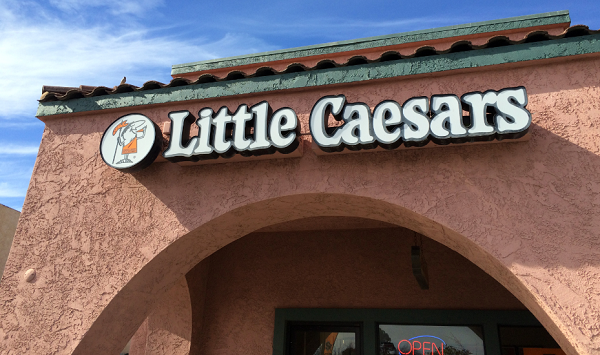 Little Caesars is going meatless. The pizza company announced its latest collaboration with Impossible Foods, the plant-based company behind the famous Impossible Burger, and said it would start testing the Impossible Supreme Pizza in select locations on Monday.
The pizza will feature meatless sausage crumbles in addition to mushrooms, caramelized onions and green pepper toppings. Little Caesars will sell the pizza for $12 in 58 restaurants across the country, including locations in Albuquerque, New Mexico; Fort Meyers, Florida; and Yakima, Washington. There are plans to roll out the meatless pizza in Detroit, if testing in the first batch of states proves successful.
Ed Gleich, chief innovation officer at Little Caesars said the new pizza was merely the company's effort to better accommodate customers following plant-based diets.
"We look at the interest in plant-based meats as long-term, not just the latest trend. Consumers are increasingly requesting plant-based alternatives to meat products. So, it makes good business sense," Gleich said in a statement to Newsweek. "Surprisingly this isn't a small group of consumers on a specific diet as it was a decade or so ago. Now we're reaching a tipping point where there's widespread interest from customers that enjoy meat and don't intend to give it up completely, but on occasion want a plant-based alternative for perceived health, environmental and taste reasons. Impossible Foods creates products that deliver everything that meat lovers care about. It's been a natural fit."
Just as the Impossible Burger is made with heme—a protein molecule found in the roots of soy plants—the meatless sausage used for Little Caesars' Impossible Supreme Pizza will use the same ingredient. However, the Impossible Sausage does have a higher fat content than the burger patties, according to a New York Times report on Monday. While it has no cholesterol, the sausage does contain 17 grams of total fat, 17 grams of protein and 270 calories in a quarter-pound serving.
Little Caesars will be the only restaurant to feature the sausage for now. Impossible Foods spokeswoman Rachel Konrad told The New York Times there weren't any plans to sell the product at any other restaurants just yet. Impossible Foods does not yet sell products at retail markets.
The meatless sausage crumbles mark Impossible Foods' second venture with a fast-food chain. Burger King announced it would sell the Impossible Whopper—made with Impossible Foods' plant-based burger patty—last month in St. Louis.
Stellar sales of the product resulted in the burger-chain revealing plans to feature the Impossible Whopper on menus of all 7,200 stores across the nation by the end of the year. The expansion launched with Burger King offering the new menu item at locations in Miami, Columbus, Georgia, and Montgomery, Alabama, as of May 14.
The moves signal an even brighter future for Impossible Foods and the meatless industry in general. While Impossible Foods saw a remarkably lucrative debut on the NASDAQ in early May, rival companies are also beefing up their revenue with expanded product placement.
Competitor Beyond Meat, which also specializes in plant-based meat substitutes, launched a meatless sausage patty at Tim Horton's locations last week. It is now available in three of the coffee shop's breakfast sandwiches, as well as in the Beyond Meat Farmers Breakfast Wrap. The meatless option is currently only available at select Tim Hortons in Canada.