Republicans are hitting President Joe Biden over his decision to cancel the Keystone XL pipeline as gas prices rise across the country in the wake of Russia's invasion of Ukraine.
Former Vice President Mike Pence said last week "gas prices have risen across the country because of this Administration's war on energy—shutting down the Keystone Pipeline, shutting down oil and gas leases in this country—while they were incomprehensibly green-lighting the Nord Stream 2 deal for the Russians."
Senator Tim Scott told Fox News on Wednesday canceling the pipeline was "catastrophic" and that "the prices we're seeing today are reflective of his decisions a year ago, not reflective of the conflict that started days ago."
But James Glynn, a senior research scholar at Columbia University's Center on Global Energy Policy, said the Keystone pipeline—even if operational—likely wouldn't have had an impact on the global energy markets.
"There is little evidence to back up the argument that Keystone XL would have averted some of this price spike," Glynn told Newsweek. "The Keystone pipeline capacity is less than one-tenth of Russian oil exports."
"Even if Keystone XL was filled with fully additional Canadian export capacity, which would have been an unlikely scenario, it would not balance the global oil markets where the price of oil is set through a global arbitrage of the last marginal available barrel," Glynn continued.
The current national average for a gallon of gasoline is $3.837, according to the American Automobile Association (AAA). That's an increase of over 20 cents from the national average reported the week before.
The White House has also emphasized that the Keystone Pipeline was never running, and was less than 10 percent completed when the project was shut down, amid criticism from the Republican Party.
"The Keystone Pipeline has never been operational," press secretary Jen Psaki told reporters on Thursday "It would take years to have any impact. I know a number of members of Congress have suggested that, but that is a proposed solution that has no relationship or would have no impact on what the problem is we, here, all agree is an issue."
The pipeline project would have expanded an existing conduit for transporting tar-sands oil from Canada through the U.S. to the Gulf Coast. After years of legal challenges and environmental activism to shut the project down, the company behind it officially halted construction in June 2021 after Biden revoked a key permit.
"The Keystone pipeline is not a viable solution because you can't build a pipeline in an hour, right?" David Sacco, a practitioner in residence in the finance program at the University of New Haven, told Newsweek. "The company that was building it shut it down a year ago. So that's not viable. But I think the argument that our energy policies have been a pretty significant contribution to this [crisis] are certainly valid from an economic standpoint."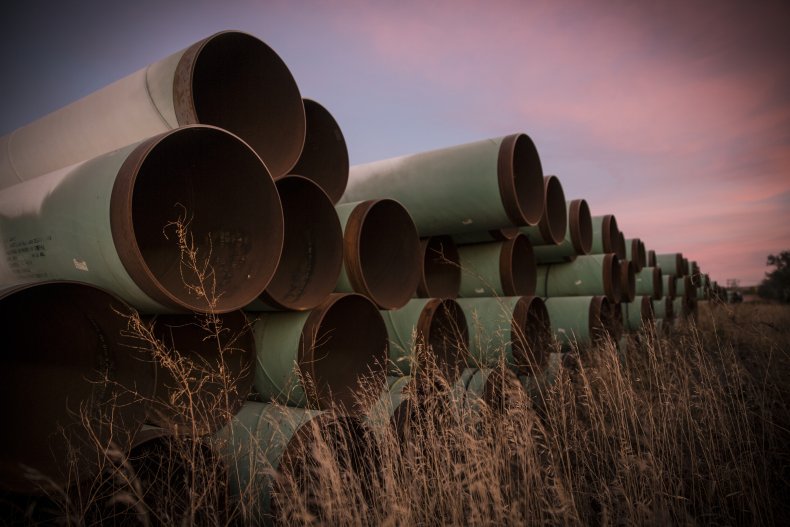 Sacco said there's an argument to be made that the U.S. and other nations purchasing oil from Russia has "allowed their economy to strengthen, has allowed Putin to basically fund his military and expansion policies."
In addition to rising prices, Republicans have hit the Biden administration for energy policies they say make the U.S. more dependent on foreign oil.
"Biden has given up the best defense we had against Putin's evil vision for the world — energy independence," Senator Marsha Blackburn said in a statement this week. "We need to make America energy independent again. It's time to divest from Russian energy and stop funding Putin's war, and reauthorize the Keystone Pipeline."
One energy proposal that has received bipartisan support on Capitol Hill is to ban Russian oil imports. House Speaker Nancy Pelosi said Thursday she was "all for" the proposal.
While Biden has said "nothing is off the table," the administration has so far resisted slapping Moscow's energy sector with sanctions because it could further drive up prices at the gas pumps.
Sacco said he believed gas prices could go up to $5 per gallon as the Russia-Ukraine crisis unfolds.
Biden has said it's a priority for his team to ease the financial burden on Americans as prices rise. The administration just announced it is coordinating with other nations to release 60 million barrels of oil in global reserves, half of which would come from the U.S. Strategic Petroleum Reserve.
"The American people understand that defending democracy and liberty is never without cost," Biden said last month while speaking on the Russia-Ukraine crisis.