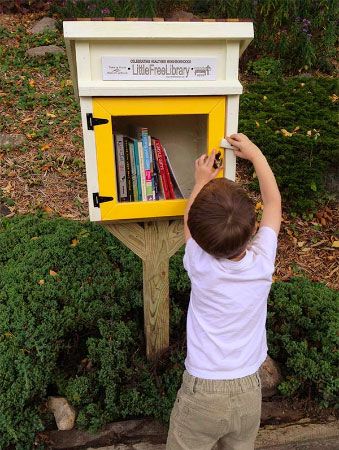 A batch of Little Free Library outposts in Omaha, Nebraska, were infiltrated Wednesday when parents of its child patrons discovered dozens of bound neo-Nazi propaganda booklets stuffed in its stacks.
The propaganda-laden tomes that turned up on Monday were reported in the West Omaha neighborhoods of Treadwood, Leawood and Dear Ridge, according to The Plains States Region of the Anti-Defamation League.
Its regional director, Dr. Mary Beth Muskin, told Newsweek the incident came on the heels of two other similar information offensives.
On May 7, Muskin said there were anti-Semitic flyers papered around an Omaha neighborhood.
A month later, on July 1, she said a book turned up in a Little Free Library titled: The English Translation from the Third Reich.
The ADL then received 19 reports additional on Monday of the same book planted inside the libraries, she said.
"There's been a lot of concern," she said. "The first reports have come from parents saying, 'You're not going to believe what my child brought home.'"
The evidence was quickly eradicated.
"People have been shredding them," Muskin noted. "The initial reaction was to note it and shred it."
The Omaha Police Department was also informed of the incidents, but she said so far that whoever attempted to taint the libraries with the questionable reads didn't break any laws.
"It's not illegal," she said.
Calls and emails by Newsweek to the Omaha Police Department were not immediately returned.
The wholesome mini outposts, usually propped up as tiny, bird-feeding house receptacles—intended to provide free books in neighborhoods around the globe—are a mainstay for young and old readers alike who adhere to a buddy system under the group's banner: "Take a book. Return a book."
The incident left Margret Aldrich, an author and Little Free Library nonprofit program manager, deeply dismayed.
"It's pretty disturbing," she told Newsweek. "This is offensive, and it's the first time I've heard of something this heinous."
The Little Free Library was established in 2009 and since then, Aldrich said, 70,000 branches have erected in all 50 states and 85 different countries around the world.
They just opened the miniature doors to Saudi Arabia's first Little Free Library on Tuesday, she revealed.
While there may be an occasional religious book or literature snuck in into the receptacles every so often, the fact that someone or a group of people would try hijacking them to push neo-Nazi propaganda runs counter to its mission.
"Everyone is welcomed at a Little Free Library," she said. "For hateful material to go into one goes against everything it stands for."