Little Girl Lost at Sea Found Floating on a Unicorn
A four-year-old child kept her cool when she drifted a half-mile away from a Greek shore this week. The unnamed toddler was lounging patiently on an inflatable unicorn when a ferry noticed something odd in the distance.
The closer they approached, the more dire the situation seemed. The ferry was alerted to the fact that there was a young child, stranded and alone, on her unicorn raft. And fortunately, she was pulled to safety.
It all happened near Antirrio, a Greek town in the Gulf of Corinth. The four-year-old apparently drifted out of her parents' sight and out to sea. And naturally, people on the Internet are freaking out about the terrifying situation.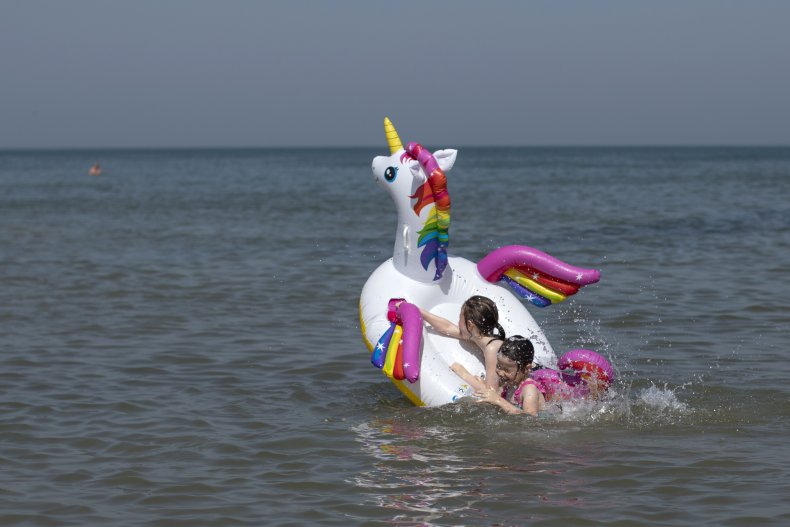 TikTok, Twitter and more Internet commenters dropped their jaws at the video circling the internet. Upon watching, the girl simply looks like an unidentified object in the distance. That's why, when the ferry gets closer, every viewer lost their mind about how lost, yet stoic, the young girl looks. Many applauded the girl's courage, while others slammed the parenting that could have led to a young girl drifting away.
Boaters from the ferry were able to lasso the unicorn to slowly, and safely, pull the girl near the boat. When she arrived, they lifted her off of the inflatable creature, and carried her, wearing adorable water wings, to safety. While we don't know exactly how it happened, the girl has united with her parents again after the ferry rescue, according to Greek City Times.
Apparently the ferry has rescued other people stranded at sea, most recently, an elderly man. Greek City Times notes wild currents in the area as the reason a handful of beachgoers end up floating so far from their starting place, with little hope of backtracking against the waves.
We can't help but wonder what was going through the child's mind throughout the adventure. She didn't appear to be crying and held tightly to the unicorn as it pulled her away from the shore and her family.
This isn't the only time Newsweek has spotlighted an inflatable unicorn rescue. An August 2018 video reminds us of another moment, this time which featured a few adults. Three women had trouble paddling back to the dock while lounging on the raft in a Minnesota lake. An authority pulled the three, and their ginormous inflatable unicorn, safely to the shore, all while they offered kind and enthused commentary about the rescue. You can watch it here.