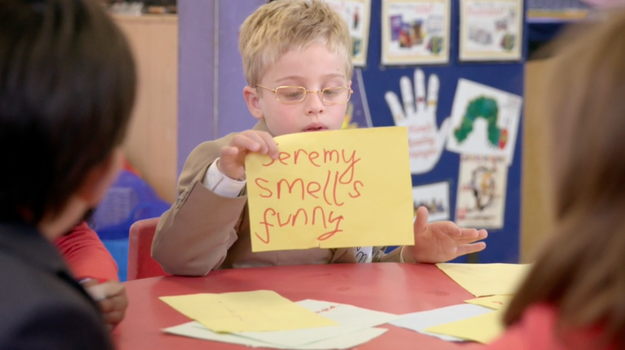 The Green Party released its broadcast "The not so secret life of 5-year-old politicians" on Wednesday, ahead of May's local elections in England and Wales.
Cute youngsters, dressed up as high-profile political figures from Boris Johnson to David Cameron, vie for power in a playground. "Everyone is saying bad things about me and it has to stop," says a five-year-old Jeremy Corbyn in a classroom setting. Even a mock up version of PMQs is staged in the school gym. Not to mention a mini-Theresa May, who throws a selection of dolls on the floor, shouting "get out of the country," playing on the politician's tough stance on immigration.
Marketing agency Creature of London put together the ad. Last year, ahead of the 2015 general election, the same company produced the Green Party's video depicting the leaders of the main political parties as members of a boy band. The broadcast went viral.
"It's rare to be given the opportunity to create genuinely distinct work with an essential message at its heart. The Green Party offers us this time and time again and they are a joy to work with. Here's hoping their message is heard loud and clear," says Stu Outhwaite, a partner at Creature of London.
So far, the Twitter reaction to this year's video has been positive, with users calling the ad "genuinely hilarious" and "simply superb."
At the end of the video, a Green Party spokeswoman - the only adult to appear on screen - states the party's aims, before urging all to vote Green on May 5.
"While the other parties throw around insults, we've been working hard for you. We're a party that believes in an economy that gives everyone their fair share," she says.
Green campaigners hope that the hashtag #GrownUpPolitics will trend on social media thanks to the new ad, which will be broadcast tonight on ITV at 6.25pm.