2019 Little League World Series: Updated Bracket, Where to Watch, Live Stream, TV Schedule
Three of the regional semifinalists at the Little League World Series were decided over the weekend, before the weather caused havoc in Williamsport, Pennsylvania.
On the U.S. side of the draw, the team representing the Southeast qualified for the semifinals after thrashing Midwest 11-0 in just four innings in the quarterfinals.
The Southeast team will play the winner of the game between Mid-Atlantic and West, which will resume on Monday after it was interrupted by a storm on Sunday with West leading 6-0.
The loser will play New England in the losers bracket, which will also seed Midwest taking on Southwest. Despite a comprehensive defeat against Southeast, Midwest made its own slice of history as Maddy Freking became the first female pitcher at the tournament since 2014.
Freking is only the sixth female to ever pitch in the Little League World Series and the 19th girl to ever feature in the tournament.
"It's an honor. I also think it's really cool to be, out of however many boys, the 19th girl to be here," she told ESPN. "For any little girls that are watching, I'd tell them to keep playing their game and always do their best."
In the international bracket, Japan will take on the Asia-Pacific team in the semifinals. The Japanese have outscored opponents 25-0 so far, thrashing the team representing the Europa-Africa region 20-0 in the opening game, before defeating Mexico 5-0 in the quarterfinals.
The Asia-Pacific team, meanwhile, beat the Latin America team 10-3 in its opening fixture and then defeated the Caribbean 4-0 on Sunday in the quarterfinals.
The losing brackets on both sides of the draw will provide the remaining four semifinalists.
Throughout the tournament, teams have had to contend with inclement weather, as lightning and storms have forced organizers to postpone and reschedule games.
According to AccuWeather, Monday should provide some much-needed dry weather, but showers and thunderstorms are expected to return during the week.
Here's all you need to know to keep up with the action.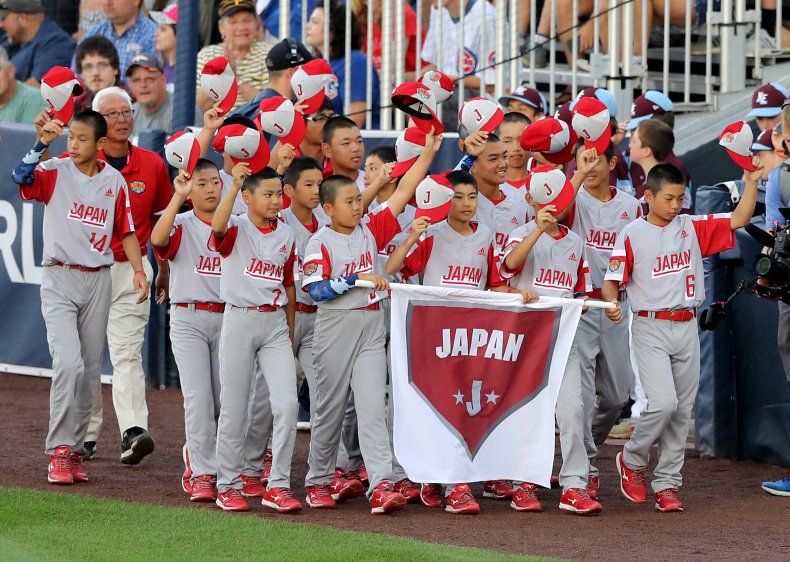 Format
The Little League World Series follows a double-elimination format, with American teams competing in one bracket and teams from the rest of the world competing in the other.
On August 24, the top two sides in the U.S. bracket and on the international side of the draw face each other with their respective titles at stakes. The two winners will then square off in the championship game a day later.
TV coverage
Every game in the tournament is broadcast across ESPN channels or ABC. The latter will broadcast the American and international finals as well as the championship game.
Live stream
All the action will be available online via ESPN's digital platforms. Watch ESPN and ESPN+ and ABC's website for games carried by the broadcaster.
TV schedule (all times ET)
Monday, August 19
Australia vs Great Lakes—11 a.m., ESPN
Mexico vs Latin America—1 p.m., ESPN
Mid-Atlantic vs West—1 p.m., ESPN
Caribbean vs Canada—6 p.m., ESPN
Midwest vs Southwest—8 p.m., ESPN
Tuesday, August 20
Europe-Africa vs Northwest—11 a.m., ESPN
Mexico or Latin America vs Caribbean or Canada—3 p.m., ESPN
Mid-Atlantic or West vs New England—7:30 p.m., ESPN
Wednesday, August 21
Mid-Atlantic or West or New England vs Midwest or Southwest—11 a.m., ESPN
Asia-Pacific vs Japan—3 p.m., ESPN
Southeast vs Mid-Atlantic or West—7:30 p.m., ESPN