'Little Marco' Trends After Rubio Defends Trump's Ukraine Call and Tweets Bible Verse: 'We Wait as Little Marco Shrinks to Tiny Marco'
Some Twitter users are dubbing Republican Senator Marco Rubio "Little Marco" after he defended President Donald Trump's controversial phone call with Ukraine about investigating political rival Joe Biden.
"I don't think he should have done it," Rubio told reporters on Monday. "But that's a far cry from what some people are claiming to know as fact."
The Florida lawmaker added that it is possible for the president to "do something that is wrong and not be an impeachable offense and people are throwing that term around so loosely it's lost all meaning."
Rubio also tweeted a Bible verse from Isaiah on Tuesday morning, which read: "LORD, be gracious to us; for you we wait. Be our strength every morning, our salvation in time of trouble!"
Twitter users jumped on Rubio's comments and slammed him for not standing up to Trump's alleged corruption. The nickname "Little Marco" actually came from Trump himself during the 2016 Republican presidential primary.
Journalist Soledad O'Brien wrote that "we wait as Little Marco shrinks even smaller to Tiny Marco, because he lacks bravery and lacks ability. We wait for him to stand up for those values he likes to talk about. Amen."
Holly Figueroa O'Reilly, founder of Blue Wave Crowdsource, also mocked Rubio's Bible verse tweet with a post of her own in which she wrote: "LORD, save me from your followers, especially little Marco and other cowards like him, who refuse to do anything to upset the apple cart of corruption (i.e., the Trump administration) as long as they have the majority in the Senate."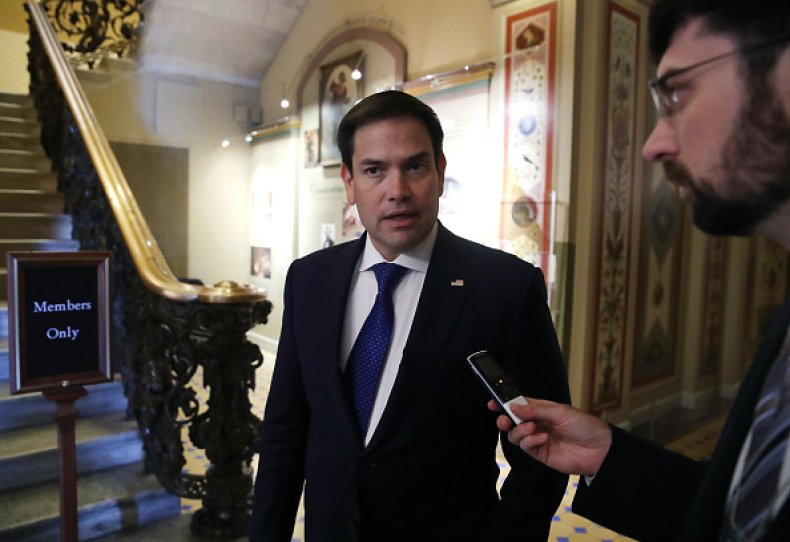 Senate Republicans have been cautious when it comes to defending Trump on his call with Ukraine. The president acknowledged on Sunday that his conversation with Ukrainian President Volodymyr Zelensky included talk about the Bidens and possibly launching an investigation into the family.
The phone call was first revealed by a whistleblower who deemed it so troubling that they filed a complaint with the inspector general for the intelligence community, who deemed it a credible complaint. But the director of national intelligence has so far refused to share the complaint with lawmakers, prompting Democrats to threaten legal action against the administration.
Senate Majority Leader Mitch McConnell slammed Democrats for trying to "politicize" the issue on Monday but also announced that the Senate Intelligence Committee is trying to bring the inspector general in for questioning sometime this week.
"It's extremely important that their work be handled in a secure setting with adequate protections in a bipartisan fashion, and based on facts rather than leaks to the press," McConnell said on Monday.
But Trump has shrugged off any talk of impeachment and slammed the "crooked" media for reporting on the Ukraine issue.
"Joe Biden and his son are corrupt, but the fake news doesn't want to report it because they're Democrats," Trump said on Monday. "If a Republican ever did what Joe Biden did, if a Republican ever said what Joe Biden said, they'd be getting the electric chair by right."