African-American Police Chief Accused of Racial Discrimination by Four Black Officers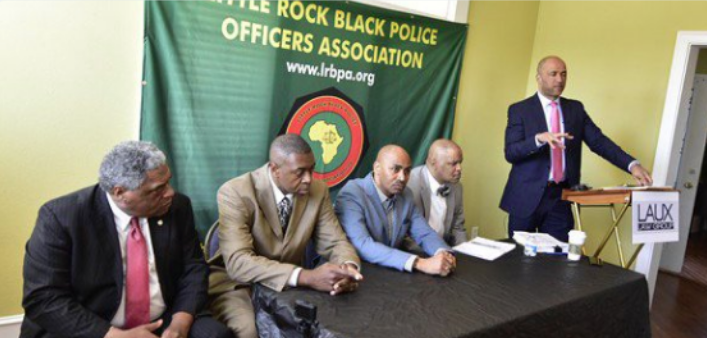 A widening divide between several Little Rock, Arkansas, police officers and the department's chief increased Monday after four black officers filed a discrimination suit against the city. The plaintiffs' attorney said the African-American police chief is far more willing to discipline or harass black officers to "relieve white folks of a lot of their guilt."
Lieutenant Earnest Whitten and sergeants Derrick Threadgill and Willie Davis, and ex-officer Jackie Parker claim they were subjected to "disparate" treatment due to both their age and race, Arkansas Times first reported. Although Little Rock Police Chief Kenton Buckner is not named as a defendant in the federal lawsuit, the officers said the hostile work environment was inflamed by the department's retaliation against their complaints.
The current and former officers said they were targeted by Buckner, who is black, for their membership in the Little Rock Black Police Officers Association. Two additional BPOA officers, Lieutenant Johnny Gilbert Jr. and Captain Tonya Washington, are expected to join the lawsuit assigned to U.S. District Court Judge Brian S. Miller Monday. They are waiting on approval from the Equal Opportunity Employment Commission to move forward with the suit.
Speaking at a press event Monday morning, attorney Mike Laux detailed a 2017 civil suit against former LRPD officer Josh Hastings in the shooting death of 15-year-old Bobby Moore, who attempted to flee a scene in a stolen vehicle. Lieutenant Johnny Gilbert's testimony against Hastings helped the Moore family receive an award of $415,000. Gilbert's testimony was met with "uneven" discipline from older white officers.
"There are many instances of similar conduct by white LRPD officers who were either not disciplined or disciplined...less harshly," the lawsuit filing stated.
Laux also noted that Davis's January complaint to superior officers about a racist social media post from a white LRPD recruit got him a 10-day suspension. "Rather than commend Seargeant Davis," Laux added, "he was retaliated against and punished."
Additionally, black LRPD officers were told to "be patient" when discussing salary increases or promotions.
Both the city manager, Bruce Moore, and LRPD Chief Buckner are black, but Laux said that hasn't kept them from overseeing a racist system.
"We want them to justify their personnel decisions," said Laux. "I've looked at them. It doesn't make sense to me. Let's not beat around the bush. There is rampant racism and racial discrimination that riddles the Little Rock Police Department."
Laux singled out Buckner as condescending to black officers and said white political leaders see they can use him to avoid any overt racist tactics against the BPOA officers.
"I don't know if he has made his career out of being the African-American who is tough on African-Americans and thereby useful to white leadership," Laux said of Buckner Monday. "He relieves white folks of a lot of their guilt."
According to the BPOA's website, the organization "was formed in 1978 by 10 black officers on the Little Rock Police Department to address the concerns of the existing issues and conditions within the Department that adversely affected black officers to the Department's Administration, City Government Officials, and Community Leaders."