'Little Women' 2019 Trailer Shows Saoirse Ronan as Jo March: 6 Other Actors Who've Played the Part
Fans of Little Women were set to get their first look at actor Saoirse Ronan as Jo March, at least the sixth actor to take on the role for a movie.
On Tuesday, Sony Pictures was scheduled released the first trailer for the latest film adaptation of Louisa May Alcott's beloved novel Little Women. The powerhouse cast includes actors Meryl Streep and Laura Dern, who portray Aunt March and Marmee March respectively.
Responsible for bringing the March sisters—Meg, Jo, Beth and Amy—to screen are actors Emma Watson, Ronan, Eliza Scanlen and Florence Pugh.
Jo, the most independent of the four sisters, is often selected as a favorite sister by fans and Ronan told Vanity Fair that after growing up as an only child, the role gave her a chance to have sisters. Unlike in Lady Bird, where Ronan's character had her heartbroken by Timothée Chalamet's character, this time around, Ronan will be the one breaking Chalamet's character's heart.
Ronan is not the first to take on the role of Jo. She was introduced to Little Women with the 1994 adaptation, where Winona Ryder played the part of Jo. Ryder was not the first actor to bring Jo to the big screen—in fact, there's a relatively long list of Jo Marches.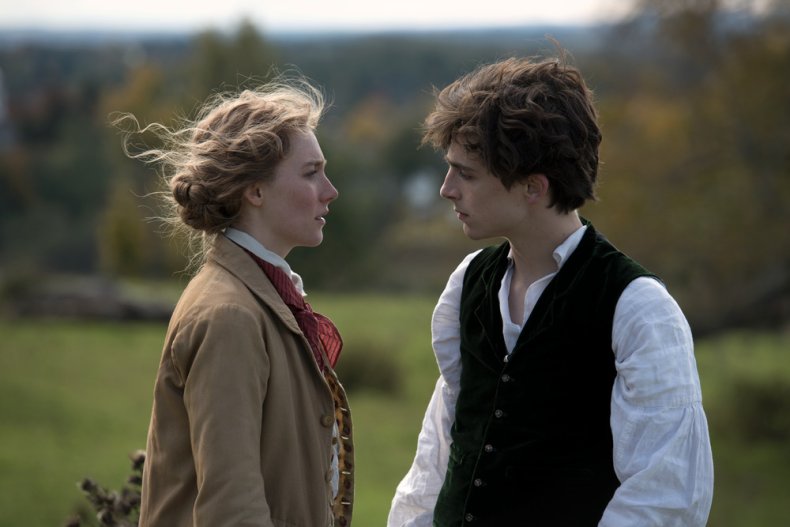 1917: Ruby Miller
British actor Ruby Miller was the first to play the role of Jo March in the film adaptation of the book, although, she did not have any lines. The British film, directed by Alexander Butler, was silent.
1918: Dorothy Bernard
The film was remade in 1918 with Dorothy Bernard, an American actor, cast as Jo. As with its predecessor, this version is also silent.
1933: Katharine Hepburn
Jo was given a voice on the big screen for the first time in 1933 through actor Katharine Hepburn.
1949: June Allyson
About 16 years later, the film was remade, this time with actor June Allyson taking over the role of Jo.
1994: Winona Ryder
Actor Winona Ryder, possibly one of the most identifiable Jo Marches, shared her take on Jo in 1994.
2018: Sarah Davenport
In a remake that took Little Women from its original Civil War-era setting and dropped it in the present day, actor Sarah Davenport was tasked with portraying a modern Jo.
In 1978, actor Susan Dey also played the role of Jo, but technically it was considered a miniseries and released in two parts on NBC. PBS released a miniseries in 2018 with actor Maya Hawke as Jo.
The latest adaptation of Little Women is set to hit theaters on Christmas Day.