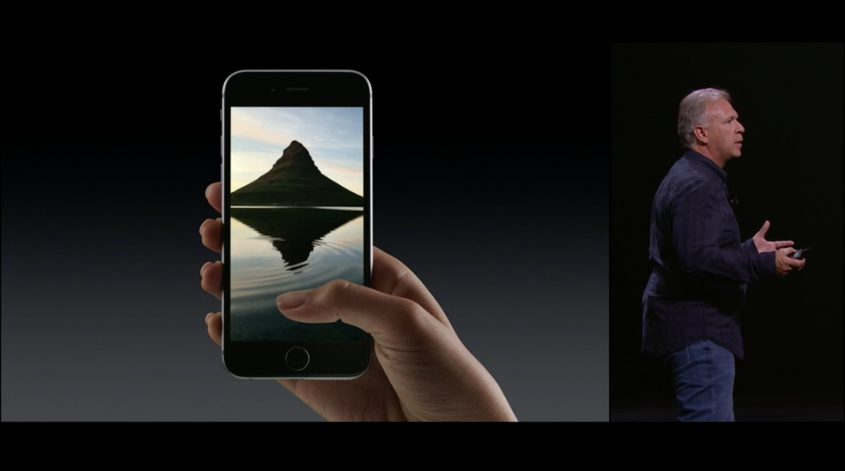 Apple Inc. executives on Wednesday unveiled new gadgets, including the iPhone 6S, iPad Pro and Apple Pencil, at its widely anticipated annual event in San Francisco.
3:16 p.m. "We didn't even know we were playing until 10 minutes ago," lead singer Ryan Tedder says. The last song is "Good Life."
3:12 p.m. Now the band is playing, "I Lived," in honor of Tim Cook, chief executive officer of Apple.
3:06 p.m. The American pop rock band, OneRepublic, is performing "Counting Stars" to conclude the event.
3 p.m. The iPhone 6S will start at $199 and the 6S Plus will start at $299. As a result of the new phones, the 5S becomes free, the iPhone 6 will be $99 and the 6 Plus will be $199. Apple also will offer an installation payment plan.
The iPhone 6S and iPhone 6S Plus will be available for preorder starting on September 12. By September 25, the devices will be available in several countries, including the U.S. By the end of the year, more than 130 countries, with more than 400 carrier partners, will sell the new iPhones.
2:54 p.m. A new iPhone technology, and perhaps the most exciting, is called "Live Photos." "You don't do anything different. You just take a photo as you always have," says Phil Schiller, senior vice president of worldwide marketing for Apple. The feature works because the capture moment is extended for a second both before and after the user takes a picture. Platforms, including Facebook, will work with Apple to use the "Live Photo" function later this year.
2:48 p.m. Schiller now is showing detailed photographs taken on an iPhone 6S in China, Iceland and Italy. "It nails exposure and accurate colors," he says. The camera also can take highly detailed videos.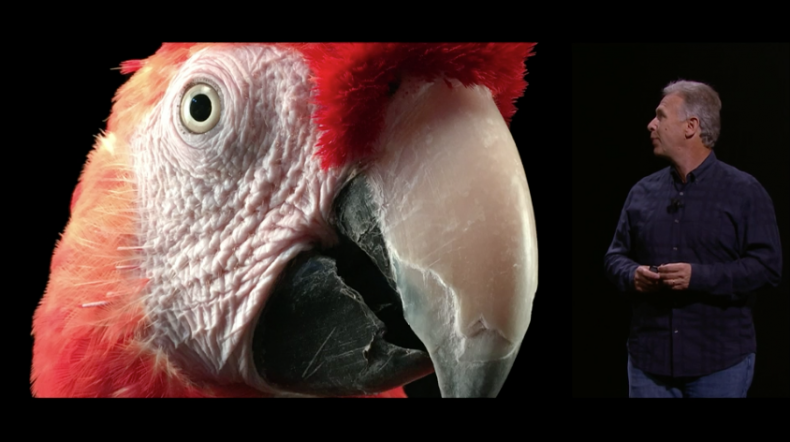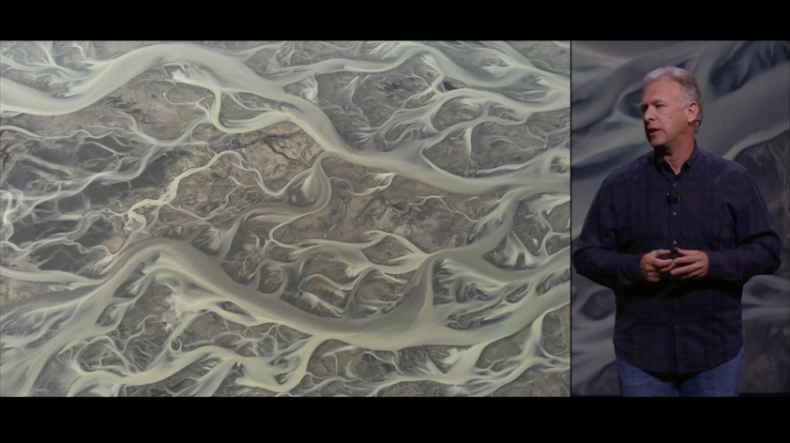 2:46 p.m. Here comes the camera news. It is now a 12-megapixels iSight Camera. The autofocus is faster and more accurate than the previous model, Schiller says. "Deep-trench isolation" is a new technology that helps to maintain precise color.
2:42 p.m. Andy Wafer, chief executive officer of Pixel Toys, is discussing gaming on the iPhone 6S.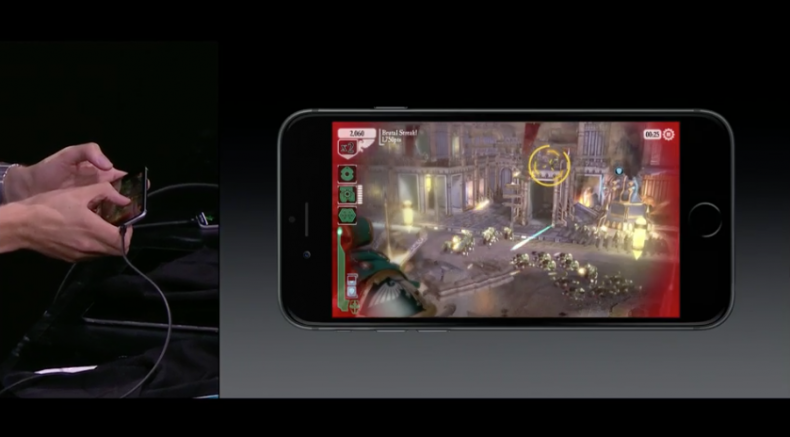 2:35 p.m. Craig Federighi, Apple's senior vice president of Software Engineering, is demonstrating 3DTouch, first with the "Mail" feature. The technology allows for a more delicate user experience, he says. Rather than open an email by pressing it, 3DTouch allows users to apply pressure to open a preview of an email. If a user presses firmly, the email will open in full. The varying degrees of pressure will change how users open photos, messages and other apps.
2:29 p.m. Schiller returns to the stage to discuss the new generation of iPhones. The two models, the iPhone 6s and the iPhone 6s Plus, will be available in four colors—silver, gold, space gray and rosegold. The new technology is 3DTouch, which recognizes familiar gestures and force.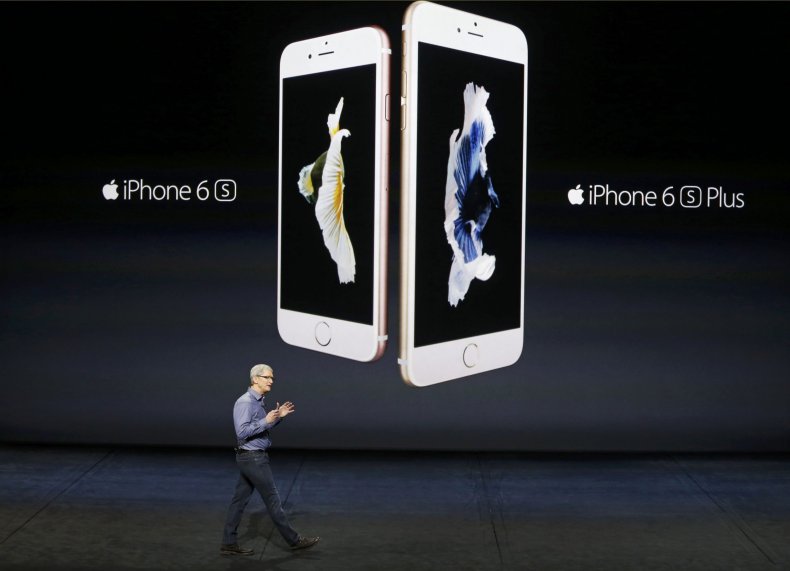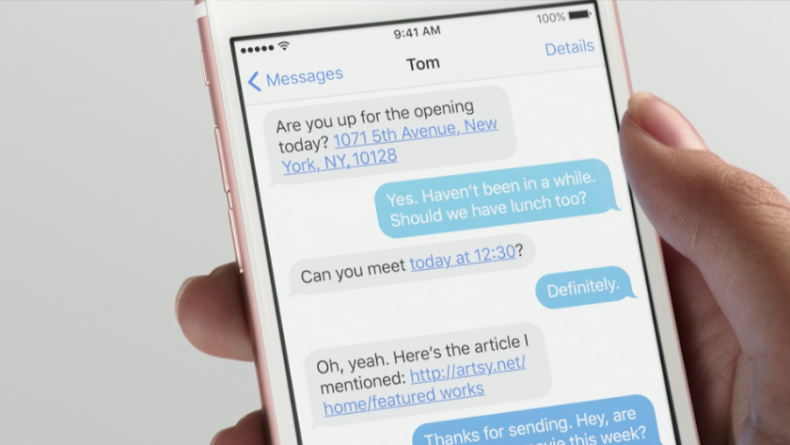 2:28 p.m. Cook introduces the new iPhones, the iPhone 6S and iPhone 6S Plus. "While they may look familiar, we have changed everything about these new iPhones," he says. "The iPhones you are about to see are the most advanced iPhones ever, and in fact, they are the most advanced smartphones in the world."
2:26 p.m. Next section: iPhone.
iPhone 6 and iPhone 6 Plus "have been truly amazing," Cook says. "iPhone 6 is the most popular iPhone ever. They are the most popular phones in the world. But more important to us, they are the most loved phones in the world."
2:23 p.m. Eddy Cue, Apple's senior vice president of Internet Software and Services, is back on stage to talk about Apple TV. The audience claps when he says users don't have to point the remote at the screen. Apple TV starts at $149. Cook returns to the stage.
2:20 p.m. On Apple TV, users can watch multiple Major League Baseball games at once. NHL Game Center Live will launch next year.
2:17 p.m. Michelle Peluso, chief executive officer of Gilt, is talking about having a personal fashion show from her own home using Apple TV. "We believe the new Apple TV will make fashion from home even more compelling," she says.
Cue comes back on stage, makes joke about fashion at his home.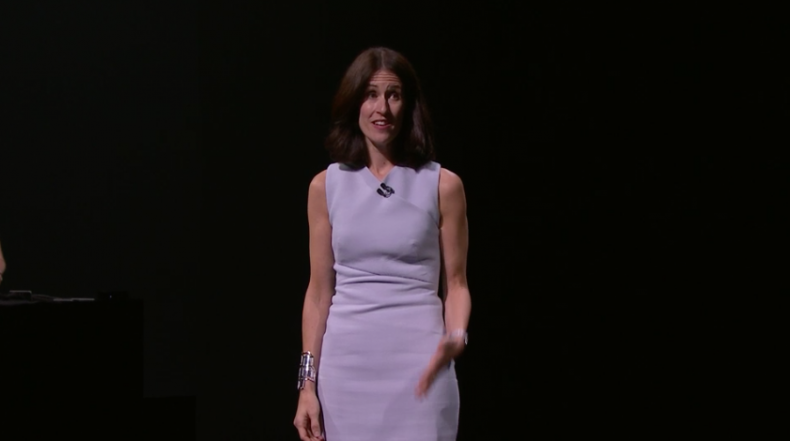 2:14 p.m. Jonathan Carter, a producer at Harmonix Music Systems, is introducing a new game, called Beat Sports. It "combines the joys of hitting balls with the joy of hitting notes," he says. "Beat Sports will make you fall in love with the new remote."
2:08 p.m. Cue is announcing Apple TV's tvOS, which is based on iOS and built for the living room. Andrew Sum, director at Hipster Whale, is demonstrating gaming on the Apple TV.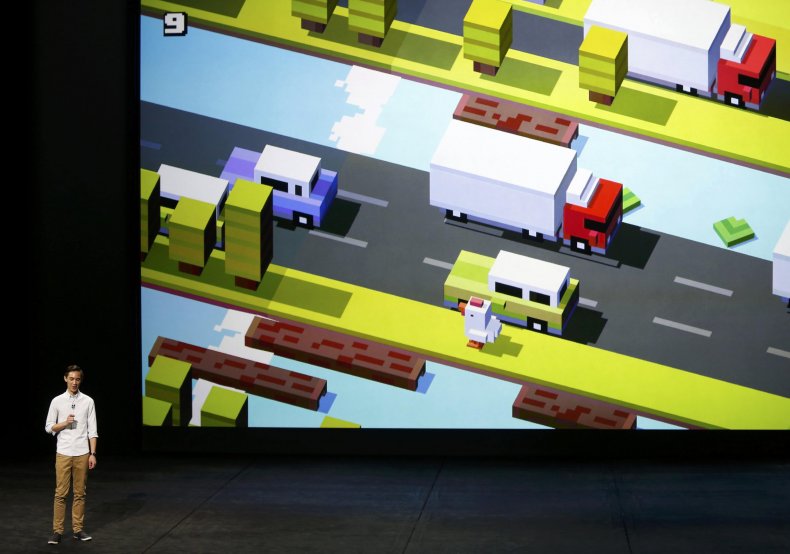 2:02 p.m. Apple's Jennifer Folds is asking Siri to take her to the Modern Family episode with Edward Norton. Success. She is demonstrating how Siri can skip back and temporarily turn on the captions if users miss something on screen. Success. And she is asking Siri for suggestions on "movies to watch with children," for when her niece visits this weekend. Success.
Siri will respond to questions with text at the bottom of the screen as not to disrupt images from a show or movie.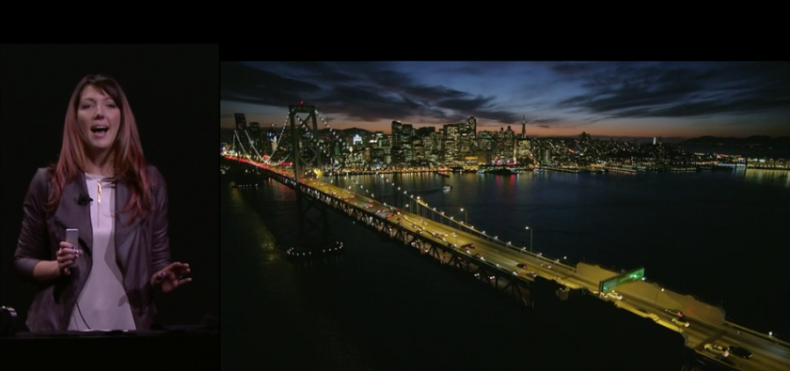 1:59 p.m. Cue is announcing the features of the new Apple TV. "Sometimes it's better to interact with your television using your voice," he says, as the audience applauds. Users can ask Siri to find a specific movie or TV genre. Siri will search services, such as Showtime, Netflix and Hulu.
1:58 p.m. Movie about Apple TV has begun. "We believe it is the future of television," Cook says.
1:54 p.m. iPad Pro announcements have ended. Cook has returned and is speaking about Apple TV. "It really is the Golden Age of television," he says, adding that the TV experience hasn't changed in decades. Instead, innovation has been thriving in the mobile space. But it all changes, starting today, he says.
"We believe the future of television is apps," Cook says.
1:50 p.m. The iPad Pro comes in silver, gold and space gray, and starts at $799. The "Apple Pencil" is $99 and the "Smart Keyboard" is $169. All items will be available beginning in November.
1:44 p.m. Irene Walsh from 3D4Medical is now speaking on stage, showing how a patient anatomy series from the "Apple Pencil" will transform the ways doctors and patients communicate.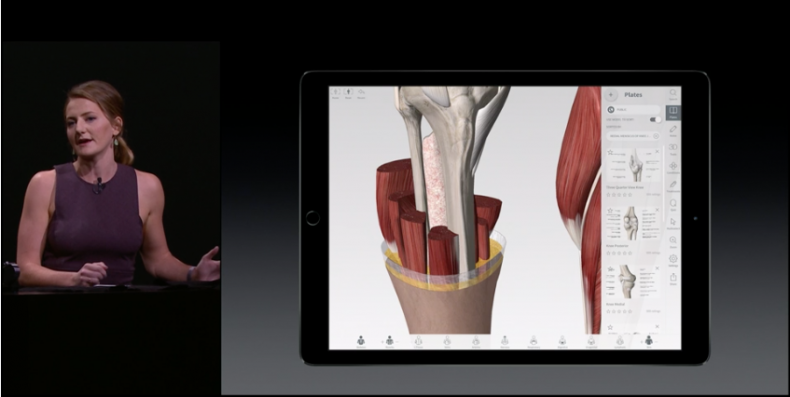 1:36 p.m. "Apple Pencil" demonstrations are starting by Kirk Koenigsbauer, corporate vice president for Microsoft Office, and Eric Snowden, director of design for Adobe. Snowden introduces a new Adobe product called the "Adobe Photoshop Fix."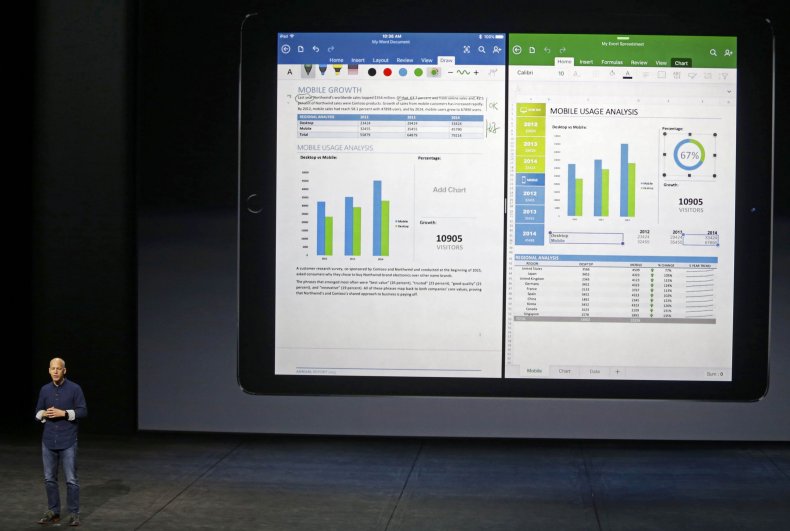 1:31 p.m. He is now talking about the "Apple Pencil," another new feature that is packed with what he calls "great, new technology" for the iPad Pro. It is designed to look and feel like a familiar tool. But its delivery precision gives users the ability to touch a single pixel. It can be used within apps, such as "Notes" and "Mail." "You Make" is a new app for the iPad Pro.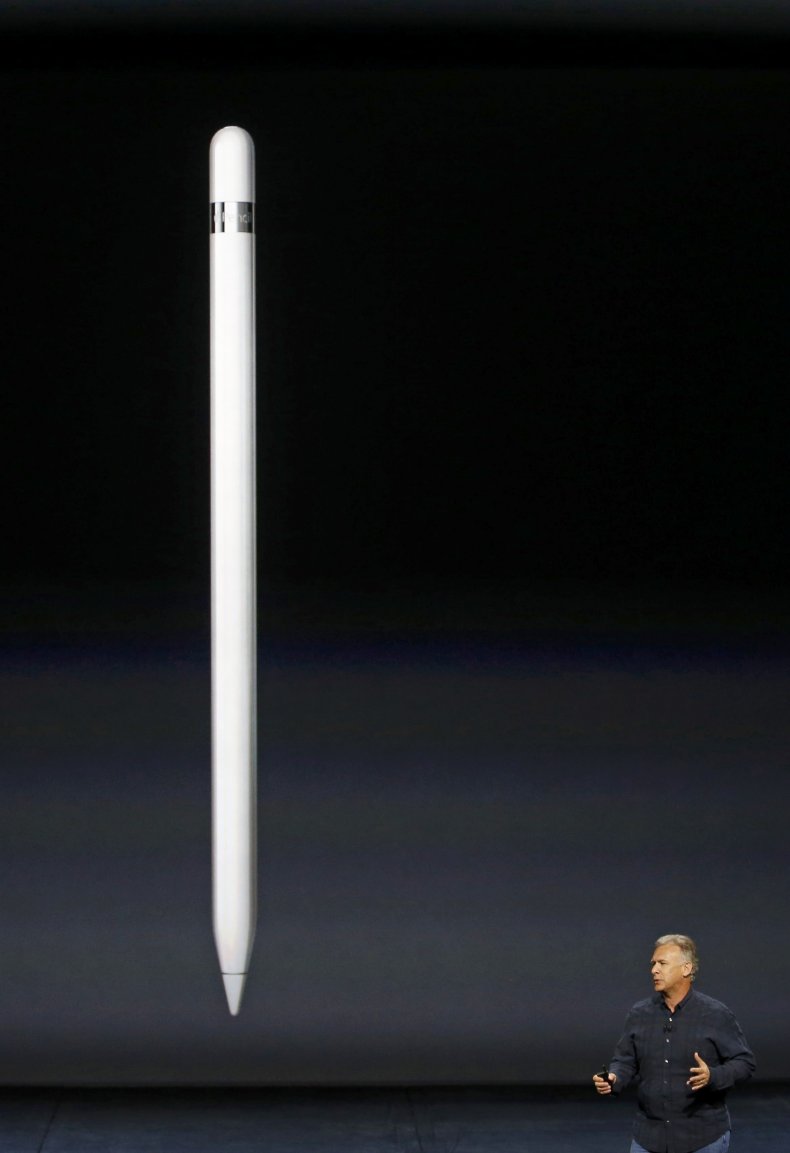 1:29 p.m. Schiller introduces the "Smart Keyboard," designed specifically for the iPad Pro.
1:22 p.m. Schiller now is talking about the iPad Pro. It has more power and performance than any other iOS device, he says. The iPad Pro measures 12.9 inches diagonally and has 5.6-million pixels. Documents will be full-size with laser-sharp text. "It is a beautiful display. Your photos will look amazing on it. Huge, incredibly detailed, rich colors," he says. "Watching movies on it is incredible." It is 1.8 times faster than the device it replaces, faster than 80 percent of the portable PCs that shipped in the last year.
The iPad Pro has a four-speaker audio system, which automatically balances the left and right speakers to compensate the angle at which the iPad Pro is held. "This is the most advanced display we have ever built," he added.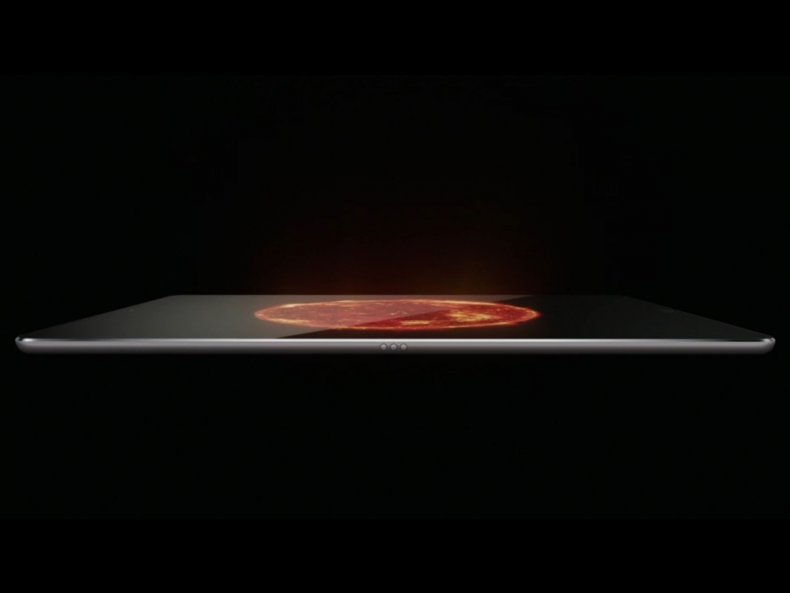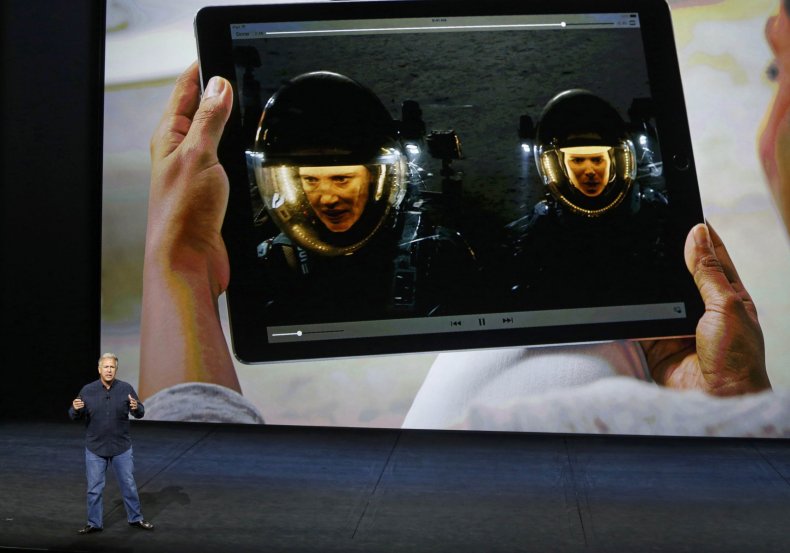 1:17 p.m. Cook begins talking about the iPad. Crowd applauds. "We have the biggest news in iPad since the iPad," he says. "And I am thrilled to show it to you." Music plays. Cook says he is introducing the most "capable" iPad that Apple has ever created, chalk-full of "amazing advanced technologies and innovation."
1:13 p.m. Jeff Williams, Apple's senior vice president of Operations, is on stage. New Apple Watch band colors include space black stainless, anodized aluminum, gold and rosegold. New models will begin shipping on Wednesday. The OS2 watch will be available on September 16.
1:09 p.m. Dr. Cameron Powell, president of AirStrip Technologies, now is speaking. He says the Apple Watch is a "game-changer for health care" by changing how doctors communicate with their patients. The watch's new operating system can monitor pregnant women from her home. A "non-stress test" is sent directly to the doctor. While the woman is performing the test, she can listen to the baby's heart rate from her wrist.
1:06 p.m. Williams takes the stage to talk about Apple Watch. There are more than 10,000 apps in the Apple Watch Store. Facebook Messenger soon will be coming to the watch.
1:03 p.m. Cook has started talking. He says he is going to make "monstrous announcements."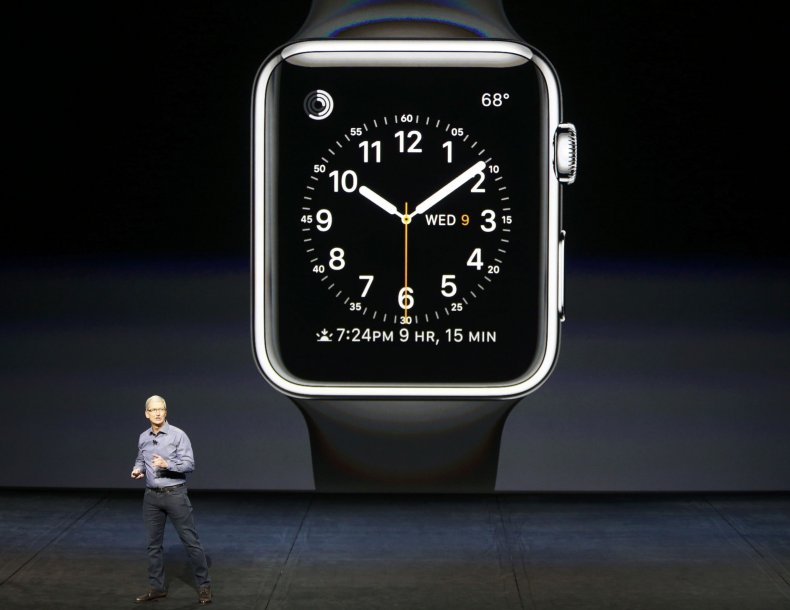 12:55 p.m. Beats Music is playing on the web livestream ahead of the start.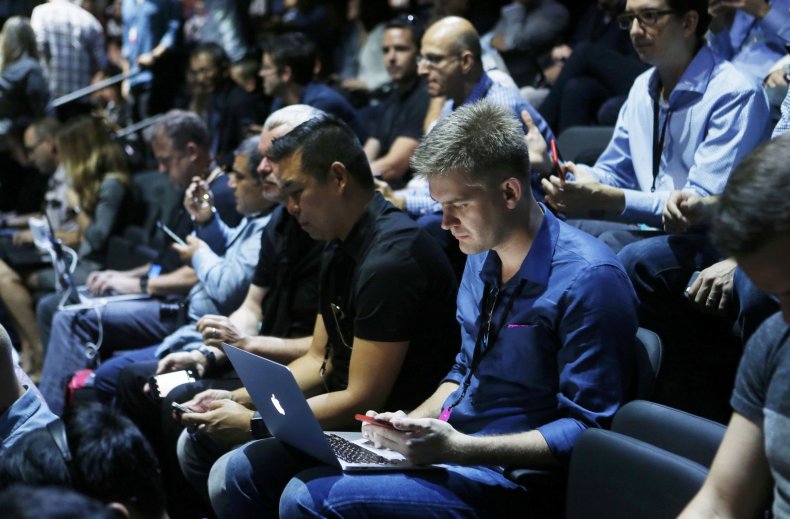 12:16 p.m. In the fourth quarter of 2014, the iPhone sold at a growth rate of 49 percent, compared with 26 percent of the rest of the industry. By March, Apple had sold 700 million iPhones worldwide, and the device became the top-selling smartphone in the world, Cook said earlier this year.
11:21 a.m. Apple renews its smartphone lineup each September; the first iPhone was introduced in June 2007. Cook is expected to announce the next generation of iPhones, iPhone 6s and iPhone 6s Plus with updated features, including an enhanced camera with 12 megapixels and new technology that lets a device "feel" how hard a user is tapping part of a screen. The updated devices reportedly will be prevented from bending, which was a main problem when the current model was introduced last year.
Cook also most likely will announce the exact release dates for iOS 9 and the OS X update El Capitan. There have been rumors that Cook also could introduce a redesigned Apple TV box and new version of the iPad.
Customers can watch a livestream of Wednesday's event, which starts at 1 p.m. ET at the Bill Graham Civic Auditorium, one of the largest conference halls in downtown San Francisco. Android users beware: Apple has made it impossible for anyone without an iPhone to stream the conference.
The new items might not ship to Apple fans for weeks, even months. But one customer, believed to be putting on a stunt to promote a website, already started camping outside of an Apple store in Australia.
Investor fatigue with the iPhone is partly the reason Apple could release a new version of its TV and iPad. Apple stock has been dropping for the first time ever ahead of its annual event, as reported by USA Today.