Live Coverage of a TV Host's Trial for Crashing His Car While Drunk Is Interrupted by… a Car Crash
BBC's live coverage of television presenter Anthony McPartlin's drink-driving car accident trial was interrupted by a car crash on Monday (April 16).
Reporter Alison Freeman was filming outside the Wimbledon Magistrates' Court talking about the case and its developments when in the background a car crashes into another which is knocked into the van in front.
"Sorry, just some cars have had a bit of a crash behind us," Freeman said to the camera after turning around in shock. "Such is the media crowd here, it has been very busy here today."
Freeman stumbles on her words for a few seconds before continuing with her newscast.
During the Saturday Night Takeaway presenter's hearing, the court found that he had been intoxicated when his car crashed into two others in Richmond, London, in March. McPartlin entered a guilty plea and was subsequently fined £86,000 ($123,580), ordered to pay £255 ($560) in other costs and had his license suspended for 20 months.
Prosecutor Katie Sinnett-Jones told the court that McPartlin lost control of his Mini Cooper when he turned through a sharp bend. The TV personality drove onto the wrong side of the road and crashed into a car before driving into the front of another car. Following the incident, McPartlin's blood alcohol level was found to have been more than two times the legal limit.
"[McPartlin's vehicle] came to a halt and was no longer driveable due to the damage caused," Sinnett-Jones said.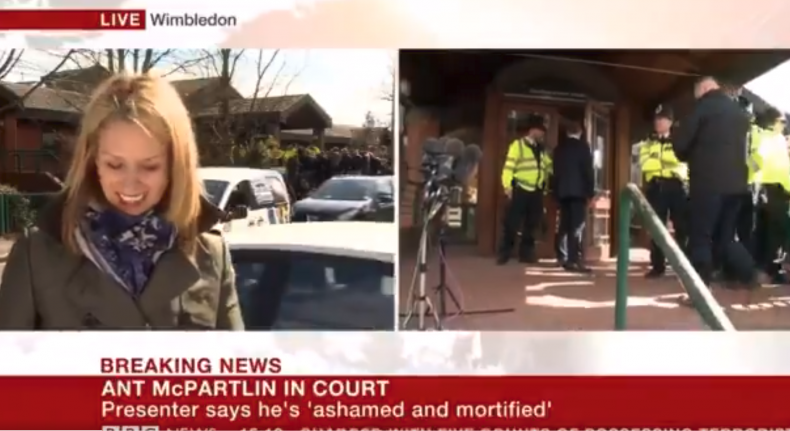 After the hearing, McPartlin told reporters outside the courthouse that he was "truly sorry for what happened."
"Higher standards are expected of me. I expect them of myself. I let myself down, I let a lot of people down, for that I'm truly sorry. I'd like to apologise to everyone involved in the crash and I'm just thankful no one was seriously hurt," said McPartlin.