Donald Trump Rally Live Stream: Watch President Stump In North Carolina Ahead of States' Special Elections
President Donald Trump will hold a rally in North Carolina on Monday night in an effort to mobilize Republican voters ahead of highly competitive special elections in the state's 3rd and 9th Congressional Districts.
It's Trump's second "Keep America Great" rally in the swing state since July. But the president's appearance on Monday night has higher stakes, as he attempts to rouse his conservative base to support North Carolina state senator Dan Bishop in his House bid. Bishop is going up against Democrat Dan McCready on Tuesday in an election that was scheduled after last year's race was invalidated after officials discovered voter fraud.
The rally is being held at the Crown Expo Center in Fayetteville and will start at 7 p.m. ET. The event can be live streamed below courtesy of Fox 10 Phoenix.
Hours ahead of his visit, Trump encouraged voters to support Bishop over McCready. "We need him badly in Washington! His opponent is a far left Sanctuary Cities supporter," the president wrote on Twitter.
Bishop emerged as the Republican candidate in the congressional race after Mark Harris dropped his candidacy after the voter fraud trial. Bishop is best known for authoring the state's controversial "bathroom bill" that eliminated anti-discrimination protections for the LGBTQ community.
McCready, on the other hand, has been campaigning for over two years for the House seat. The former Marine and solar energy entrepreneur is running as a moderate Democrat. During his campaign, McCready has walked a centrist line and primarily focused on health care issues.
Internal polling shows the two candidates to be neck-in-neck, though Inside Elections published a poll on August 30 that showed McCready in the lead by 4 percentage points. A Democrat has not represented the congressional district since the early 1960s.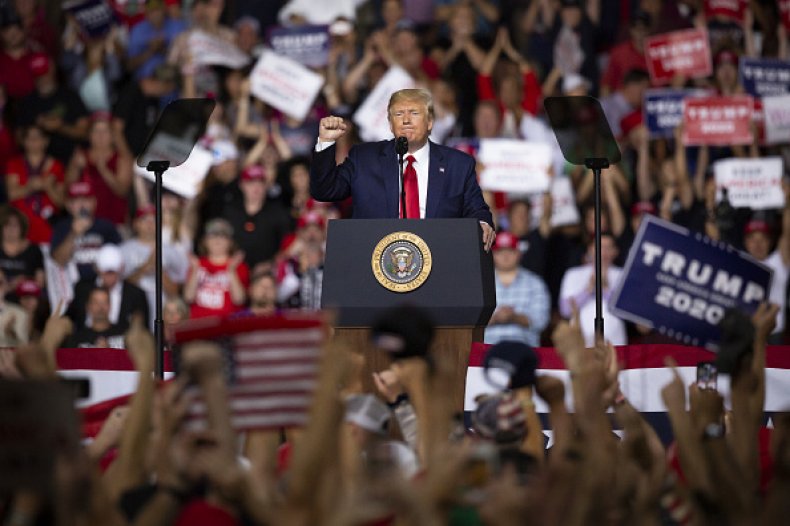 Trump is also stumping for Republican Greg Murphy, a physician and state legislator who is going up against three other candidates, including Democrat Allen Thomas. The winner of the race will complete the remainder of Rep. Walter Jones' term. Jones died in February after serving in Congress for more than 24 years.
The rally was originally scheduled to take place at the Fayetteville Regional Airport, but the Trump campaign announced a location change last week. A campaign official told The Hill that problems with flight times had prompted the switch.
Trump's visit comes less than a week after Hurricane Dorian made its way up the East coast, devastating the Bahamas and flooding parts of North Carolina. The storm stranded hundreds of residents on Ocracoke Island, located off the state's Outer Banks.