Live Updates, Photos and Videos As Hurricane Irma Pummels the Keys, Miami and Tampa Bay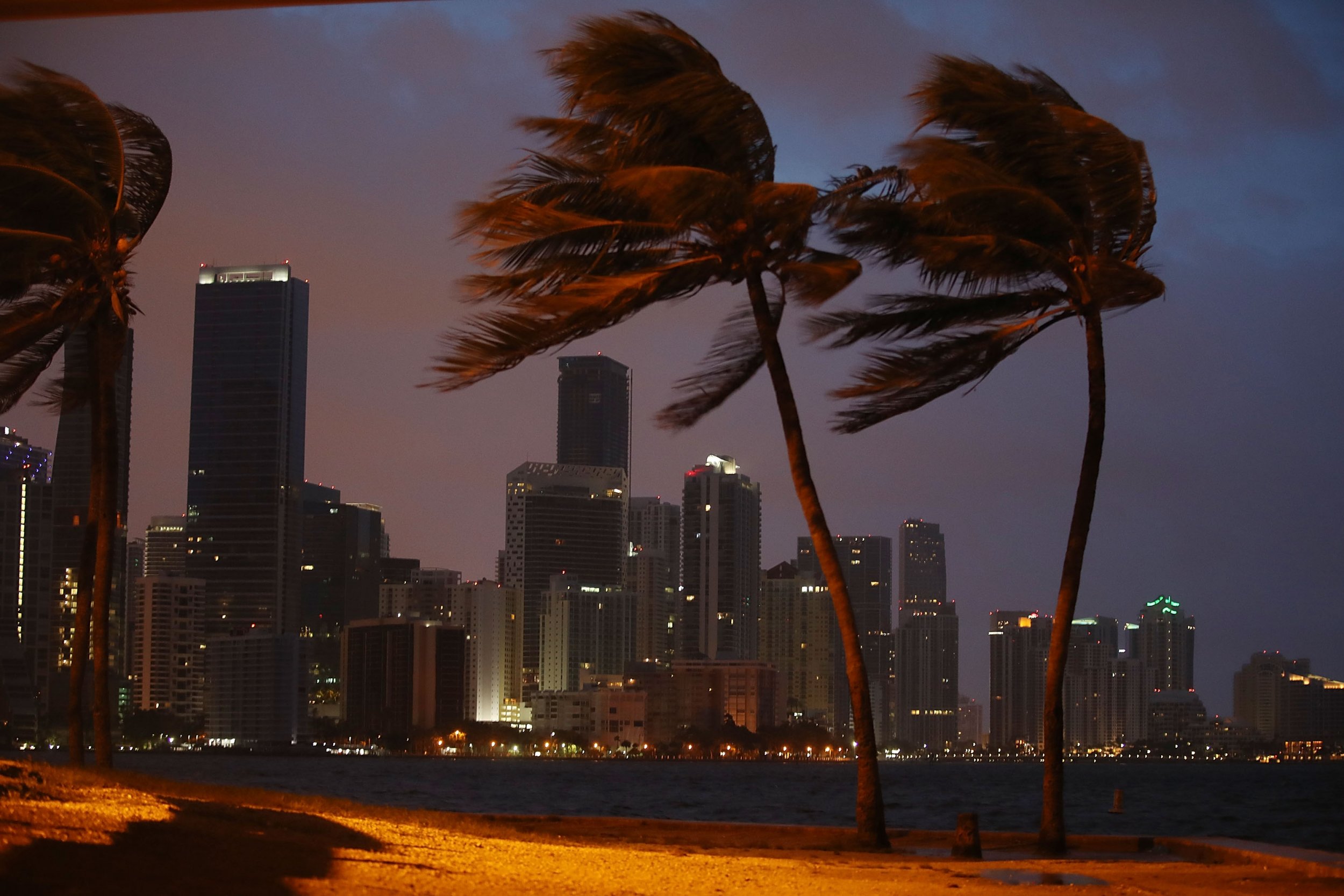 Update: 11:15 p.m. EDT— As Florida braced for the arrival of Hurricane Irma on Saturday, over 170,000 homes and businesses had already lost power in the state, The Associated Press reported.
At 11 p.m. EDT on Saturday, the National Hurricane Center reported, "IRMA TAKING ITS TIME MOVING AWAY FROM CUBA. LIFE-THREATENING STORM SURGE EXPECTED IN THE FLORIDA KEYS AND THE WEST COAST OF FLORIDA."
Irma was expected to reach southern Florida around daybreak on Sunday.
As of around 11:15 p.m. EDT Saturday, Irma remained a Category 3 hurricane with sustained winds of 120 mph, the National Hurricane Center said.
Newsweek subscription offers >
Update: 10:57 p.m. EDT— Ahead of the arrival of Hurricane Irma, President Donald Trump tweeted Saturday night, "The U.S. Coast Guard, FEMA and all Federal and State brave people are ready. Here comes Irma. God bless everyone!" The president spent the weekend at Camp David with members of his cabinet.
Trump's tweet came not long after Florida Governor Rick Scott tweeted 76,000 had already lost power. Scott also noted Florida had opened 390 shelters across the state and provided a list of the available locations.
Update: 10:27 p.m. EDT— The first hurricane-force wind gust was recorded by the National Weather Service in the Florida Keys around 10 p.m. EDT on Saturday ahead of the arrival of Hurricane Irma. The Smith Shoal Light station recorded winds of 74 mph (hurricane force) on Saturday night, the weather service said.
As people in Key West prepared for the worst of the storm, a long-time resident told the Miami Herald, "It's a little like the Titanic right now. But I have a feeling it will be OK."
Update: 10:10 p.m. EDT— Former Vice President Joe Biden tweeted late on Saturday night that he and his wife, Jill, were praying for the safety of those in the path of Hurricane Irma.
"Stay strong - the country stands with you," Biden said.
The hurricane was expected to make landfall around daybreak on Sunday, but Florida was already experiencing heavy winds and rain on Saturday evening.
Hurricane Irma was less than 100 miles from Florida as of around 10:00 p.m. EDT Saturday.
Update: 9:39 p.m. EDT— The Miami Beach Police Department told residents Saturday night to be wary of flooded areas and downed power lines ahead of Hurricane Irma.
Downed power lines seemed to be an issue across southern Florida throughout the day as the hurricane moved toward the Keys.
Update: 9:15 p.m. EDT— Curfews were issued across southern Florida on Saturday ahead of Hurricane Irma, the Miami Herald reported.
"We just hope that everybody is inside and in a safe shelter," said Miami Beach Mayor Philip Levine.
Images and videos of intense winds pummelling Miami were shared on social media.
Update: 8:45 p.m. EDT— The National Weather Service reported Hurricane Irma would "likely strengthen into a powerful, category 4 hurricane" before reaching the Florida Keys early on Sunday morning.
On Saturday evening, Key West was reportedly experiencing 60 mph wind gusts as people began to lose their electricity.
Update: 8:24 p.m. EDT— Florida State University's home college football game against rival University of Miami was rescheduled for October 7 due to Hurricane Irma.
The game was originally set to be played on September 16.
Update: 8:12 p.m. EDT— Tornados were forming across southern Florida as it began to feel the effects of Hurricane Irma on Saturday evening.
"Heavy squalls with embedded tornadoes sweeping across South Florida," the National Hurricane Center said around 8 p.m. EDT.
Update: 7:45 p.m. EDT— Tropical storm conditions were occurring in the Florida Keys on Saturday evening as Hurricane Irma creeped toward the southerneastern state.
Irma was roughly 105 miles southeast of Key West as of 7:30 p.m. EDT.
As the hurricane moved toward Florida, parts of the state were bracing for possible tornados, flooding and unforgiving wind, among other byproducts of the storm.
Original story:
Hurricane Irma began to move away from northern Cuba Saturday and was barreling toward Florida, where it was expected to make landfall on Sunday morning. The hurricane had dropped to Category 3 strength, with winds up to 125 mph.
As of 5 p.m., the hurricane was roughly 115 miles southest of the keys, CBS News reported. Fierce winds were already beginning to hit the Florida keys, as Miami faced gusts of wind and rain. Meanwhile, Tampa Bay was bracing itself amid reports the storm had shifted in its direction.
Storm surges were reportedly pushing water onto land in the Keys, where a tornado warrning was also in place.
"THIS IS AS REAL AS IT GETS," the National Weather Service said. "NOWHERE IN THE FLORIDA KEYS WILL BE SAFE." It added that people still had time to evacuate.
In a tweet, the city of Key West urged people to stay indoors, but videos and images posted to social media suggested not everyone was heeding warnings from officials.
During a news conference on Saturday morning, Florida Governor Rick Scott said, "If you have been ordered to evacuate, you need to leave now. Do not wait. Evacuate. Not tonight, not in an hour. You need to go right now."
The mass exodus from South Florida potentially represents one of the largest evacuations in U.S. history -- it's estimated up to 6.3 million peolpe were ordered to evacuate.
FEMA warned "millions" of people in Florida could lose power for several days and possibly even weeks as a consequence of the hurricane. "This is why we ask and plead with people to be ready for multiple days, and unfortunately this is coming into reality," FEMA Chief Brock Long told CNN. Thousands had already lost power before the storm struck the U.S.
Hurricane Irma wreaked havoc in the Caribbean, claiming at least 25 lives. According to The New York Times, 90 percent of the buildings on some islands were destroyed. Rebuilding will reportedly take years.
Raphael Hamoir, the emergency coordinator for the French Red Cross in the region, told The Times, "I've been working in the Caribbean for 10 years, and this is the first time I have seen a situation like this."
Parts of Cuba were hit particularly hard on Saturday and the hurricane left some towns underwater.
The Caribbean was also expected be hit by Hurricane Jose but the storm appeared to be moving away from the region on Saturday evening.
Live Updates, Photos and Videos As Hurricane Irma Pummels the Keys, Miami and Tampa Bay | U.S.