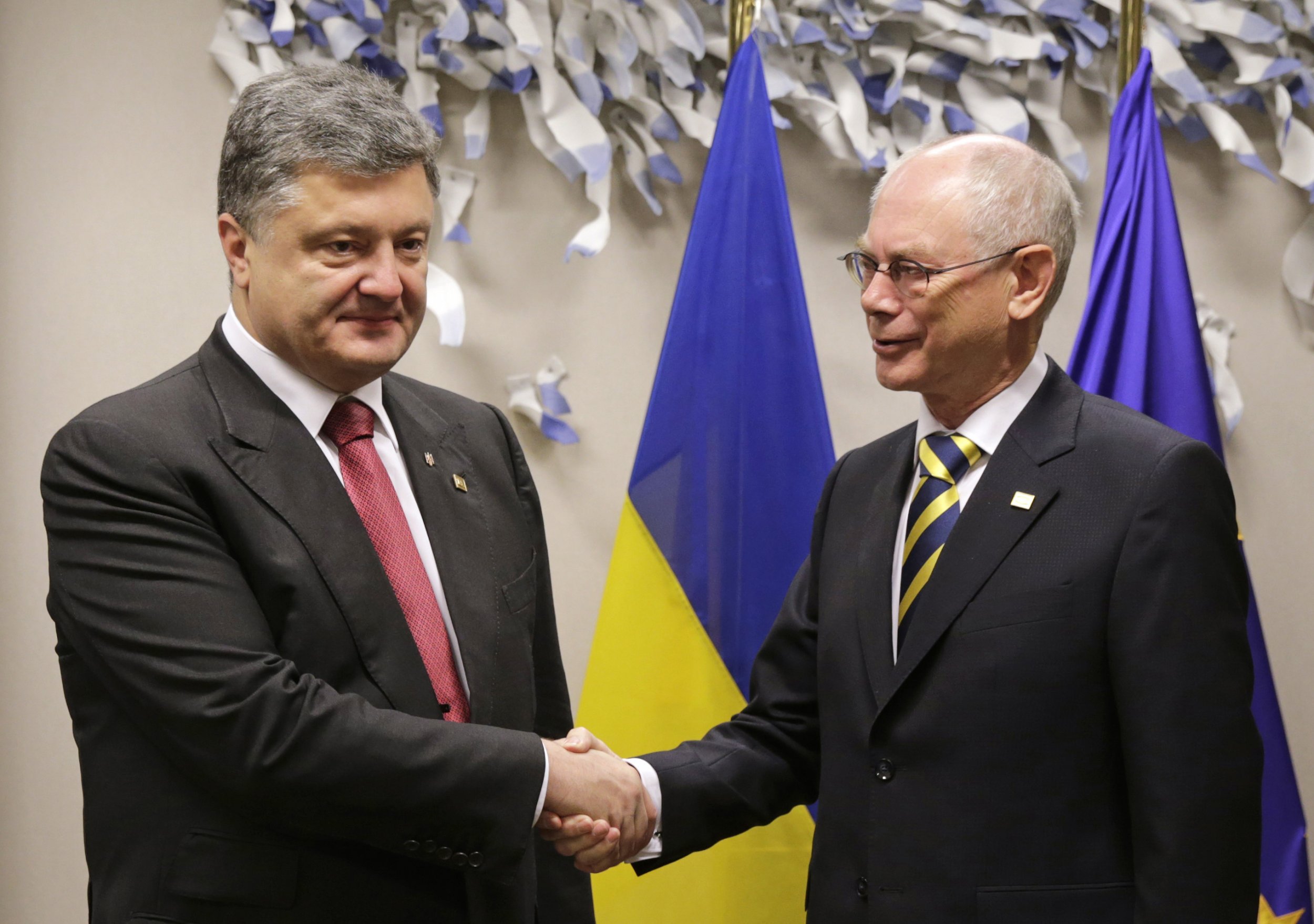 The European Union has threatened to launch a fresh round of sanctions against Russia in response to ongoing aggressive military action in eastern Ukraine.
The Russian invasion of eastern Ukraine marks a "point of no return" and risks a "state of war" with Europe, said EU leaders.
The group of nations is prepared to ramp up sanctions against Russia, European Commission President Jose Manuel Barroso told Ukraine's President Petro Poroshenko at a summit in Brussels on Saturday.
"Despite the consolidated international efforts and our strive for peace, Ukraine is now the subject of foreign military aggression and terror," said Poroshenko. "Today we are talking about the fate of Ukraine, but tomorrow it could be the fate of security and stability of all of Europe," he said.
Russia has repeatedly and strongly denied accusations that it is supporting pro-Russian separatists to wage a war in Ukraine. Poroshenko is now calling Russia's military action in Ukraine an invasion.
Catherine Ashton, EU foreign policy chief, accused Russia of "direct aggression" in eastern Ukraine, while Lithuania's President Dalia Grybauskaite said Russia is "in a state of war against Europe," Reuters reports. Military equipment needs to be sent into Ukraine to help the country to itself, added Grybauskaite.
"It is the fact that Russia is in a war state against Ukraine. That means it is in a state of war against a country which would like to be closely integrated with the EU. Practically Russia is in a state of war against Europe," Grybauskaite said from the summit.
French President François Hollande called the conflict in Ukraine "the biggest crisis since the end of the Cold War."
The new round of sanctions are aimed at limiting Russia's ability to finance its economy and "preventing Russian energy companies from buying Western technologies", The Daily Telegraph reports.
Russian tanks have "flattened" a town in eastern Ukraine, the Ukrainian military said on Saturday. "Virtually every house" in Novosvitlivka, near Luhansk in eastern Ukraine, has been destroyed by Russian tanks and Ukrainian military forces have fled areas to the east of Luhansk amid pressure from separatists.
On Saturday, a Russian politician said he was beaten up and hospitalized after a newspaper he publishes reported on the story of two Russian soldiers who may have died fighting in Ukraine. If the soldiers were killed in eastern Ukraine, as the newspaper report suggests, it goes against strenuous allegations by Russia that they've had no military involvement in the country.
More than 2,500 have been killed in four months of fighting in the region and more than 150,000 Ukrainians are internally displaced.
EU leaders elected Polish Prime Minister Donald Tusk — described as a "leading EU hawk on the Kremlin and the crisis in Ukraine" — to be the next president of the European Council and appointed Italian Foreign Minister Federica Mogherini as the next EU High Representative at the summit. Tusk's new position will see him chairing EU summits and acting as mediator between the 28 governments that make up the EU.