Live Updates: Joe Biden Addresses U.S. After ISIS Attack Kills Service Members in Kabul
President Joe Biden addressed American citizens hours after two explosions occurred outside the Kabul Airport in Afghanistan, killing at least 12 U.S. service members and 60 Afghans.
While it's unclear how many people were injured in the blasts, Pentagon spokesman John Kirby confirmed that both U.S. and Afghans were among casualties. The Islamic State has taken credit for the attack, information that was in line with comments made by U.S. military leaders earlier in the day.
The bombings come just days before the U.S' August 31 deadline to completely withdraw from Afghanistan, and will likely place a hurdle in regard to evacuating Americans still in the country, as well as a number of Afghan allies who worked with U.S. and NATO forces during the 20-year war. However, evacuation flights continued to operate in the aftermath of the attack.
Biden has thus far resisted calls from U.S. allies and lawmakers to extend the deadline, heeding the warnings from the Taliban that it will not tolerate any extension of U.S. forces within Afghanistan.
Prior to the attacks, Biden was expected to give a joint press conference with Israel Prime Minister Naftali Bennett, who is making his first visit to the U.S. since becoming the country's top official. That meeting was postponed until Friday.
Biden's speech is scheduled to begin at 5 p.m. ET.
Check back with Newsweek for more updates.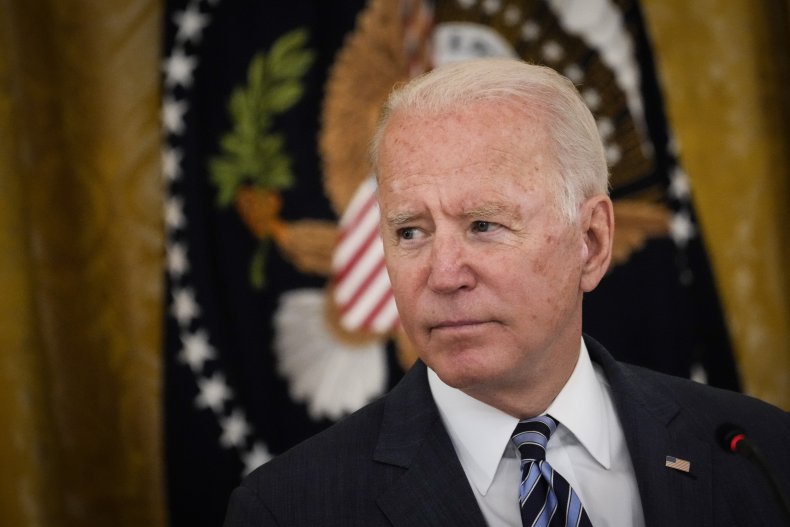 President Joe Biden Says Evacuation Mission 'Will Continue' After Troop Withdrawal
Before President Joe Biden took questions from reporters, he ended his speech by saying the evacuation mission "will continue after our troops are withdrawn" by Aug. 31.
"We have so much to do within our capacity to do it," he said. "We just have to remain steadfast."
Biden said the U.S. will continue "to find means by which we defined any American wishes to get out of Afghanistan."
"We will find them, we will get them out," Biden said.
President Joe Biden Orders Military Commanders to 'Strike' ISIS-K 'Assets,' 'Facilities'
President Joe Biden said during his speech Thursday that he has ordered U.S. military commanders to "strike ISIS-K assets, leadership and facilities" after the group claimed responsibility for the attack outside Kabul's airport in Afghanistan.
"We will respond with force and precision at our time, at the place we choose in the moment of our choosing," Biden promised, adding that "America will not be intimidated."
"I have the utmost confidence in our brave service members who continue to execute this mission with courage and honor to save lives and get Americans, our partners, our Afghan allies out of Afghanistan," he said.
When he began the speech, he said over roughly the past 12 hours, 7,000 people were evacuated from the country.
President Joe Biden Holds Moment of Silence During Speech For Lives Lost
During President Joe Biden's speech following ISIS-K's attack in Afghanistan outside of Kabul's airport, he held a moment of silence for at least 12 U.S. military members that lost their lives there Thursday as they stood guard outside the airport.
He said the men were "engaged in a dangerous, selfless mission to save the lives of others" as part of an "airlift and evacuation effort unlike any seen in history."
"Jill and I, our hearts ache," Biden said of himself and his wife. "Like I'm sure all of you do as well. For all those Afghan families who have lost loved ones including small children," that were wounded "with this vicious attack."
President Joe Biden Gives Final Comments Following ISIS-K Attacks
In his final comment made, President Joe Biden said the U.S. initially went to Afghanistan to get Osama Bin Laden, to "prevent Al-Qaeda from emerging" and wipe out the group's presence in Afghanistan.
"As I've said 100 times, terrorism has metastasized around the world and we have greater threats coming out of other countries, a heck of a lot closer to the United States."
Previously, Biden said he never supported sacrificing American lives to establish a democratic government in Afghanistan, "a country that has never once in its entire history been a united country," he said.
He said Afghanistan's history has been made up of different tribes that have never gotten along with each other.
President Joe Biden Assumes 'Responsibility' For Events After Taliban's Takeover
President Joe Biden said he bears "responsibility for fundamentally all that's happened" after the Taliban took over Afghanistan and Thursday's attacks by ISIS-K.
President Joe Biden Says U.S. Will Continue to Try to Get Afghans Who Helped the U.S. Out
President Joe Biden said the U.S. will continue to try to get Afghans that helped the U.S. out of Afghanistan following Thursday's attacks.
However, he said "getting every single person out can't be guaranteed."
Previously, he said that the Taliban wants to figure out how to keep Kabul's airport open.
President Joe Biden Says There's 'No Evidence' of Collusion Between Taliban and ISIS
As President Joe Biden took questions from reporters, he said it is in the Taliban's interest that ISIS-K does not "metastasize" and that the U.S. is able to leave on target, referring to the U.S. withdrawal date of Afghanistan on Aug. 31.
"There is no evidence thus far," that "there has been collusion between the Taliban and ISIS in carrying out what happened today," Biden said.
President Joe Biden Says 'We Will Hunt' Those Responsible for Attack
As President Joe Biden began his speech following the deadly attack outside of the Kabul airport in Afghanistan he called it "a tough day" and acknowledged a group known as ISIS-K "took the lives of American service members" as well as civilians.
He said the situation on the ground is still evolving and addressed those that carried out the attack by saying "we will hunt" them down and "make" them pay.
"We will not forgive, we will not forget," Biden said. He added that evacuation efforts in Afghanistan will continue.
"We will not be deterred by terrorists," he also said and added that ISIS will not win.
ISIS-K is the Islamic State group's presence in the Khorasan region that consists of Iran, Afghanistan and Pakistan.