SCOTUS Updates: Ketanji Brown Jackson's Confirmation Could Be Fast-Tracked
President Joe Biden announced February 25 that he plans to nominate Judge Ketanji Brown Jackson to the Supreme Court.
Jackson is the first Black woman to be selected for the nation's highest court.
"President Biden sought a candidate with exceptional credentials, unimpeachable character, and unwavering dedication to the rule of law. He also sought a nominee—much like Justice Breyer—who is wise, pragmatic, and has a deep understanding of the Constitution as an enduring charter of liberty," wrote the White House.
However, the Republican National Committee called Jackson "a radical, left-wing activist," accusing her of advocating for terrorists.
"If I'm fortunate enough to be confirmed as the next associate justice of the Supreme Court of the United States," she said in a nationwide address, "I can only hope that my life and career, my love of this country and the Constitution and my commitment to upholding the rule of law and the sacred principles upon which this great nation was founded, will inspire future generations of Americans."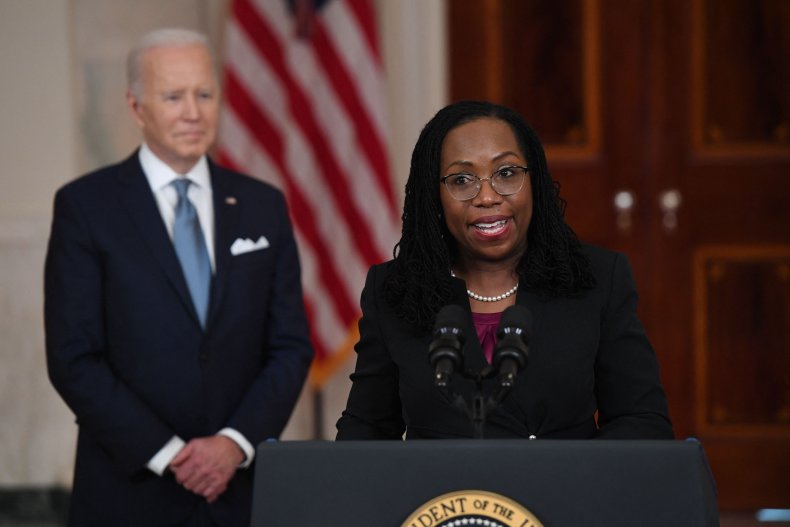 Democrats Could Fast-Track Jackson's Confirmation
Now that Ketanji Brown Jackson's Supreme Court nomination has been made public, Democrats are hoping to confirm her by April 8.
Notable Democratic figures, such as President Joe Biden and Senate Majority Leader Chuck Schumer, repeated the need for a speedy and thorough process towards confirmation. This emphasis on quickly investigating and confirming Jackson could be due in part to the timeline of current Supreme Court Justice Stephen Breyer, who is due to retire in the summer.
"I've met with the chairman and ranking members of the Senate Judiciary Committee, Senator Dick Durbin and Senator Chuck Grassley, and my hope is that they will move promptly, and I know they'll move fairly," said Biden during the nomination address.
Durbin himself has said that the process towards a confirmation hearing will "begin immediately" in a statement to the Associated Press.
Hearings for Supreme Court Justice nominees often last around two months or more, although one notable exception was for the confirmation of Associate Justice Amy Coney-Barrett in October 2020. Republican lawmakers were reportedly attempting to speed up her confirmation process after she was quickly picked to replace Justice Ruth Bader Ginsberg after her death. While the situations might not be the same, Democrats are expected to fast-track Jackson's confirmation so that Breyer's seat is automatically filled after he retires.
Another critical aspect of the confirmation process is the evaluation from the American Bar Association. While not tied directly to the Senate confirmation hearings, the approval of the organization is still critical in determining the fitness of a Supreme Court candidate. The approval rating of "well qualified" is the highest rating that a nominee can receive, one that Coney-Barrett herself received. If Jackson receives this rating, her path towards confirmation could come even faster.
Jackson's Friend Remembers Predicting She'd End Up on Supreme Court
One of Ketanji Brown Jackson's closest friends says she predicted her future as a Supreme Court nominee.
Antoinette Coakley, Nina Simmons, and Lisa Fairfax spoke to The 19th on their college roommate and lifelong friend. The three women recalled meeting Jackson and instantly being drawn to her work ethic and thoughtfulness. Coakley, in particular, found major potential within Jackson that ended up coming true.
"I remember clear as day, saying, 'You are going to be the first Black woman justice on the Supreme Court, if there's ever going to be one.' I told her that in college!" said Coakley. "I could see it. She has it, she has everything that you would need to do that and represent us the absolute best."
While the friends expressed excitement towards their best friend's accomplishment, they also hit back against claims that Jackson was only recognized due to being a Black woman. Republican figures, such as Ted Cruz and Susan Collins, have previously criticized President Joe Biden for promising to appoint a Black woman as his new Supreme Court nominee.
"Where should we start? People don't know her," said Fairfax, "and yet they are ready to say she is not qualified. The biggest thing for me is that she is one of the smartest people I know. To hear anybody say she's not [qualified] is just ridiculous, period."
Coakley said that someone's identity should not automatically make them a sign that they are not a qualified candidate. Instead, she says that identity can help create a necessary difference of opinion, something she says is critical to the judicial system.
"The plain fact is that each person brings to that role their own perspective based on their lived experiences. I think of that as being a benefit, a plus, in particular at this time in our country," she explained. "The rulings that come from the highest court in our land impact all of us. It is important that, in making those determinations, that there's voice given to all of us, that there's vision given to all of us, that all of our perspectives are taken into consideration."
Police Union That Previously Endorsed Trump Also Endorses Jackson
Upon the official nomination of Ketanji Brown Jackson as the newest Supreme Court justice, the Fraternal Order of Police formally endorsed her.
In a new statement recounted by President Joe Biden during Friday's nomination address, FOP National President Patrick Yoes praised Jackson's mediation skills, particularly during her time on the U.S. Sentencing Commission.
"In large part, because of this engagement and good faith efforts by all of the groups and individuals involved, including Judge Jackson and the FOP, we reached important compromises which ultimately resulted in the passage of the historic First Step Act that was signed into law by President [Donald] Trump," said Yoes. "The FOP has found that collaboration works far better than confrontation."
He also explained that her familial connections to law enforcement give her an appropriate outlook on policing issues. Jackson herself discussed her family's history in her address.
"Judge Jackson comes from a law enforcement family, with two uncles who were career law enforcement officers," Yoes said. "One was a Miami-Dade County sex crimes detective, and the other rose through the ranks of the City of Miami Police Department to become the Chief of Police. Her brother served as an undercover officer in a drug-sting unit in Baltimore after graduating from college, so she should know quite well the difficulties and dangers our officers face in the line of duty every single day."
The FOP's endorsement of her credentials and ethics could be a major selling point for Republicans, especially ones that still align themselves with former President Donald Trump. The union previously endorsed Trump during his 2016 presidential run.
Jackson Honors Stephen Breyer and 'Greatest Beacon of Democracy' in Speech
Ketanji Brown Jackson addressed the American public in her first speech since President Joe Biden selected her as his Supreme Court nominee.
Speaking with Biden during a Friday afternoon address at the White House, Jackson expressed her gratitude for the selection. She thanked numerous people from throughout her personal and professional career, including retiring Supreme Court Justice Stephen Breyer, whom she will replace if confirmed.
"Justice Breyer, in particular, not only gave me the greatest job that any young lawyer could ever hope to have," Jackson said, "but he also exemplified every day in every way that a Supreme Court justice can perform at the highest level of skill and integrity, while also being guided by civility, grace, pragmatism, and generosity of spirit."
She also took time to express love for the United States, calling it "the greatest beacon of democracy" in the entire world.
"If I'm fortunate enough to be confirmed as the next associate justice of the Supreme Court of the United States," she continued, "I can only hope that my life and career, my love of this country and the Constitution and my commitment to upholding the rule of law and the sacred principles upon which this great nation was founded, will inspire future generations of Americans."
Manchin Gives Murky Statement on His 'Consent' for Jackson's Nomination
West Virginia Senator Joe Manchin gave a vague statement Friday regarding the nomination of Ketanji Brown Jackson to the Supreme Court.
Manchin, who has drawn ire from fellow Democrats regarding his positions over recent months, released a statement on Jackson's nomination on Twitter. In the three-tweet thread, he does not congratulate Jackson for her nomination as his Democratic and Republican colleagues have done, instead saying that he will take his duties in evaluating her seriously.
"As West Virginia's Senator, I take my Constitutional responsibility to advise and consent on a nominee to the Supreme Court very seriously," Manchin wrote. "Just as I have done with previous Supreme Court nominees, I will evaluate Judge Jackson's record, legal qualifications and judicial philosophy to serve on the highest court in the land."
He ended his thread with a nondescript conclusion.
"I look forward to meeting with Judge Jackson before determining whether to provide my consent," said Manchin.
SCOTUS Confirmation Could Rest on Absent Senator Ben Ray Lujan
While many Democrats are expressing support for Supreme Court nominee Ketanji Brown Jackson, the fate of her confirmation could be determined by one absent senator.
New Mexico Sen. Ben Ray Lujan is currently on medical leave from his duties after suffering a stroke in late January. While he has provided statements on news such as the Russian invasion into Ukraine, it is unclear when he will return to regular duties.
If he returns to his position during the Senate confirmation of Jackson, his vote could make or break her future on the Supreme Court, according to the Associated Press. With many Republicans expressing skepticism toward her nomination, it is unclear whether any Republican votes will be made in support of her. In the event that no Republicans approve of her confirmation, Lujan could end up being the deciding vote.
Obama Says Jackson Will Inspire Girls to 'Believe They Can Be Anything They Want to Be'
Former President Barack Obama has congratulated Ketanji Brown Jackson for her Supreme Court nomination.
In a statement posted to Twitter, Obama congratulated the U.S. Court of Appeals judge for her nomination. This statement comes after she served as a district judge and on the U.S. Sentencing Commission after being nominated by the 44th president.
"I want to congratulate Judge Ketanji Brown Jackson on her nomination to the Supreme Court," wrote Obama. "Judge Jackson has already inspired young Black women like my daughters to set their sights higher, and her confirmation will help them believe they can be anything they want to be."
He also discussed her ties to former judge and Supreme Court Justice Stephen Breyer and the similarities between the mentor and the mentee. Jackson previously served as Breyer's law clerk and, if confirmed, will replace him upon his retirement.
"As a protégé of Justice Breyer, Judge Jackson earned a reputation for pragmatism and consensus-building," Obama continued.
"Like Justice Breyer, Judge Jackson understands that the law isn't just about abstract theory. It's about people's lives. [President] Biden has made an excellent choice, and I look forward to seeing Judge Jackson confirmed."
Jackson's Opinion History Shows Critical Labor Union Support
The opinion history of Supreme Court nominee Ketanji Brown Jackson outlines support for labor unions across the United States that could affect future cases.
The Associated Press reports that in two high-profile cases, Jackson ruled in favor of labor unions against rules enforced by former President Donald Trump. In 2018, she ruled that executive orders issued by the former president were unconstitutional due to these orders being suspected of limiting bargaining rights to employees.
In her decision, she wrote that "it is undisputed that no such orders can operate to eviscerate the right to bargain collectively as envisioned in" federal labor law. However, this ruling was shortly overturned by the D.C. Circuit Court.
One opinion that was not overturned was that involving the Federal Labor Relations Authority in 2020. The entity was sued for enacting a new rule that would only allow union negotiations for something that they considered to have a "substantial impact," although what constituted as such was unclear.
"The cursory policy statement that the FLRA issued to justify its choice to abandon thirty-five years of precedent promoting and applying the de minimis standard and to adopt the previously rejected substantial-impact test is arbitrary and capricious," Jackson wrote in the opinion.
You can read other critical opinions that Jackson made in her judicial career here.
Marsha Blackburn Calls SCOTUS Nominee Timing 'Extremely Inappropriate'
Tennessee Republican Senator Marsha Blackburn has criticized President Joe Biden for what she says is "inappropriate timing" in announcing Ketanji Brown Jackson as his Supreme Court Justice nominee.
In a statement, Blackburn claims that Biden's announcement of Jackson's nomination should not have happened due to Russia's invasion of Ukraine.
"President Biden's announcement just days after an unprovoked full scale invasion by Russia is extremely inappropriate," said Blackburn. "Once again, Biden is putting the demands of the radical progressive left ahead of what is best for our nation"
While the announcement does coincide with the ongoing conflict between Russia and Ukraine, its timing aligns with what Biden has already said regarding his nominee. When Judge Stephen Breyer announced his retirement, Biden said that he planned to announce his replacement by the end of February.
White House Outlines '5 Things You Need to Know' About SCOTUS Pick Ketanji Brown Jackson
The White House has released an outline of Supreme Court Justice nominee Ketanji Brown Jackson and facts that the American public should know about her.
Jackson grew up in Miami, Florida, with a school principal mother and a school board lawyer father. She's a Harvard alumnus, carrying degrees from both Harvard College and Harvard Law School.
The White House also outlines her history of bipartisan support in previous positions. According to them, "she's been confirmed by the U.S. Senate with bipartisan support three different times – most recently as a judge on the D.C. Circuit in 2021." Among these bipartisan voters was Republican Sen. Lindsey Graham, although he has denounced her Supreme Court nomination.
Jackson also has a connection to retired Supreme Court Justice Stephen Breyer, as she previously served as his law clerk. Finally, she will be what the White House calls "the first former federal public defender to serve on the Supreme Court."