Liverpool vs. Brighton: Liberated Seagulls Can Harm Jurgen Klopp's Champions League Finalists
As Brighton were preparing to make the 430-kilometer journey back to the south coast from Old Trafford in November after a disappointing 1-0 defeat to Manchester United, their manager Chris Hughton was pulled to one side.
His team, newly promoted to the Premier League, had held their own against one of Europe's biggest clubs. They'd played attractive football, better than United, and it was an unfortunate Lewis Dunk own-goal that gave United the win.
Their manager, Jose Mourinho, said it was the toughest game they'd played so far, having already played Chelsea, Liverpool and Tottenham.
But it was Mourinho's predecessor, Sir Alex Ferguson, the man he is struggling to emulate and is currently in hospital after emergency brain surgery, that took Hughton to one side and praised him for what he'd done at the AmEx Stadium. It meant a lot.
"He was kind enough to take me aside after we had played at Old Trafford earlier this season," Hughton said, as quoted by The Times.
"We had played really well that day and it was incredibly encouraging to hear what he had to say about our team."
Six months later, on Friday evening, Hughton's team went one better, beating Mourinho's Manchester United at the AmEx Stadium to secure their status as a Premier League team next season.
Now Brighton, known as the Seagulls, are liberated ahead of their final game of the season. They travel back to the north east of England, heading to Anfield as they aim for another giant killing—one that could have even bigger ramifications.
Jurgen Klopp's Liverpool have their sights set on May 26, the date on which they will face Real Madrid in the final of the Champions League in Kiev, a competition the Spanish team have won and successfully defended in the past two seasons.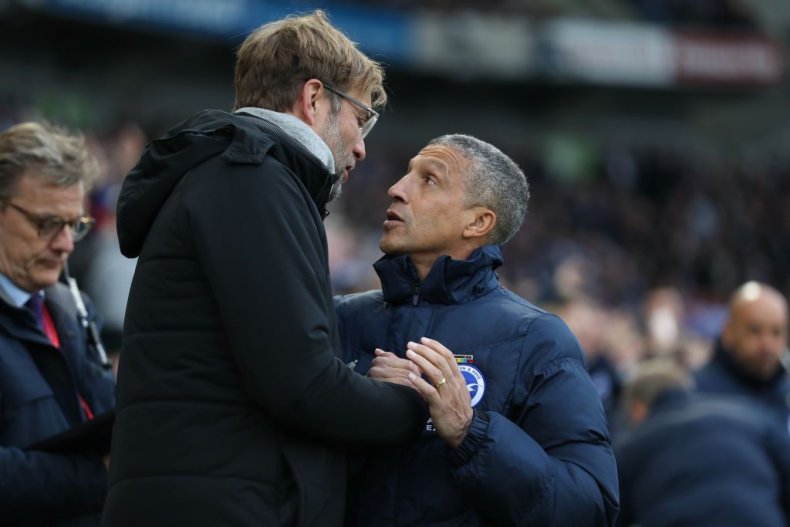 Liverpool's status as a European giant has been reinstated with their resurgence this season under Klopp. But there is still, remarkably, a chance that they won't qualify for next season's competition.
A 1-0 defeat at Stamford Bridge on Sunday kept Chelsea's hopes of Champions League football alive, while leaving Liverpool with work to do. But Klopp is relaxed about the situation.
"It's my life, it's our life, that we always make it a little bit more exciting," Klopp told Liverpoolfc.com.
"We had these situations a few times and it will be, for sure, exciting because Brighton is in a good moment, they played fantastic against [Manchester] United.
"But it's all OK, as long as we have it in our own hands, life is good."
They are three points ahead of Chelsea, with an insurmountable goal difference, but Antonio Conte's fifth-place team face relegation-threatened Huddersfield on Wednesday before travelling to Newcastle on the final day of the season.
Tottenham's season may be fizzling out but they, too, have a game in hand on Liverpool. Fourth in the table, they host Newcastle at Wembley on Wednesday before Leicester's visit on the final day of the season.
A win will make certain of Liverpool's place in the top four by 5 p.m. (BST) on Sunday, but Hughton's team will be no pushover. They know how to play. They are capable of beating the best. Ferguson would tell you that.