Liverpool vs. Everton: Can Sam Allardyce Derail Jurgen Klopp's Attacking Juggernaut?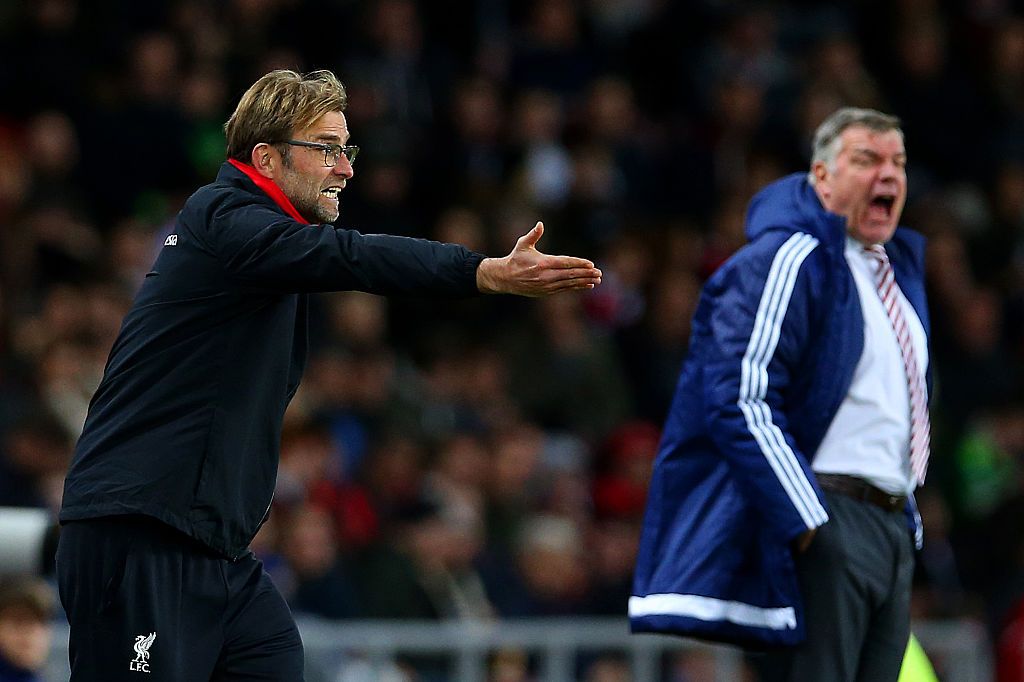 The oldest and, possibly, fiercest derby in English football has a new dose of history on offer. The Merseyside derby stretches all the way back to the 19th century with rivalries that will be remembered in footage leading up to their latest meeting on Sunday (December 10) at Anfield.
From Bob Paisley and Howard Kendall to David Moyes and Rafael Benitez, this has always been one of the first fixtures circled on the calendar. This year, two new managers take to the dugouts for the clash.
Jurgen Klopp has been at the Liverpool helm for little over two years, while Sam Allardyce has been in the Everton job for less than a week. But there is even history here, something the German was keen to reference this past week. "With Sam, I have kind of a history," Klopp said.
In December 2015, when Klopp was just weeks into the role at Liverpool, he was involved in a heated exchange with Allardyce on the touchline at the Stadium of Light. Klopp's Liverpool beat Allardyce's Sunderland 1-0 on that day, and afterward the Englishman described his opponent as a "soft German."
"When he was at Sunderland, he said something after the game and he had to row back or something like that," Klopp said this week. "Not because of me, but because we're all in the public [eye].
"Now he's had a bit of a holiday to recharge his batteries and is back on track. I am happy for him."
The need for both men to succeed on Sunday could see old wounds reopened. Allardyce has been tasked with steering Everton clear of the relegation zone and turning it back into a team considered Champions League hopefuls. His start has showed positive signs. Saturday's 2-0 win over Huddersfield followed a 4-0 demolition of West Ham last week that has already lifted Everton up to 10th.
Just 400 meters across Stanley Park, Liverpool has also enjoyed the autumnal months. Klopp's team has gone eight games without defeat and resolved the defensive problems that were plaguing Liverpool early in the campaign.
But for Manchester City, Liverpool would be lauded as the most attractive attacking team the Premier League has seen in years. Over the course of that eight-game run, Klopp's team has scored 25 goals, with Mohamed Salah, Roberto Firmino, Sadio Mane and Philippe Coutinho making up the team's lethal attack.
Allardyce's team will do well to keep Liverpool at bay on Sunday, and will do even better to take all three points. It is seven years and nine games since Everton came out the derby as victors. Tim Cahill and Mikel Arteta were the goalscorers on that day.
But you have to go back even further for the last time Everton won at Anfield. On September 27, 1999, Kevin Campbell's strike inside the first five minutes won the game for the Toffees in a match that also saw three red cards.
Nineteen times Everton has attempted to win at Anfield over the last 18 years, and 19 times it has failed. Allardyce's start to life on Merseyside will take a real boost if he can become the first manager to win at Anfield this season.
Liverpool vs. Everton: Can Sam Allardyce Derail Jurgen Klopp's Attacking Juggernaut? | Sports