Liverpool vs. Manchester City: Will Van Dijk Help Halt The Runaway Leaders?
When Jurgen Klopp and his Liverpool team made the 35-mile journey west to the Etihad Stadium in September, they were due to be the first true test for Pep Guardiola's Manchester City.
After a trophy-less first season for Guardiola in English football—a first of his managerial career—many said the great coach had finally met his match: Guardiola's style would not work in the Premier League, they said. The purist would have to become the pragmatist.
City had scored two late goals at newly-promoted Brighton and Hove Albion on the opening day of the 2017/18 season, been held by Everton at home and then scored an injury-time winner at Bournemouth. Still the critics held firm on their perspective of Guardiola. But then came Liverpool.
Klopp's team had begun the season so well, with the signing of Mohamed Salah already appearing to be a fine piece of business as the warm evenings began to close in. Philippe Coutinho, still a Liverpool player at the time, was almost redundant—Salah, Roberto Firmino and Sadio Mane were a strong enough force even without him.
Liverpool traveled to City on the back of a 4-0 demolition of Arsenal, already being pipped as one of the strong title contenders. Instead, they left the Etihad Stadium with a whimper. The visiting fans could look to the sending off of Mane as a reason for the 5-0 humbling at the hands of City, but Liverpool were outclassed for the entire 90 minutes. They were dominated in possession and managed just three shots all game.
Four months on, many clubs have left the Etihad in similar circumstances, with City now leading the Premier League table by 15 points. Liverpool, fourth and a massive 18 points short of Guardiola's team, are preparing to host City on Saturday (January 13), and they will be seeking revenge.
Much of their woes at the Etihad Stadium—and elsewhere over the past couple of years—has been down to an inability in defense. But should the same happen again on Saturday, there can be no excuses from Klopp after his team spent £75 million on Dutch center back Virgil van Dijk.
Klopp has been smart in easing Van Dijk, signed from Southampton, into his back line. The 26-year-old made his first start for Liverpool on Friday, in the FA Cup third round tie against Merseyside rivals Everton
Van Dijk brought an assured presence to the center of Liverpool's defense, a vocal figure at the back organizing the team as it was set out. His debut went even better than anyone could have imagined, and he scored a late winner to see Liverpool progress to the next round.
Liverpool will, once again, go into Sunday's game with renewed optimism. While Coutinho may have left for Barcelona, Liverpool's attack is still lethal with Salah, Mane and Firmino. Against City, though, it is the defense that will need to be resolute. In Van Dijk, Klopp and Liverpool think they have that now.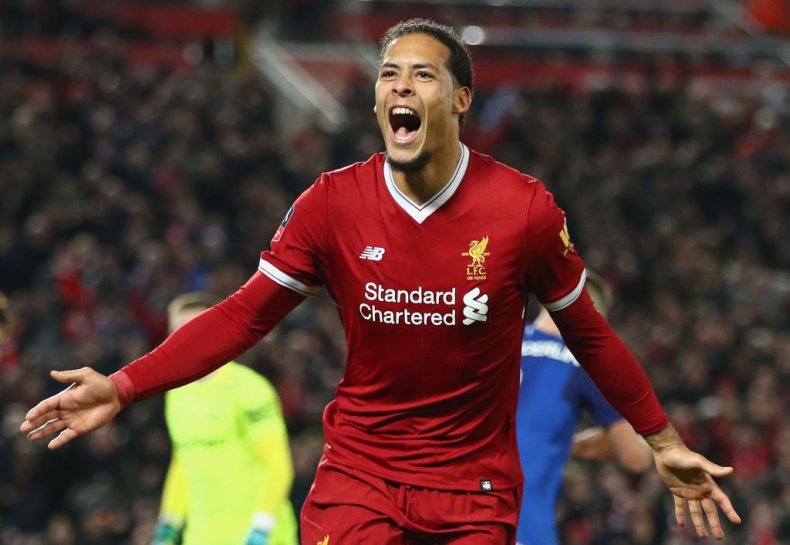 Liverpool vs. Manchester City: Will Van Dijk Help Halt The Runaway Leaders? | Sports