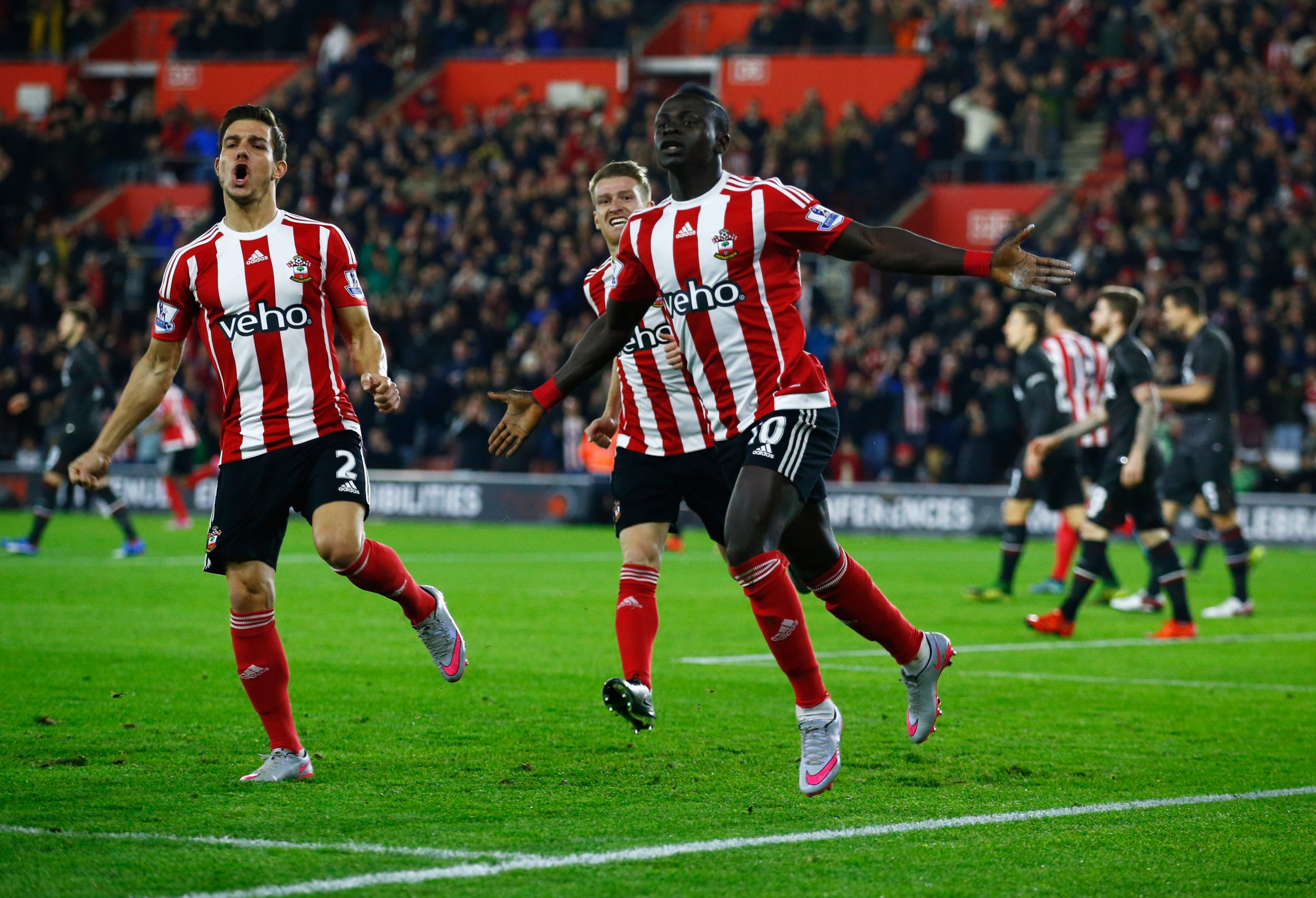 Tuesday was an historic day for Sadio Mané.
Not only did the Senegalese forward complete a £34 million ($45.5 million) transfer from Southampton to Liverpool but, in doing so, Mané became the most expensive African footballer in history.
The coming season will determine whether that mantle weighs too heavily on the tricky forward's shoulders. For now, Newsweek reviews some of the priciest footballing stars to come out of the African continent.
1. Sadio Mané: Southampton to Liverpool, 2016, £34 million ($45.5 million)
The winger started his professional career in France and also played in Austria before joining Southampton in 2014. Mané's pace and eye for goal—he is the record holder of the Premier League's fastest-ever hat-trick after scoring three times in 176 seconds against Aston Villa in May 2015—were likely big factors in Liverpool parting with such an enormous sum for his services.
2. Wilfried Bony: Swansea City to Manchester City, 2015, £28 million ($37.5 million)
The Ivorian striker joined the then-Premier League champions in January 2015 after being the top scorer in the English top-flight in the calendar year of 2014, with 20 goals. But the bullish forward has struggled to cement a first-team place, finding himself behind Sergio Aguero and others in the pecking order.
3. Emmanuel Adebayor: Arsenal to Manchester City, 2009, £25 million ($33.4 million)
Always controversial and never boring, the Togolese striker made his name in English football at Arsenal, scoring 46 goals during two-and-a-half seasons with the London club. Manchester City (again) paid Arsenal around £25 million ($33.4 million) for Adebayor, who has since moved on twice, to Tottenham Hotspur and then Crystal Palace.
4. Michael Essien: Lyon to Chelsea, 2005, £24.4 million ($32.7 million)
A powerful Ghanaian midfielder nicknamed "The Bison," Essien was signed from French side Lyon by Chelsea for £24.4 million ($32.7 million), which at the time was the most the Blues had ever paid for a player. Essien stayed at the club until 2012, when he moved on to Spanish giants Real Madrid and Italian side AC Milan before signing for Greek club Panathinaikos in 2015.
5. Yaya Touré: Barcelona to Manchester City, 2010, £24 million ($32.1 million)
Manchester City (once more) paid out for the classy Ivorian midfielder in July 2010 after Touré was told by Spanish champions Barcelona that he was surplus to requirements. Now 33 and beginning to show his age, Touré's future at City has been questioned after ex-Barcelona coach Pep Guardiola—who cleared the Ivorian out from the Catalan club—was appointed to take over the English side.
6. Didier Drogba: Marseille to Chelsea, 2004, £24 million ($32.1 million)
A legend at Chelsea, Drogba joined from French side Marseille in 2004 and stayed at the club for eight years, earning the title of Chelsea's greatest-ever player in a fans' poll in 2012. That was no doubt swayed by the Ivorian striker's most iconic moment in a Chelsea shirt: in his final game before a summer transfer to China, Drogba scored a crucial equalizer and the winning penalty in the Champions League final against Bayern Munich. The big man made a brief hero's return to Chelsea, joining the club for the 2014-15 season before finally moving on to pastures new.
7. Samuel Eto'o: Inter Milan to Anzhi Makhachkala, 2011, £21.8 million ($29.1 million)
Cameroonian striker Eto'o became one of the world's highest-paid players when he joined Russian side Anzhi in 2011. As well as a hefty transfer fee, Eto'o reportedly agreed a contract worth £17.9 million ($24 million) per year.
8. Medhi Benatia: Roma to Bayern Munich, 2014, 26 million euros ($28.8 million)
After speculation from English clubs including Manchester United and Chelsea, Moroccan defender Benatia plumped for German giants Bayern Munich after deciding to leave the Italian club.
9. Samuel Eto'o: Real Mallorca to Barcelona, 2004, £16 million ($21.4 million)
The striker actually started life in Spain at Barcelona's arch-rivals Real Madrid, before moving to Mallorca in 2000 and then the Catalan club in 2004. Barcelona had to pay both Mallorca and Madrid for Eto'o's services—Real Madrid still owned half of the player's transfer rights. Madrid might look back on that decision with some regret: Eto'o went on to score 108 goals for their rivals.
10. John Obi Mikel: Lyn Oslo to Chelsea, 2006, £16 million ($21.4 million)
In one of the most confusing transfer sagas of all-time, Manchester United announced in April 2005 that they had purchased Mikel from Norwegian club Lyn Oslo. Over the following year, a series of claims and counterclaims saw Mikel state that he had been pressurized into signing for United but actually wanted to play for Chelsea. United denied the claims but eventually settled a deal with Chelsea, who paid the English club £12 million ($16.1 million) on top of £4 million ($5.4 million) paid to Lyn.
All prices are converted to U.S. dollars at current exchange rates.
Uncommon Knowledge
Newsweek is committed to challenging conventional wisdom and finding connections in the search for common ground.
Newsweek is committed to challenging conventional wisdom and finding connections in the search for common ground.
About the writer
Conor is a staff writer for Newsweek covering Africa, with a focus on Nigeria, security and conflict.