Livestream: How to Watch the House Judiciary Committee's First Impeachment Hearing
The House Judiciary Committee, a panel of lawmakers who will be tasked with writing and approving any articles of impeachment against President Donald Trump, will host its first impeachment hearing at 10 a.m. Wednesday.
Although no bombshell revelations are expected about the Ukraine scandal, such as there were during the impeachment hearings before the House Intelligence Committee last month, Republicans have signaled they're preparing to act as a thorn in the side of their Democratic counterparts, ready to engage in debates over committee procedures.
Four legal scholars who are considered experts on the Constitution's impeachment process will answer questions before members of Congress in the Longworth House Office Building
Noah Feldman, professor and director of Julis-Rabinowitz Program on Jewish and Israeli Law, Harvard University Law School
Pamela S. Karlan, professor of public interest law and co-director of the Supreme Court Litigation Clinic, Stanford University Law School
Michael Gerhardt, professor of jurisprudence, University of North Carolina Law School
Jonathan Turley, professor of public interest law, George Washington University Law School
The hearing, which is expected to last several hours, can be watched live on C-SPAN or at the embedded YouTube video below. The same video can also be found on the Judiciary Committee's website. Newsweek also has a live updates story.
The White House declined to participate and have counsel present at the hearing to ask the witnesses questions, citing previous ambiguity over exactly who would be testifying and about what. This is despite persistent claims by Republicans and Trump that Democrats have not afforded the president due process and the ability to properly defend himself against allegations of wrongdoing in the Ukraine scandal.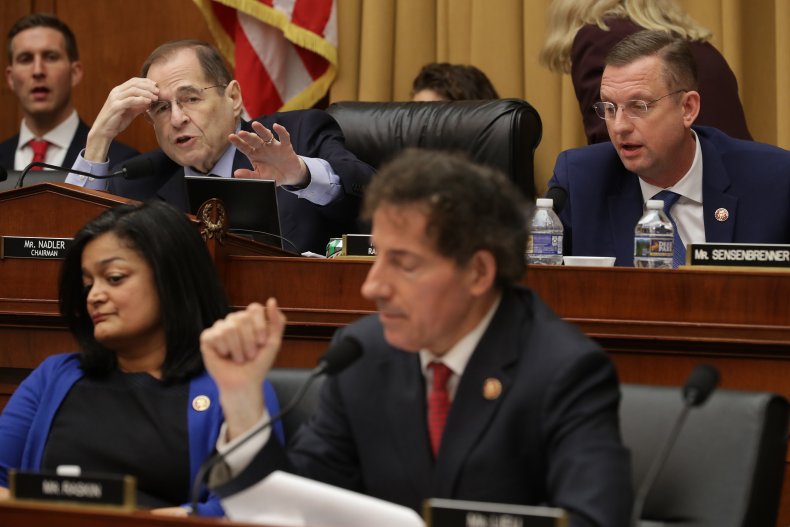 The hearing will come less than 24 hours after Democrats released a 300-page report outlining their findings from the impeachment inquiry, accusing Trump of abusing his power, obstructing the investigation and engaging in bribery regarding Ukraine. The Intelligence Committee voted along party lines Tuesday evening to officially send the report over to Judiciary, where lawmakers will use the document as a roadmap when crafting articles of impeachment.
"This report chronicles a scheme by the president of the United States to coerce an ally—Ukraine—that is at war with an adversary—Russia—into doing the president's political dirty work," Rep. Adam Schiff (D-Calif.), chairman of the Intelligence Committee, told reporters after the report's release. "It involves a scheme in which Donald Trump withheld official acts—a White House meeting—as well as hundreds of millions of dollars of needed military assistance in order to compel that power to deliver two investigations that he believed would assist his reelection campaign."
The two investigations were that of former Vice President Joe Biden's son, Hunter, and his involvement in Ukrainian gas company Burisma, and a discredited conspiracy theory it was Ukraine—rather than Russia—who interfered in the 2016 U.S. election.
Republicans released a 123-page report of their on Monday, which rebutted Democrats' claims that Trump engaged in any misconduct surrounding his dealings with Ukraine.
"Democrats are concerned that if they do not impeach this president, they cannot beat him in an election," House Minority Leader Kevin McCarthy (R-Calif.) said to reporters Tuesday, shortly after Schiff. "This is exactly what Alexander Hamilton warned us about. And unfortunately, we now have a majority solely devised on one goal."