Living In Coral: How to Use the Pantone 'Color of the Year' to Your Advantage In Party Planning, Personal Style
Summer is almost here, and the 2019 Pantone Color of the Year will add a pop of sunshiny color to virtually every summer endeavor. It's nearly time for backyard barbecues, daring outfits and adding a pop of color everywhere you go. Julie Roth Novack, CEO of PartySlate, has more than a handful of ideas for how every party host can create a world of color with this year's Pantone pick: Living Coral.
Living Coral is a bright, punchy pink with an orange undertone. It gives an immediate impression of fun, and walks a fine line between bold and understated. It can be used as either a loud, summer celebratory base, or as a toned-down, feminine statement.
Roth Novack noted that people are drawn to the color due to its uplifting qualities. "This year's color, Living Coral, is bright, it's positive, and it's full of life," she told Newsweek. "The Color of the Year's purpose is always to inspire people in every aspect of their lives, from fashion to home decor to event design. PartySlate is already seeing hundreds of beautiful on-theme events posted by leading event professionals from across the country, from weddings to corporate events."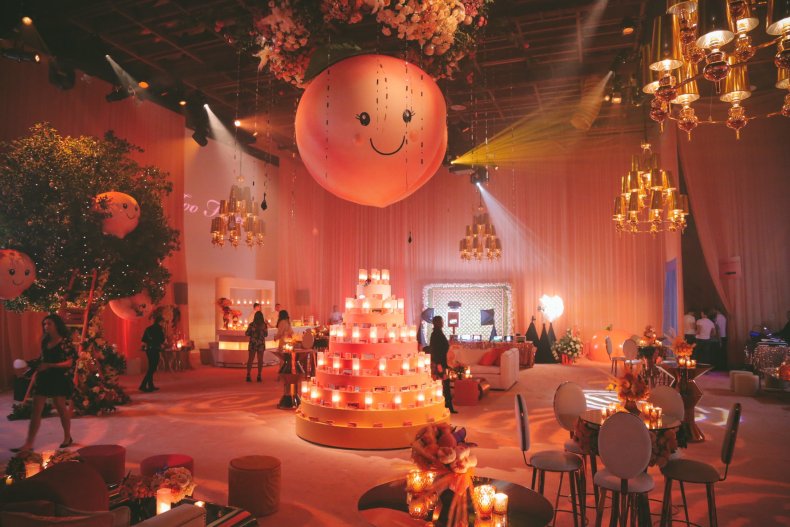 While not everyone is hosting a giant event in 2019, it's still possible to incorporate Living Coral in any event, no matter what size. Roth Novack gave a few, simple ways to bring party design to impressive heights. "When it comes to events, there are so many ways you can incorporate Living Coral," Roth Novack explained. "Florals are a great choice, because there are so many gorgeous flowers that naturally come in this vibrant hue. Décor accents are another option — choose a Living Coral-colored linen to accent your tablescape. And a big trend I have been seeing lately is carrying a color palette through the décor, such as balloon installations and video projection mapping."
If Living Coral isn't your favorite color though, it doesn't have to be your host color. The color of the year is meant to bring happiness in decor and life. Roth Novack encourages party hosts to pick a color that compliments the event's guest of honor. "If you are planning an event, you should always use a color palette that matches your personality or the style of the guest of honor," she said. "So even though Living Coral is the Color of the Year and becoming more of a trend, that doesn't mean it's right for everyone."
Still, try a pop of any color for an unforgettable experience. "With that being said, incorporating unexpected color into event décor does help some people break out of their shells. If you always do a black and white event, try something different."
PartySlate hosts over 7,000 ready-to-help event planners and has already currated over 450,000 photos since its 2015 launch.
This article has been updated from a previous version which mispelled Novack's last name.