Living the Dream: An Average Golfer Plays the Presidents Cup Course at Liberty National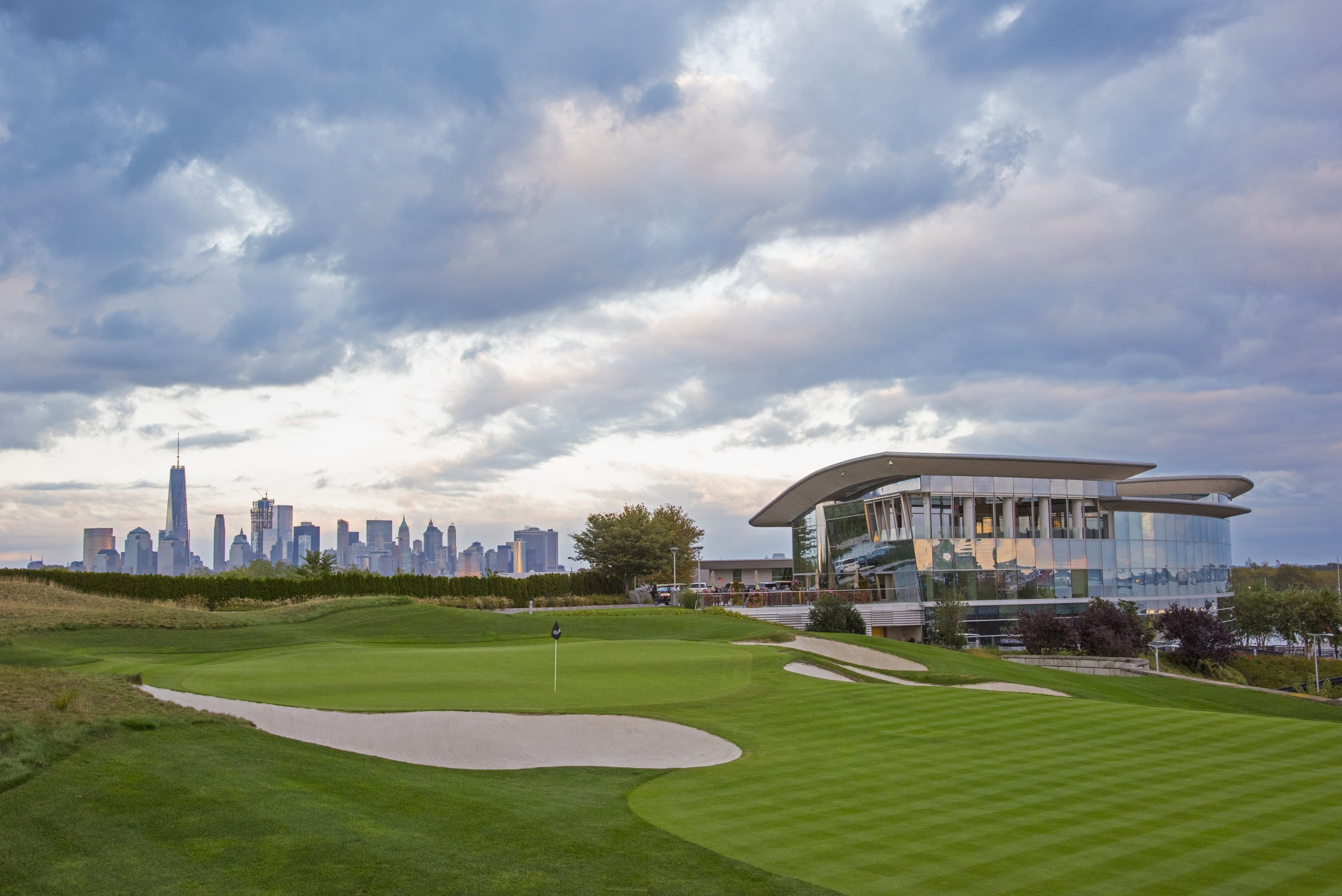 Let me tell you a bit about the course where I learned—taught myself, really—to play golf during my high school years.
It cost 10 bucks to play—that is, if you didn't sneak on the property through a clearing in the woods behind the green on No. 2. There was a pond on the course, but it was fenced off and seemed to function as a water-treatment plant rather than a trap for golfers. Your ball was sooner to be impeded by a drained bottle of Smirnoff than a sand trap. Basketball shorts, T-shirts, a cut-sleeve polo—you read that correctly, a cut-sleeve polo—were all considered golfing attire. I've since graduated to nicer but still modest public courses that will run you anywhere from $25 to $75 to play. But even those are a far cry from the manicured lawns of Liberty National, a luxe,uber-exclusive golf club that cost $250 million to build in Jersey City, New Jersey, that I was given a chance to play before it hosts the best professional golfers in the world for the Presidents Cup next month.
Golfing is seen as a hobby for old, rich (largely white) dudes—data shows more than a quarter of all hobbyist golfers make at least $125,000 and the average (average!) PGA Tour viewer is 64 years old—but my retort to this typically is: It doesn't have to be. If it's possible for there to be an Average Joe golfer, I'm him. I play on the weekends with normal folks, using gear I bought refurbished or on sale. I'm aggressively mediocre at the sport—I don't really track my handicap but shoot anywhere from an 85 to a 100 on a typical 18 holes—but enjoy the challenge of the game and the peace of getting outside. And I'd argue there is no feeling in sport as pure as the poetic joy of visualizing a shot, then having your body somehow make it happen. It doesn't hurt that while you do that, you can also drive around carts and drink beer with friends in the sunshine for four hours or so.
But this all kind of goes to say that Liberty National, which boasts sweeping, panoramic views of the Manhattan skyline and the Statue of Liberty, is way outside my norm. I'm obsessive about the game and watch the PGA Tour relentlessly, but that was a golf world sort of separate from the one in which I existed. But I found myself there to play a round alongside other media members and corporate sponsors and honestly, I was nervous. I hadn't golfed all summer before I got the invite last week and was able to squeeze in just one practice round. I'd be going in cold and completely unaware of what to expect. Liberty National, in its normal state, was already nicer than any course I've ever played or will likely ever play again. To make matters more frightening, I was playing it as it was in the process of getting revamped for the top golfers around the world, meaning narrower fairways, greens as smooth as glass and greater distances to travel to get to the hole. It was a beautiful, difficult course with the volume turned up to 11. So I felt a bit like a fraud as I rolled into the Cadillac-laden valet area in an Uber and attended a press conference before the golfing portion of the day began.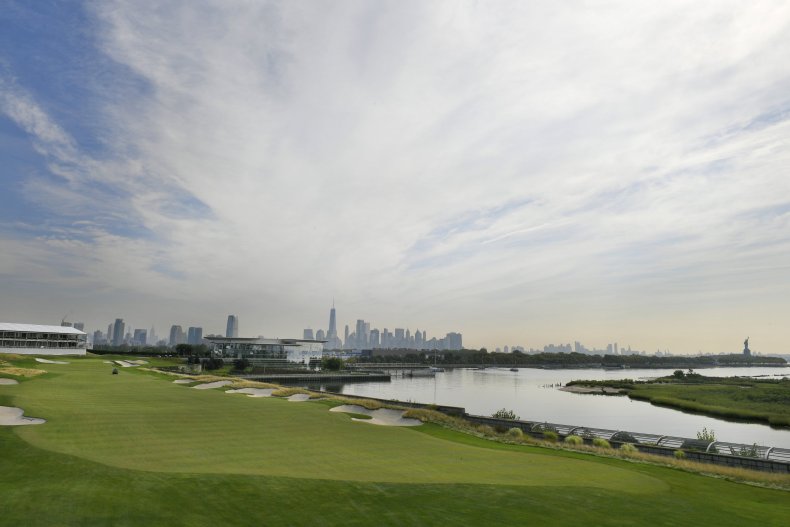 The Round
I attempted to calm myself at the driving range—equipped with pristine Bermuda grass and pearly white Titlist Pro V1 practice balls—but I flubbed shot after shot, barely able to lift the ball off the ground. I did that thing where you feign frustration and mutter soft-but-not-too-soft grievances like "God, what is happening," in an attempt to let people nearby know you're not this terrible despite knowing in your heart you're precisely that terrible. My hands were slick with sweat. I'm not really sure why I was so nervous, but it felt like it had something to do with getting laughed off the course, discovered as a guy who definitely didn't belong.
But off the range and sitting in a golf cart with my playing partner, an editor at NJ.com, I was relieved to learn we'd be playing a shamble-style round, which meant myself, my partner and a third player in a different cart would each tee off at every hole and then the three of us would complete the hole from the spot where the best of the three tee-shots landed. So basically as long as one of us started the hole decently, we'd be okay. I was also relieved to learn we'd be playing from the member tees and not the tournament tees, which effectively meant my shots wouldn't have to travel as far as, say, world No. 3 Jordan Spieth might hit them. (Side note: Spieth happened to start a practice round at Liberty National during the aforementioned press events, and I can confirm he absolutely bombed his shot.)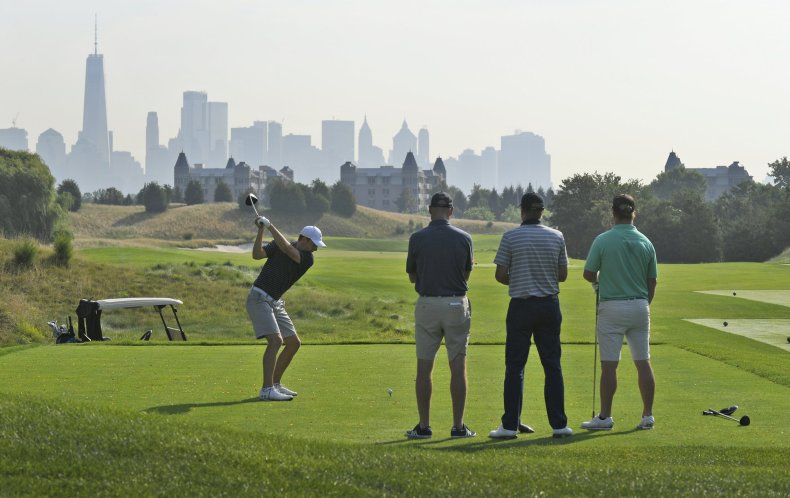 My group started the day on Liberty National's signature hole, which will be hole No. 10 when the pros play the Presidents Cup. It's a short par 3—meaning it should take three shots to complete—set to the backdrop of the Manhattan skyline and the Statue of Liberty shimmering above the Hudson River. I nervously clutched my pitching wedge, took an exaggeratedly deep breath, addressed my ball and promptly shanked that sonuvabitch about 15 feet into a dense swampy area. Shit. I three putted from where the best shot ended up, just off the green. So, by the weird, modified rules, I ended up with a very fake bogey. All the while I took diligent notes on what happened on each shot, which proved to be the beginning of a very embarrassing document.
I tried to clear my mind before heading into the second hole. Our caddie, a supremely helpful young man named Davis, suggested an aiming on the 423-yard par 4. I pulled out my driver then clunked my shot off the heel of the club. I cringed as my ball clanked off a half-built riser—presumably where fans will watch the pros launch much better shots—no more than 15 yards away. I took a six on the hole.
It wasn't until the fourth hole that I managed to hit a decent shot, when somehow my drive was the best out of the group's three attempts. I wasn't sure, exactly, what I did to correct my swing but felt a brief pang of joy that I didn't completely suck. That didn't last. I lined up my next shot from the fairway and hit the ball directly into the trees.
At this point, most of my fears about the day are coming true. I looked at Davis—who, throughout my struggles, displayed the patience of a monk who received total consciousness—and I felt like a fraud. He kindly doled out tidbits of advice—how far left to aim putts or how much to correct for wind gusts—but I couldn't help but wonder if he was thinking all the while, "What the hell is this jabroni doing here, last week I caddied for Ray Romano, goddamn it."
My notes for the fifth hole read, "Almost killed Davis." I hit a screaming line drive off the tee of the par 4. Davis stood off to the side of the fairway so he could spot where our groups' shots landed. My ball whistled directly at Davis's head, and he stared it down like Neo stopping bullets in The Matrix. Panicked, I shouted, "HEADS UP, DAVIS HEADS UP," somehow forgetting in golf you yell "Fore!" to alert folks of an errant drive. At the last second, Davis sidestepped the little white projectile. Behind me, a crew laughed as they set up what appeared to be a television set. Davis later told me he saw it all along, but I'm not sure if I believe him. I bogeyed the hole.
I stooge my way through a third of my round before, weirdly, despite my struggles, I started to realize that I could potentially hack my way through the course. Sure, the margin for error was thinner, and a small mistake on the course was amplified, but everything was so nicely maintained—the fairways could pass as greens—that you don't have to deal with some of the randomness of an average course. On my typical public course, any given shot might bounce off a stray rock, sink into muddy grass, take a weird roll on a shoddy green, or run up against any number of weird chance encounters. Liberty National was like playing on a clean, perfect slate—it was difficult but remarkably fair, a stern but even-keeled judge.
By the 11th hole I again feared I had physically harmed a human being with my utter lack of ability to do anything right. I hit an errant shot toward a crew constructing bleachers. At the same time my ball was set to land, a metallic ping rang out and I briefly thought I hit a guy. Luckily, after hearing a few more pings, I ascertained it was just a hammer. I finished the hole 14 shots over par for the day.
It was about here I felt free, not even embarrassed. Both of my playing partners had hit some bad shots as well, which selfishly made me feel better.But I also realized that unless journalism starts paying a lot—and I mean A. LOT.—better, than I might never get the chance to play at a country club like Liberty National again. I decided I was going to soak it in.
The 14th hole my notes simply read: "Utter collapse."
The 15th hole I hit a nice drive.
In an almost cruel fashion, the 17th and 18th holes remind me why I torture myself by playing golf. I have a theory about the game: One good hole a day is what keeps everyone coming back. All it takes is piecing it all together one time out of 18 attempts to make you pay to play again the next weekend.
I hit a perfect drive on 17, and my playing partner cried out, "Shot of the day!" then told me, as I went to take notes, that it was "inspired by Ron." (His name was Ron, and, Ron, you're welcome.) The entire group hit their next shot from where my drive ended and I somehow landed my second shot about 15 feet from the hole. I missed my birdie putt but made a God's honest par, no help from the modified rules necessary. I immediately started thinking about playing the next weekend, albeit at a much cheaper course that wouldn't stop me at the gate on any day besides media day.
On the final hole, I again bombed my drive. It was a par 5 and I decided to attempt to hit my second shot about 220 yards over a massive pond to the green instead of taking a safer option. I asked Davis how dumb my plan was. "You didn't come here to lay up," he helpfully pointed out. I smashed my ball past the green. Pure euphoria. It took me three shots to end with a par, but I somehow finished the day looking like I kind of knew what the hell I was doing.
For the day my score was a 92, which sounds like it falls directly in my normal range, but considering there were modified rules that made things much, much easier it was pretty abysmal. But as I picked my ball out of the cup on the final hole, I realized I just spent a day of "work" duffing my way around an incredibly fancy golf course. Not half bad.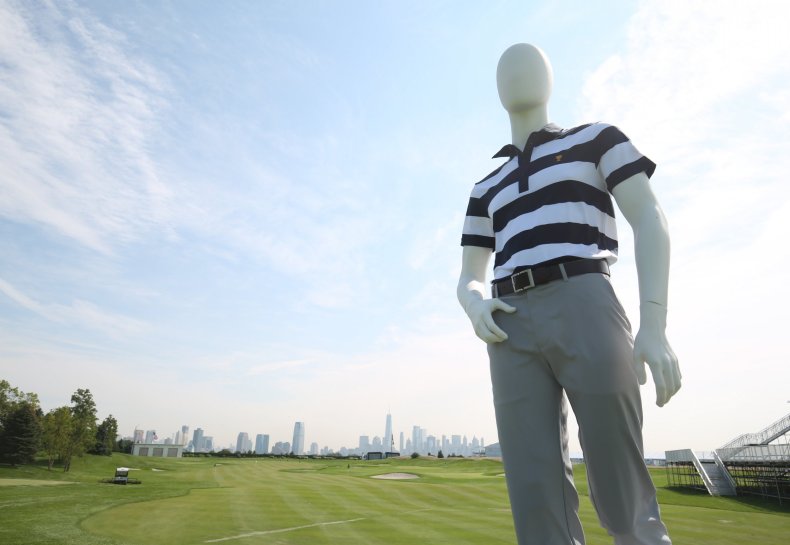 A Different Thing Entirely
I was expecting the golf course to be nice—and of course, it was. But it felt like a different experience entirely from my normal golf routine. Hell, I'd never even had a caddie before.
There were the obvious differences due to the simple fact that the place was gearing up to host an international golf competition. Liberty National was effectively in the process of building what amounts to a miniature city of risers, stands, sponsor tents and luxury boxes.
But the most surprising thing about being a normal guy at an event held at a course for the uber-rich: Everything was free. A bar serving specialty Grey Goose cocktails handed out not just free drinks and free hats but also free bottles of Grey Goose. A pizza truck gave away slices. Golf carts came pre-equipped with hats, balls and a nametag. A rest-stop house halfway through the course was stocked with beer, sodas, Gatorade and snacks. Lacoste handed out gift cards like Halloween candy.
Keeping with that theme, the organizers issued a challenge for what will be the opening tee of the Presidents Cup in September. Any player at media day whose tee-shot found the fairway would be allowed to take home any polo shirt from the course's shop for free. The hole is a par 4 with a narrow fairway lined on the left by a man-made pond and on the right by thick rough grass. It was the same tee shot that Jordan Spieth crushed down the center of the fairway—oh, and, in case this isn't incredibly obvious I don't often see the best golfer in the world when I go golf. My drive didn't rival Spieth's, although at first it looked all right, but then quickly took a hard left turn toward the wet stuff. Splunk.
I was curious about the free polo I didn't win, so after I finished my round, I walked back to the club house. It's a term that conjures images of quaint cottages, but at Liberty National means a sleek, multifloor glass structure. Passing through the bar area, I wandered into the pro shop, found a shirt and turned over the tag. There were no list prices, which let me know they were out of my price range. Heading out of the clubhouse, I saw folks in the lobby passing out more gift bags ahead of a reception later that night. But I had to go to ensure I caught a ferry back to the city before they stopped running.
I hailed an Uber. My driver arrived in a Ford Focus, and as we rumbled down the long path out of the complex she gazed out at the clubhouse. "This is a golf course?" she asked incredulously.
"Yeah," I answered. "I usually can't afford to play here."