Liz Cheney, 1/6 Committee Refute McCarthy's Claim Trump Cleared of Role in Capitol Riot
Bipartisan members of the congressional committee investigating the January 6 Capitol riot denounced a recent claim by House Minority Leader Kevin McCarthy (R-CA) that suggested former President Donald Trump was cleared of playing a role in the incident.
In a joint statement issued Saturday, House Select Committee Chairman Rep. Bennie Thompson (D-MS) and Vice Chair Rep. Liz Cheney (R-WY) refuted McCarthy's "baseless" comments earlier this week in which he said that Trump was not involved in facilitating the violent insurrection.
"(McCarthy) has suggested, based on an anonymous report, that the Department of Justice has concluded that Donald Trump did not cause, incite, or provoke the violence on January 6th," the statement read, according to CNN.
"When this anonymous report was first published, the Select Committee queried the Executive Branch agencies and congressional committees involved in the investigation. We've received answers and briefings from the relevant entities, and it's been made clear to us that reports of such a conclusion are baseless."
The statement comes after McCarthy told KGET-TV this week that the Department of Justice has cleared Trump of any potential wrongdoing. The California Republican was referencing an anonymous report last month by Reuters that claimed the FBI found "scant" evidence that the January 6 riot was coordinated.
"The FBI has investigated this. The Senate had bipartisan committees come back. And you know what they've found— that there's no involvement. But this is purely political in how Nancy Pelosi has handled this," McCarthy said in the interview with KGET.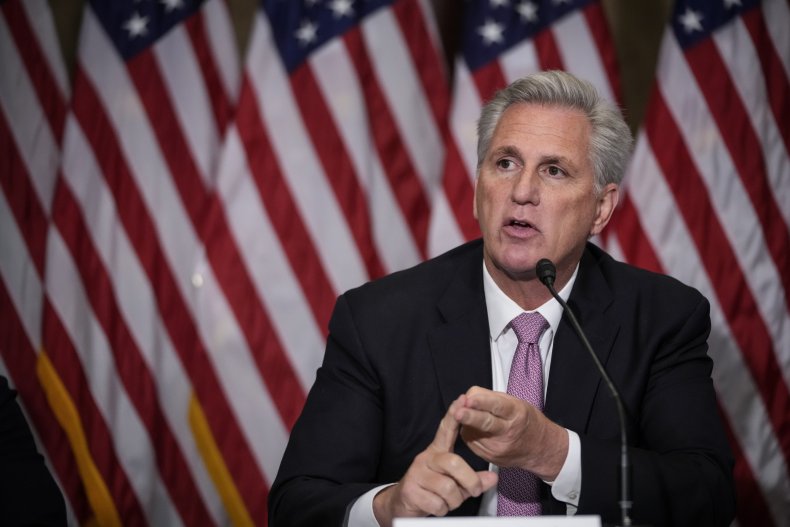 Those remarks fall in direct opposition to previous statements from McCarthy, in which he said Trump "bears responsibility" and did not properly denounce the insurrection days after it took place. Five people were killed on January 6 when a violent mob of Trump supporters stormed the Capitol building in an attempt to stop the election certification of President Joe Biden.
McCarthy has since walked back his early remarks, and on numerous occasions suggested that Trump was not involved in the insurrection and that he responded to the situation appropriately.
"We also remind Minority Leader McCarthy of his statements following January 6th, including his statement from the House Floor on January 13th — which are inconsistent with his recent comments," the statement from Cheney and Thompson said.
"We will continue to pursue all elements of this investigation in a nonpartisan and thorough manner," the committee added, sending a signal that Trump remains a key focus in the ongoing probe.
Newsweek contacted representatives for Trump for additional comment, but did not hear back in time for publication.