Liz Cheney, Adam Kinzinger Face-Off With GOP Leaders in Very Public Feud
Gloves are off in the GOP. Party infighting over the Republican National Committee's censuring of Liz Cheney and Adam Kinzinger has played out very publicly in recent days.
Neither Cheney nor Kinzinger are willing to back down on their criticisms of Donald Trump and their own party. And their censuring by the Republican National Committee only appears to have dragged the clash even more into the spotlight.
And, as Washington analysts have told Newsweek, the fallout looks set to rumble on.
The RNC voted on Friday to rebuke the pair—the only Republican lawmakers on the House select committee investigating the January 6 attack—accusing them of persecuting citizens "engaged in legitimate political discourse."
Even before the vote, Cheney released a scathing statement. "I do not recognize those in my party who have abandoned the Constitution to embrace Donald Trump," she wrote.
The day of the vote, Cheney posted a video on Twitter showing violence at the Capitol riot—including Trump supporters attacking police officers—questioning the RNC's "legitimate political discourse" description. It went viral, gaining more than 4 million views
Kinzinger has also not been shy to respond, appearing on major TV news networks.
During an appearance on CNN's New Day on Monday morning, the Illinois congressman called "fragile ego" Trump "the worst president" ever. He later told MSNBC that the RNC "deserves every backlash" it receives over January 6.
Kinzinger and Cheney are not alone. Senators Mitt Romney, Lisa Murkowski and Bill Cassidy as well as Maryland Governor Larry Hogan are among those top Republican figures to publicly voice their disapproval over the censure and January 6 description
Around 140 Republican leaders and former officials, including Trump's White House communications directors Alyssa Farah and Anthony Scaramucci, also signed a letter condemning the RNC.
In a statement, the GOP officials said in censuring Cheney and Kinzinger, the RNC signaled "it no longer welcomes people of conscience" and is willing to condone "conspiracies, lies, and violent insurrection."
Following the censure vote, former President Trump called Cheney and Kinzinger "two horrible RINOs [Republican In Name Only] who put themselves ahead of our Country," adding that the GOP "would be far better off without them!"
Defending the censure vote, RNC Chairwoman Ronna McDaniel said that Kinzinger and Cheney had "crossed the line" on investigating January 6 and criticising Trump.
The dispute shows little sign of ending.
"After leaving office, it seems likely that [Cheney] will continue to fight Trump's takeover of the Republican party from outside," Sean Freeder, an assistant professor of political science at the University of North Florida, told Newsweek.
Though with Trump's critics "hopelessly outnumbered" by his supporters, Freeder said he believes Cheney will lose her primary bid in August by a "significant margin."
Kinzinger has already announced that he will not be seeking re-election in November's midterms, but Cheney is facing a battle to keep her Wyoming seat against the Trump endorsed attorney Harriet Hageman.
Freeder added: "Any other Republicans who may privately feel uneasy about the censure must remain silent or face the consequences: a likely loss to a Trump-endorsed and funded primary challenger this year."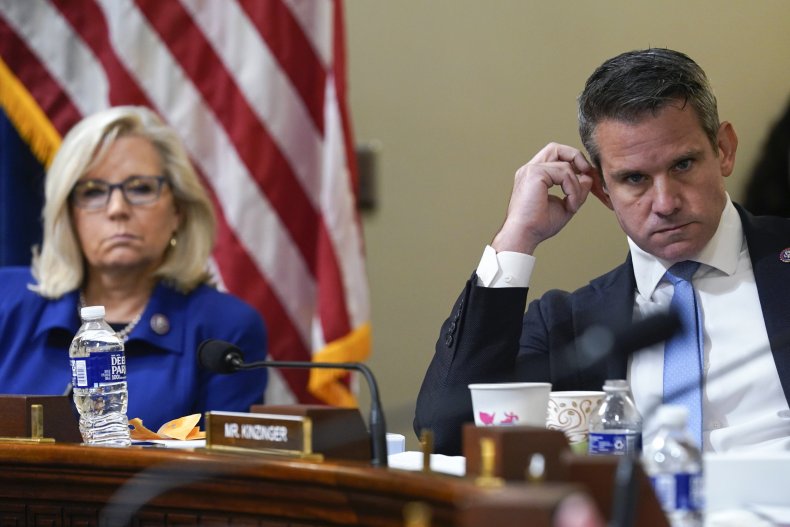 Joshua Scacco, an associate professor of political communication at the University of South Florida, said the split within the GOP began with the second impeachment of Trump and has "only deepened" with the January 6 investigation.
Scacco told Newsweek the censure was an attempt for the GOP to "enforce compliance" among its members to fall in line with Trump.
"This compliance in the Republican Party is to the 'big lie' and anti-democratic turn the Party has made to embrace violence as a legitimate form of political expression," Scacco said.
"This split is more than politics. It is some members of a political party rejecting the illiberal, or anti-democratic, turn of the Republican Party. Ideologically, Cheney and Kinzinger share a similar political orientation to many Republicans on policy.
"Foundationally, the split is large because it is over the nature of democracy itself."
If Trump-endorsed candidates help the GOP retake control of the House and Senate, the results could further cement the former president's influence on the party.
The public fallout looks send to continue for some time yet.