Liz Cheney Says Progressives Make 'Slaves Out Of People' In Episode Airing After AOC Concentration Camp Criticism
House Republican Conference Chairwoman Liz Cheney slams the Green New Deal, Medicare for All and other initiatives pushed by progressives like Representative Alexandria Ocasio-Cortez, as making "slaves out of people" in a sit-down interview set to air Friday night.
In the episode of PBS's Firing Line, which airs 8:30 p.m. EDT Friday and throughout the weekend, host Margaret Hoover tells Cheney the GOP is facing a "massive generational challenge" and asks how she as a top Republican leader plans to offer alternatives to youth engaging with Democrats on issues like student debt.
"First of all we have to make sure that people of all ages, but young people in particular, understand what it means, you know, when somebody says to you the government is going to give you a job, guarantee it," said Cheney, of Wyoming.
"The government is going to make sure that you go to school for free. The government is going to make all your decisions for you. You don't have to do anything," Cheney continued, giving examples. "What that means fundamentally is you're going to lose freedom—whether it's a Green New Deal or Democratic takeover of healthcare, those all come with a huge cost and that cost is loss of freedom."
Cheney said people will have to decide whether they are willing to let the government and "some faceless bureaucrats who sit in Washington D.C.," make such choices for them.
"Fundamentally, that is a system that makes slaves out of people," Cheney concluded. "So what we have to do is explain to people, make sure people recognize and understand the cost of socialism and the cost that comes—and the fraud of socialism."
Cheney did not name Ocasio-Cortez in her response to Hoover's question, but it appeared to be an attack directed at her, particularly in light of Cheney's criticism of the freshman Democratic congresswoman earlier this week.
Ocasio-Cortez on Tuesday tweeted that the Trump administration "has established concentration camps on the southern border of the United States for immigrants, where they are being brutalized with dehumanizing conditions and dying."
Cheney then accused Ocasio-Cortez on Twitter of not understanding the Holocaust.
"Please @AOC do us all a favor and spend just a few minutes learning some actual history. 6 million Jews were exterminated in the Holocaust," Cheney tweeted. "You demean their memory and disgrace yourself with comments like this."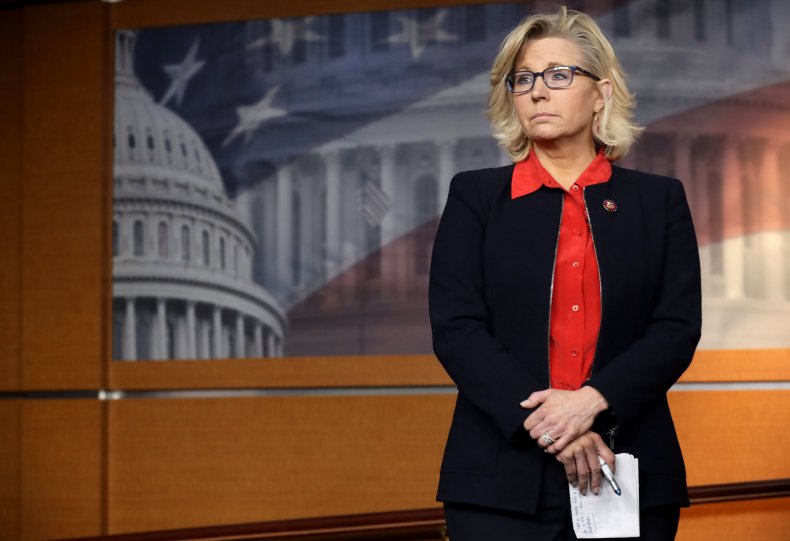 Ocasio-Cortez replied: "Hey Rep. Cheney, since you're so eager to 'educate me,' I'm curious: What do YOU call building mass camps of people being detained without a trial? How would you dress up DHS's mass separation of thousands children at the border from their parents?"
Ocasio-Cortez's office did not immediately respond to a request for comment from Newsweek on Friday on Cheney's comments airing on PBS.