Liz Cheney Doesn't Deserve the 'Profiles in Courage' Treatment | Opinion
As far as the Democratic Party and its liberal corporate media cheerleaders are concerned, it's time to add a new chapter to Profiles in Courage. The need to demonize former president Donald Trump has created an equally compelling imperative to lionize Liz Cheney.
Ever since the Wyoming representative accepted House Speaker Nancy Pelosi's invitation to join the Jan. 6 Committee, media coverage of Cheney has gone beyond the familiar granting of absolution to Republicans who attack their own party. Cheney has assumed the pose of a tragic heroine out of classic literature. By becoming Trump's principal antagonist, she's been anointed by those who once despised her and her family as the nation's newest savior, sacrificing her political career in order to ensure that authoritarianism is defeated.
To be sure, Cheney is paying a price for her role on the committee. After voting for Trump's impeachment after the Jan. 6 Capitol riot, she wouldn't let the issue rest, and consequently was booted out of her position as the number-three member of House Republican leadership. She burned her bridges for good by agreeing to serve on the committee after Pelosi—in an unprecedented move—refused to let the GOP name its own representatives. A recent poll shows her trailing a Trump-endorsed challenger by 22 points in Wyoming's August primary. That gap reduced her to imploring Democrats in her deep-red state to change their registration in order to vote for her, making it likely that her career in the House will soon be over.
Cheney has become the face of a committee whose aim is to validate the Democratic Party's laser-like focus on January 6 as President Joe Biden's administration lurches from disaster to disaster. Not satisfied with simply blaming Trump for the disgraceful riot, Democrats have sought to inflate the actions of a disorganized mob into a full-blown "insurrection" equal to the Civil War.
With no checks on its excesses from actual Republicans, the Jan. 6 Committee has become a 21st-century version of McCarthyism, crafting a spurious theatrical narrative in which Trump and his supporters are guilty of plotting a coup d'état. The committee's ability to drag in Republicans who had nothing to do with Jan. 6 and subject them to prosecution for refusing to cooperate with this travesty is nothing less than the politicization of justice for political purposes.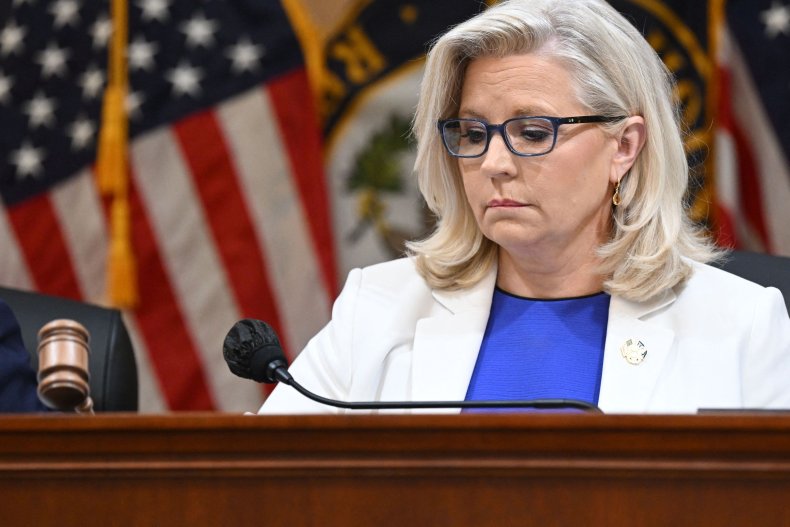 Republicans have justified grievances about biased reporting during the election, the lack of voter integrity checks for mail-in and drop-off ballots, the Russia collusion hoax, and the fact that the "mostly peaceful" Black Lives Matter riots got a pass from Democrats. But Trump's decision to continue challenging the results of the 2020 election after the Electoral College voted was misguided. Convening a rally on the day that Congress would certify that vote was playing with fire. The same goes for encouraging his supporters to march to the Capitol and failing to swiftly condemn those who battled with police and then broke into it.
Yet in the recent prime-time hearings, the committee took events and statements out of context and treated hearsay allegations of doubtful veracity as "smoking guns." Its wider goal is clearly to permanently taint the GOP by smearing anyone who joined a legal protest, shared the former president's doubts about the election results, and even those who voted for him, as insurrectionist traitors. The lack of cross examination or the opportunity for Republicans to defend themselves has undermined this kangaroo court's credibility and few non-Democrats believe it, or are watching.
Cheney's rhetoric about forestalling a fictional threat to democracy notwithstanding, her animus toward Trump is rooted in resentment for stealing the GOP out from under her and other members of the old establishment. Already out of touch with the base because of her enthusiasm for disastrous wars and distinct lack of interest in the social and economic issues that grassroots Republicans care about, Cheney's hopes to continue as a party leader were already finished.
Though she says her actions are "the most important thing I've ever done" and therefore worth the sacrifice of her career, Cheney's decision to lead the Democrats' witch hunt is actually a way to elevate herself into the status of national heroine, which she could never have otherwise achieved.
Far from ending her career, Cheney has started a new one. Becoming the Left's favorite ex-Republican guarantees that she will remain a celebrity, with a possible future as a quixotic—though well-funded—presidential candidate in 2024 as well as a talking head on CNN or MSNBC.
Ironically, by goading Trump without actually doing anything that will lead to his conviction, Cheney's theatrics may make it more rather than less likely that he will run again with what now appears to be a reasonable hope of winning. Nevertheless, Cheney has secured herself a permanent role as a cudgel with which liberals will assail the people she claimed to represent. That may be a smart career move but it is no profile in courage.
Jonathan S. Tobin is editor-in-chief of JNS.org and a senior contributor to The Federalist. Follow him on Twitter at: @jonathans_tobin.
The views expressed in this article are the writer's own.