A straw poll held by the Wyoming Republican State Central Committee on Saturday saw Representative Liz Cheney defeated by an opponent endorsed by former President Donald Trump.
The poll only consisted of 74 total voters, and three of those people abstained. Of those who participated, 59 voted for Harriet Hageman compared to the six who gave their votes to Cheney.
While the straw poll provides little insight as to whom the 196,179 registered Republican voters in Wyoming will favor in August's primary, it does underscore the mounting opposition Cheney faces among the state's GOP leadership.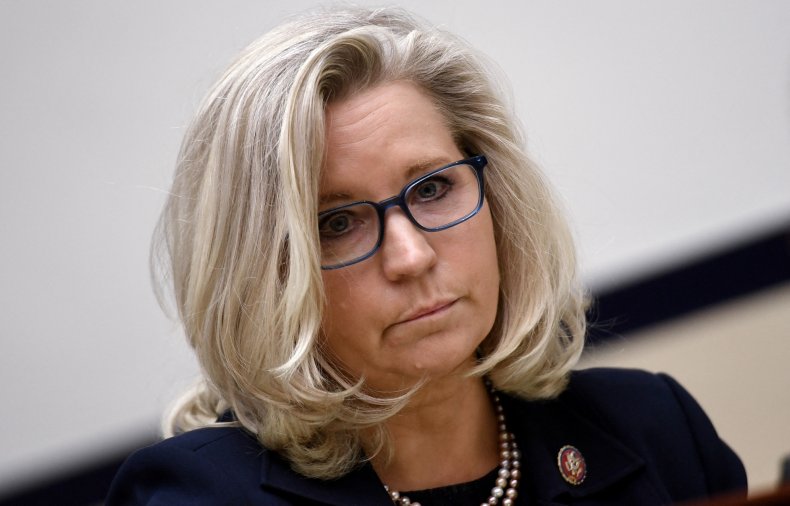 The secret ballot of party activists comes eight months before the GOP primary in Wyoming. Three representatives from each county and members of the state party make up the Wyoming Republican State Central Committee, which includes three members of Hageman's family.
Similar straw polls in the state have yielded inconclusive results, including one held at the Wyoming Republican Party's 2020 convention. Cynthia Lummis lost by double digits in that poll before beating her primary opponent by almost 50 points on her way to victory for a U.S. Senate seat.
"I think it's a good sign. It's not an endorsement, but these are the county activists," Hageman told the Casper Star-Tribune after poll. "There will be lots of polls over the next eight months, and they will all show different things."
A spokesperson from Cheney's campaign also commented on the state central committee's vote.
"The only elections that matter are in August and November," Jeremy Adler, Cheney's communications director, said in a statement to the Casper Star-Tribune.
The poll comes only months after the Wyoming Republican Party voted in November to no longer Cheney as a member of the party. The symbolic move came after the state GOP censured Cheney in February following her vote to impeach then-President Donald Trump for his role in allegedly encouraging the riots at the U.S. Capitol on January 6. At the time of the censure, the state's GOP also asked her to resign.
Cheney was one of 10 House Republicans who voted to impeach Trump in connection with the events of January 6, and she also referred to the former president an "anti-democratic cult of personality" in an op-ed she wrote for The Washington Post last May.
Days after that article was published, she was removed from her leadership position among House Republicans when party members ousted her as conference chair.
Cheney currently serves as vice chairwoman of the House select committee investigating the Capitol riot, which has drawn criticism from some conservative critics who claim she's aligning herself too closely with members of the Democratic Party.
Hageman announced she would run against Cheney on September 9. She also received the former president's backing soon thereafter.
"I strongly endorse Republican House of Representatives Candidate Harriet Hageman from Wyoming who is running against warmonger and disloyal Republican, Liz Cheney," Trump said in a September statement. "Harriet has my Complete and Total Endorsement in replacing the Democrats' number one provider of sound bites, Liz Cheney."
Hageman, who is a lawyer by trade, wasn't always so close with Trump. In fact, she actively worked against him. During the 2016 GOP presidential primary, Hageman was a Wyoming delegate for Texas Senator Ted Cruz.
According to The New York Times, she also called Trump racist and xenophobic in 2016.
Hageman, however, did once have a relationship with Cheney. She supported Cheney in 2016 in her quest for an open U.S. House seat. Before that election, she not only donated money to Cheney's unsuccessful bid for Senate in 2014, but she acted as a campaign adviser.
But that relationship essentially ended in September, and Hageman has already shown her power in fundraising abilities. Her campaign announced it raised $300,000 in the first three weeks after she announced her bid.
Newsweek contacted Hageman and Cheney for comment but did not hear back from either in time for publication.