Liz Cheney told Fox News viewers she was a "conservative Republican" who had mostly backed Donald Trump during his presidency, after observing a silence to mark the anniversary of the January 6 attack on the U.S. Capitol.
The Wyoming representative, co-chair of the House committee investigating the riot, has been at odds with many in the Republican Party over her condemnation of former President Trump's role in the disorder.
In May, she was removed from her position as chair of the House Republican Conference, and in November the Wyoming Republican Party narrowly voted to no longer recognize her as a member of the GOP.
At the silence in the House chamber on Thursday, she and her father Dick Cheney, the former vice president, were given a warm welcome by Democrats after most Republicans stayed away—many in Atlanta for the funeral of former Senator Johnny Isakson.
But Rep. Cheney laid out her conservative credentials in a later interview on Fox News.
"I voted with President Trump 93 percent of the time—more than most Republican members of the House of Representatives," she told anchor Bret Baier.
"I believe that the policies of the Biden administration are bad for this country, but I also know that this country must go forward on the basis of truth."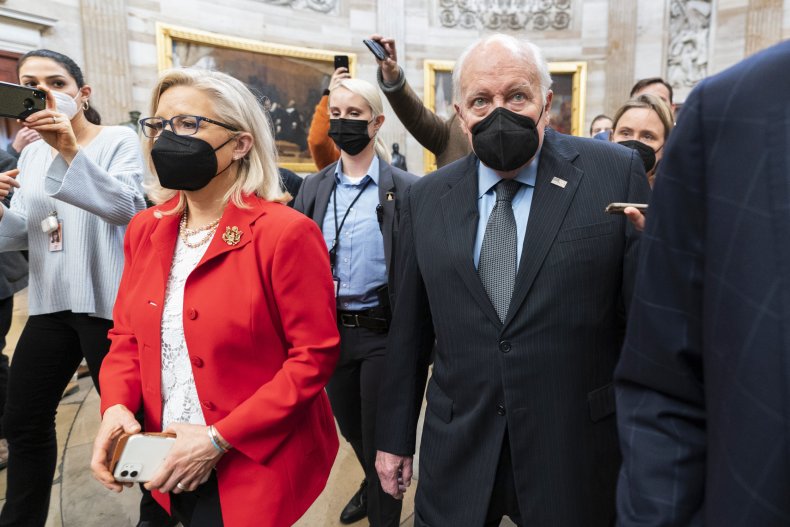 She said that Trump had "gone to war with the rule of law."
"If we want to be in a position where we can advocate conservative policies again," she added, "we've got to tell the truth about January 6, and we have to make sure that it never happens again."
Asked by Baier if the goal of the January 6 committee was to "go after Trump's inner circle" and stop the former president from running for office again, she replied, "no, the goal of the committee is what I said."
"Our responsibility is legislative purpose, to determine what laws we have in place, what additional laws we might need to prevent an attack like that from ever happening again."
Although she emphasized her Republican bona fides, Cheney's frustrations with aspects of her party were still clear.
Some within the party "are attempting to obstruct the work of the committee," she said.
And she singled out Rep. Jim Banks, of Indiana, for "sending letters to federal agencies, claiming that he is the ranking member of the committee, which he's not."
Baier also quizzed Cheney about her rejection from the Wyoming GOP, which accused her of being "closer to [House Speaker] Nancy Pelosi".
Cheney responded by saying there were Republicans in her state "who are quite radical."
"Some of those same people include people who were here [the U.S. Capitol] on January 6, that include a party chair who has toyed with the idea of secession, so there is a very radical element of the Republican Party. In the same way that there's a radical element of the Democratic Party.
"But we have to be in a position where we are able to come together where we're able to focus on substance on policy."
Wyoming GOP has been contacted for comment.