Liz Cheney on McCarthy Embracing Trump: 'I Would Be Deeply Ashamed of Myself'
Representative Liz Cheney slammed House Minority Leader Kevin McCarthy for tethering himself to the divisive populism of Donald Trump, saying that McCarthy's fealty to the former president has prevented him from performing the duties of his office.
"What he's done is embrace Donald Trump. And if I were doing what he's doing, I would be deeply ashamed of myself. I don't know how you explain that to your children. When you are in a situation where you have somebody who did what Donald Trump did, it is absolutely clear he cannot continue to be somebody you embrace," the Wyoming Republican said on CBS' 60 Minutes, which aired Sunday.
House Republicans voted in May to remove Cheney as conference chair in retaliation for tough criticisms of Trump, his false voter fraud claims and role in the January 6 Capitol riot. McCarthy, a loyal ally of the ex-president, spearheaded her removal from the role, openly endorsing a candidate to replace her.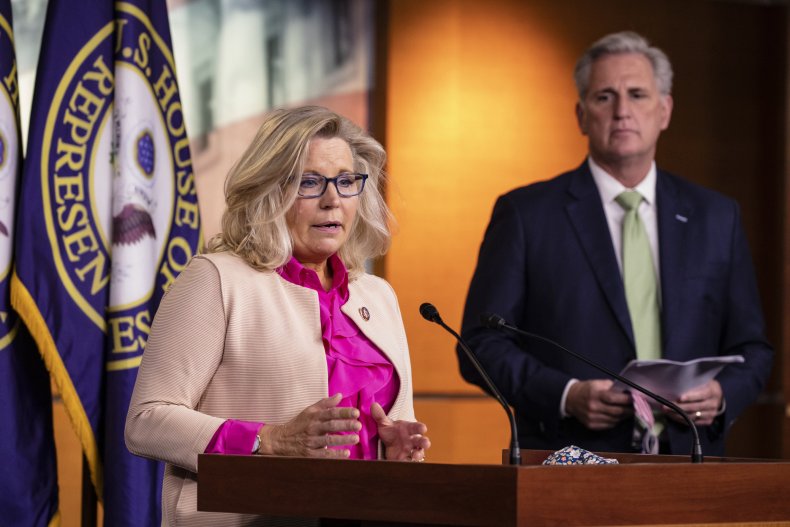 Cheney, widely viewed as one of the most traditional Republicans in Congress, ascended up the party ranks quickly after she first took office in 2016. But the party turned against her over her criticisms of Trump and vote to impeach him.
She told Lesley Stahl that "a lot" of Republicans "both in the House and the Senate" have privately encouraged her fight against Trump. "The argument that you often hear is that if you do something that is perceived as against Trump that, you know, you'll put yourself in political peril," she said.
"That's a self-fulfilling prophecy because if Republican leaders don't stand up and condemn what happened then, the voices in the party that are so dangerous will only get louder and stronger," Cheney added.
Cheney was among the 10 Republicans who crossed party lines to vote for Trump's impeachment for "incitement of insurrection" on January 14—one week after a mob of Trump supporters stormed the U.S. Capitol in an effort to stop Congress certifying President Joe Biden's election win.
McCarthy opposed the impeachment proceedings, although he did initially say "the president bears responsibility for the attack on Congress by mob rioters." He later walked back the criticism and realigned himself with the ex-president.
With Trump-led efforts to oust her, Cheney is facing a tough battle for re-election in the 2022 midterms as she continues to distance herself from the Republican Party. Earlier this month, the former president formally endorsed Harriet Hageman to unseat Cheney.
"Here's a sound bite for you: Bring it," Cheney fired back on Twitter.
Newsweek reached out to McCarthy's office for comment.